Got a treehouse that's no longer loved? Tweens found a new space to occupy? Older teenagers off to university?  Maybe you just always wanted a treehouse hideaway as a child but never had the chance? 
Who says grown-ups can't enjoy messing about in the broad boughs of a sheltering tree? It's time to see the classic childhood den in a different light.
With a little help from the doyennes of indoor-to-outdoor living at Bloomsbury Home, a treehouse that's been the site of countless fledging adventures takes on a next-level starring role as a softly, sumptuous place for grown-ups to relax, create, socialise or simply dream the day away.
I must admit, I've always had a penchant for treehouses. As a child I could create vivid dreamscapes, transforming rickety old tree-shacks into my own personal palace in the sky, in an imaginative instant. It was easy to drift away the hours, scampering up ladders, playing with pals and crafting entire new worlds in my mind.
It wasn't until I was recently asked along to the scene of a treehouse transformation by our friends at Bloomsbury Home that I realised those feelings of pure fun, serenity and inspiration were all still there, lying dormant, waiting to re-emerge, re-connect, stretch their limbs and take flight again. Nor did I realise just how good and needed that is for the soul.
You may have seen grand tree-palaces on show at Chelsea à la Grand Designs and they certainly make for luxurious outdoor living, but you don't necessarily need a huge, tech-heavy construction to enjoy a sophisticated, comfortably chic aerial clubhouse. So long as the structure is sound and big enough for two, you can make an enchanting space in which to escape.
Thinking that sounds great, but a bit of a faff? With the best will in the world, I know that I, like most busy people, would likely excuse myself from hauling rugs and cushions from the house to the bottom of the garden, just to sit for and hour or two and read, only to lug everything back again later. But the beauty of pretty much everything used here is that it's either designed specifically for, or can be used for, both indoor and outdoor settings.
You don't have to compromise on quality. There's no plasticky feeling fabrics here. Cushions and rugs are weather-proofed, yet tactile, soft and velvety to touch. Equally at home indoors (you'd never guess that wasn't the primary purpose) everything is multi-purpose, but satisfyingly plush.  Perfect for a British summer bank holiday weekend. Invite the gang over for a long and lazy lunch, and if the showers roll in, no problem, add secret, hideaway storage to hold books, paints or games.
As the late-summer afternoon glows gold and, lazily, the gloaming sets in, your grown-up greenhouse takes on an even more romantic, cosy mood.
Bestow branches with hanging lanterns, anointing the scene with light. Retreat up the steps to sip on a something special and if, as the half-light wanes, you feel a chill then wrap a warming throw around your shoulders and settle in with a loved one to revel in the dusky display.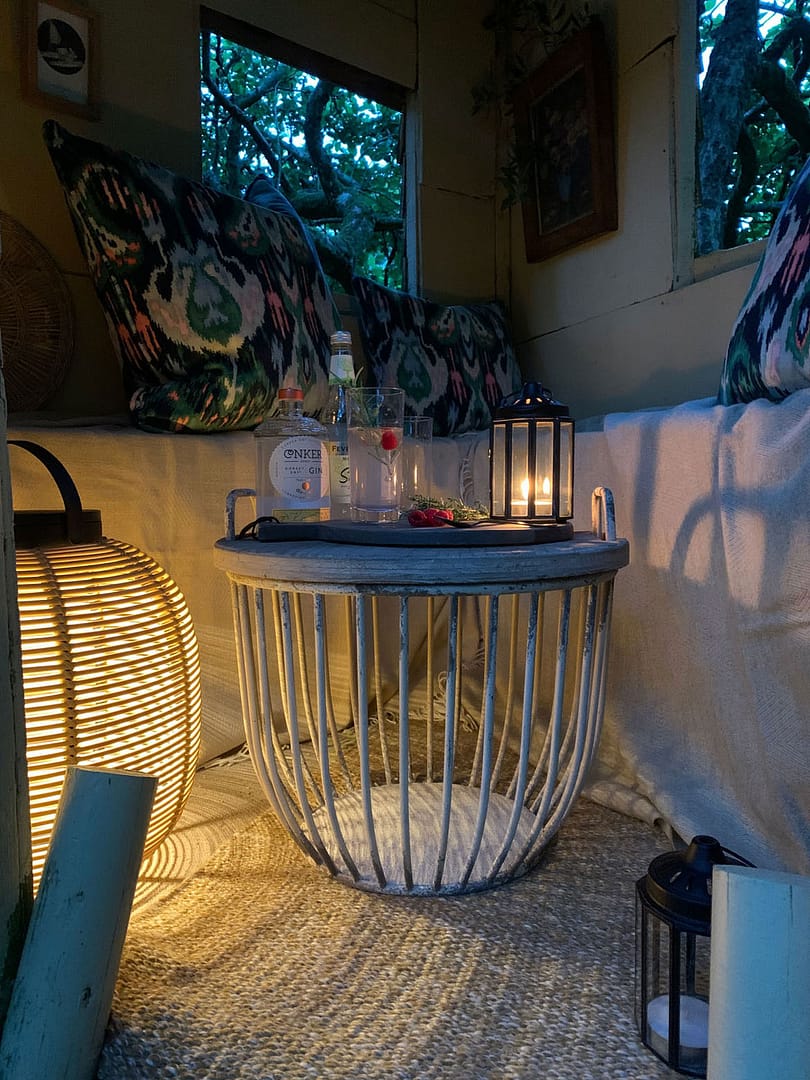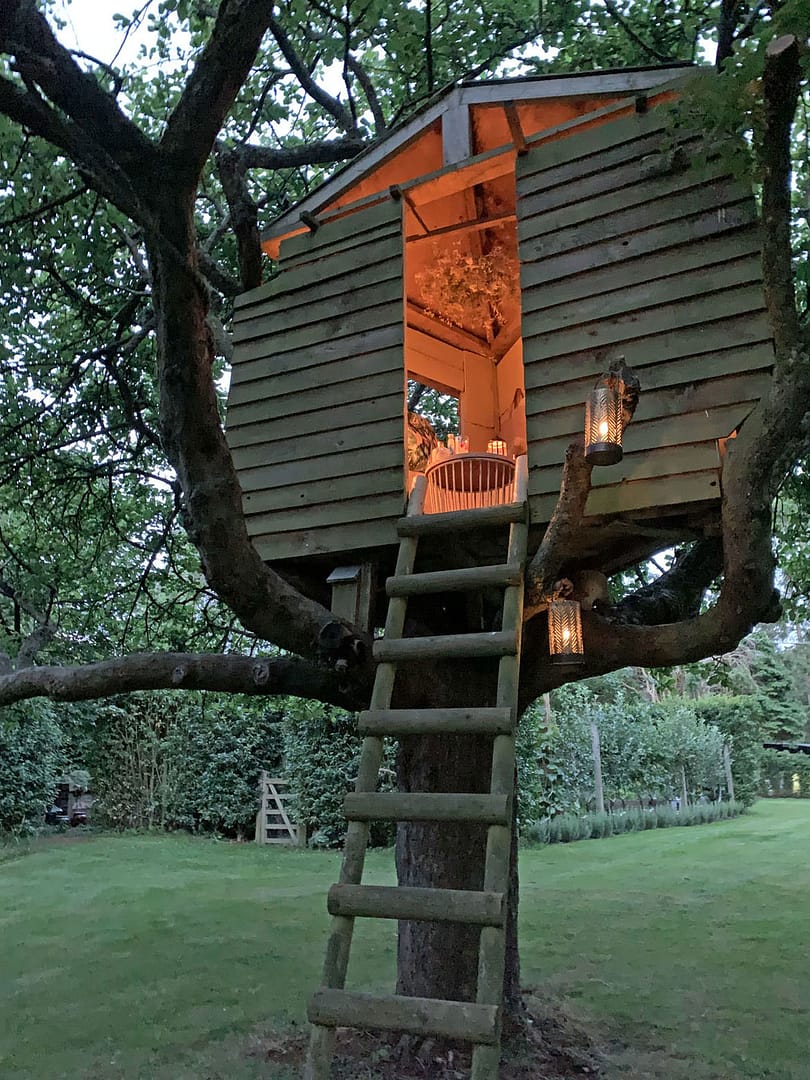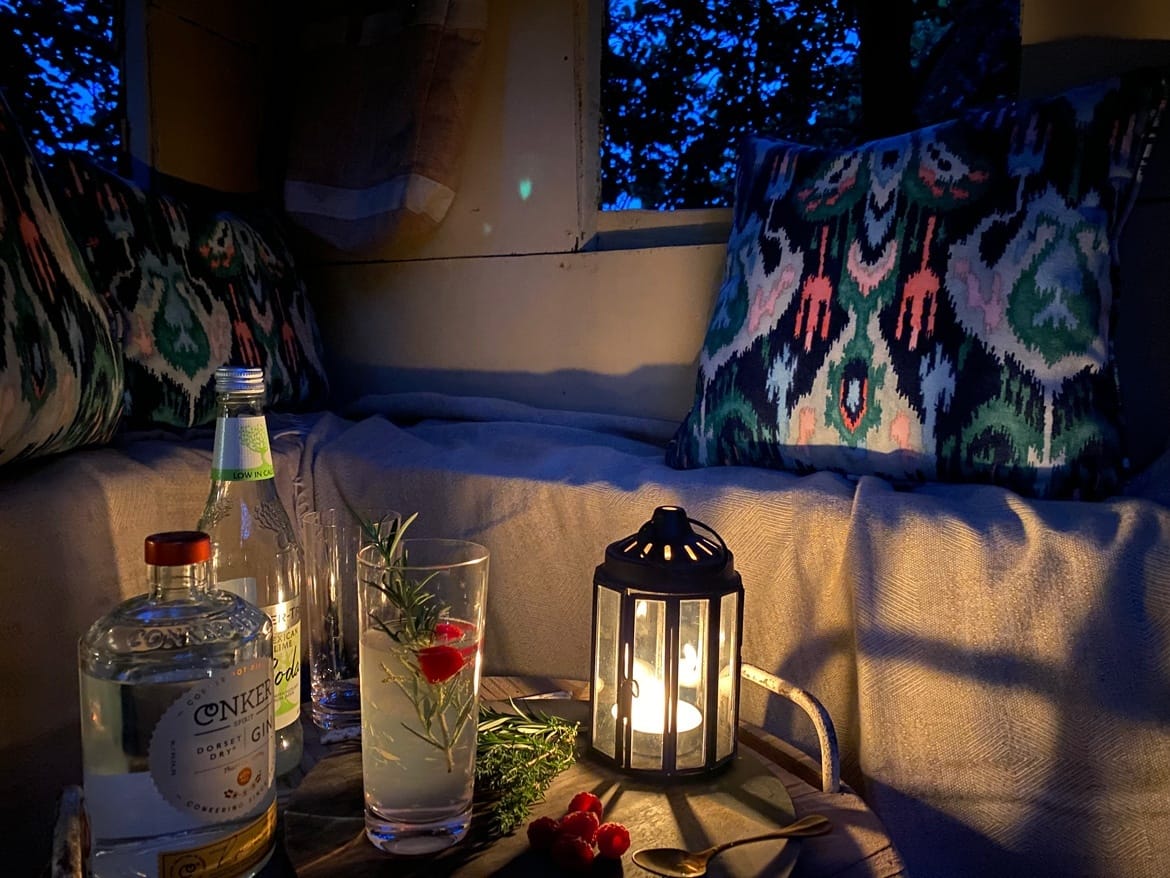 If the weather's fair, you might even consider sleeping under the canopy…
Change your perspective, rethink outdoor spaces and reconnect with playfulness, whatever your age. Create your own gorgeously sensual, but perfectly practical places to live outdoors.