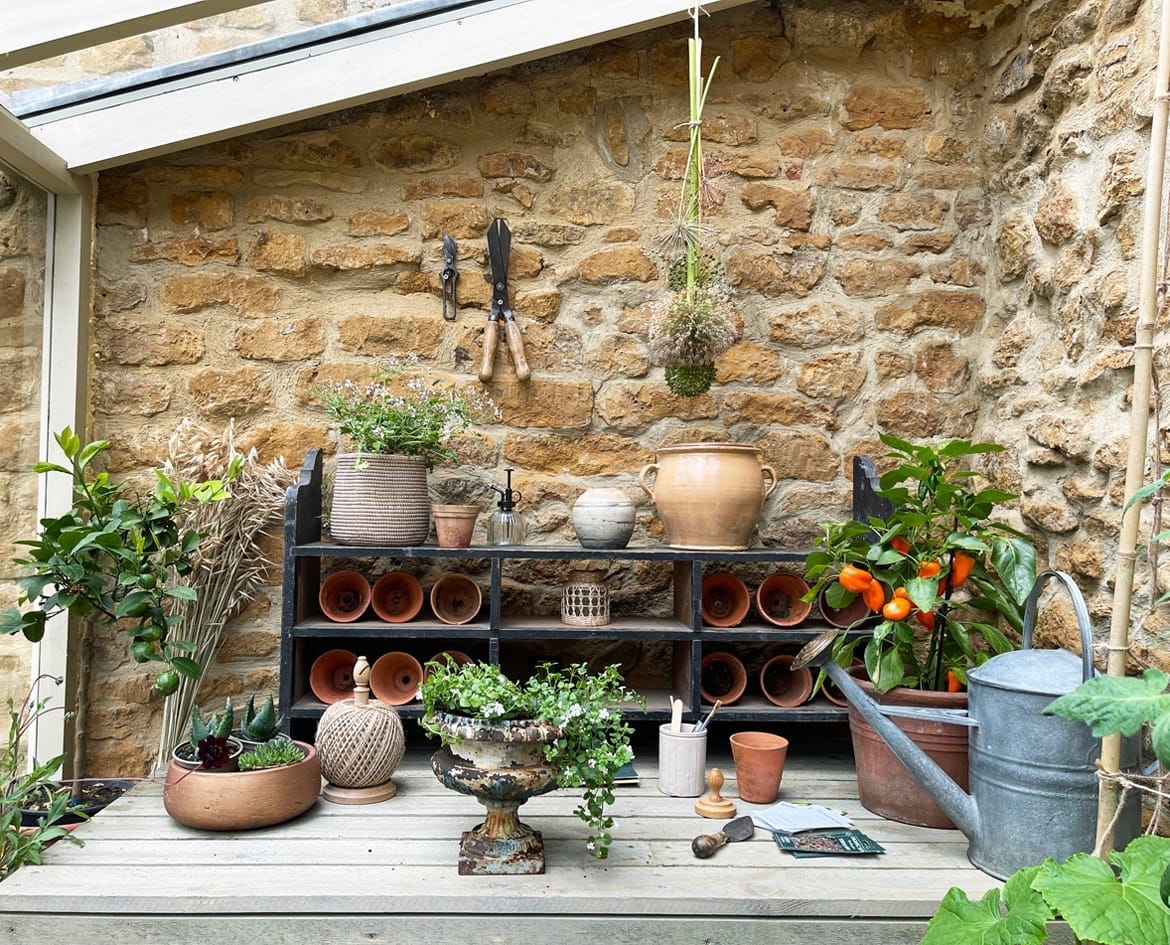 2
Confit Jar
From a selection found at Station Mill Antiques & Interiors, Chipping Norton, Oxfordshire. (https://www.stationmill.com/)
3
Seed Packets
From Suffolk Herbs & Chiltern Seeds (https://www.kingsseeds.com/ & https://www.chilternseeds.co.uk/)
We join forces with the stylists at Bloomsbury Home to fulfil a bespoke, multi-functional greenhouse brief. 
If you follow any of our social media channels then you'll recently have seen us reconstructing a bespoke greenhouse in a soon-to-be newly created sunken garden (and if you don't already follow us then you'll find links at the bottom of this page and to the top. We can promise you plenty of gorgeous gardens, landscaping transformations, plant portraits and tips from our team).
The brief for this greenhouse was special. The garden belongs to two highly experienced and skilled gardeners, so the glasshouse had to be a proper working greenhouse, replete with ample space to grow, over-winter, re-pot and provide plenty of storage for all the requisite horticultural accoutrements. However, this was the home of an artist and creative too; they wanted the space to be not only fully functional for growing, but also to provide a tranquil, beautiful place to act as an outdoor studio, where one could paint, sketch, write or simply relax in an easy chair, listening to the refreshing ripple of a pool bubbling in the sunken garden.
So, who better to team up with to create this beautiful hybrid space than indoor-to-outdoor specialists, our friends at Bloomsbury Home.
Brief in hand, Simon and the team got to work on reconstructing the vintage greenhouse that had once stood in the area. Paying due attention and care to its siting along the back wall of what would become the sunken garden, with aspect, light levels and exposure front of mind. They began by carefully colour-matching the powder-coated frame to the perfect vintage shade using the RAL colour standard system (think Pantone, but for varnishes and paints, rather than printing).
Frame constructed and glass fitted, they moved to the interior, installing a raised sleeper bed and netted support system along the width of the old stone wall of an outbuilding. Spacious benches to either side of the greenhouse were added, providing plenty of surface space for seed trays and potting mixes, as well as sketch pads and brushes. Underneath, the team built ample shelving and cupboards for seed tins, plant feeds, plant pots and all manner of garden essentials.
Tried and tested varieties of tomatoes, cucumbers, chillis and capsicums were planted in the raised bed and various large planters, ready to scramble up the netted supports, whilst houseplants and other exotics graced the shelves and window sills.
Then it was over to the stylists at Bloomsbury Home to make this gardener's delight an artist's retreat too.
Using a mix of their own product range and items carefully sourced and hand-selected to create the desired mood, they transformed a very smart, though very much a working horticultural greenhouse, into a truly gorgeous, inspiring and relaxing place to stimulate creative thought and relax over-taxed senses. And without making either of its intended functions the lesser.
Here are just some of their finds that helped create this glorious greenhouse studio:
1. Dashed with sandy striations and with a design inspired by hessian rope, the Firle Pot is more than just a contemporary planter. It's perfect for pencils, paintbrushes and dibbers too. Bloomsbury Home, £22. 
2. Vintage Confit Pots, especially on a grander scale, look wonderful planted with strawberries or herbs. From a selection at Station Mill Antiques & Interiors, Chipping Norton, Oxfordshire.
3. What greenhouse isn't complete without packets of seeds strewn across the workbench? Our team are fans of seeds from Chiltern Seeds for their wide selection of not-run-of-the-mill varieties and Suffolk Herbs for their rare and heritage varieties.
4. For potting up all those seeds, you'll need an effective tamper and there's something pleasingly tactile about this one by Creamore Mill. £9.99.
5. Another unassuming find from Creamore Mill, that's lovely in its simplicity, as well as being really rather handy is their Twine Stand & Cutter. £21.99
6. This wide, shallow container makes an excellent home for succulents, or with its bronzed good looks, a fabulous foil to rose blooms. Try filling it with water and floating them across its surface. Is a planter always a planter? No. It also makes for a tempting fruit bowl, stacked and overflowing with juicy treasures from the garden. A scene set for a still life, no? The Burnished Moon Planter by Bloomsbury Home, £18.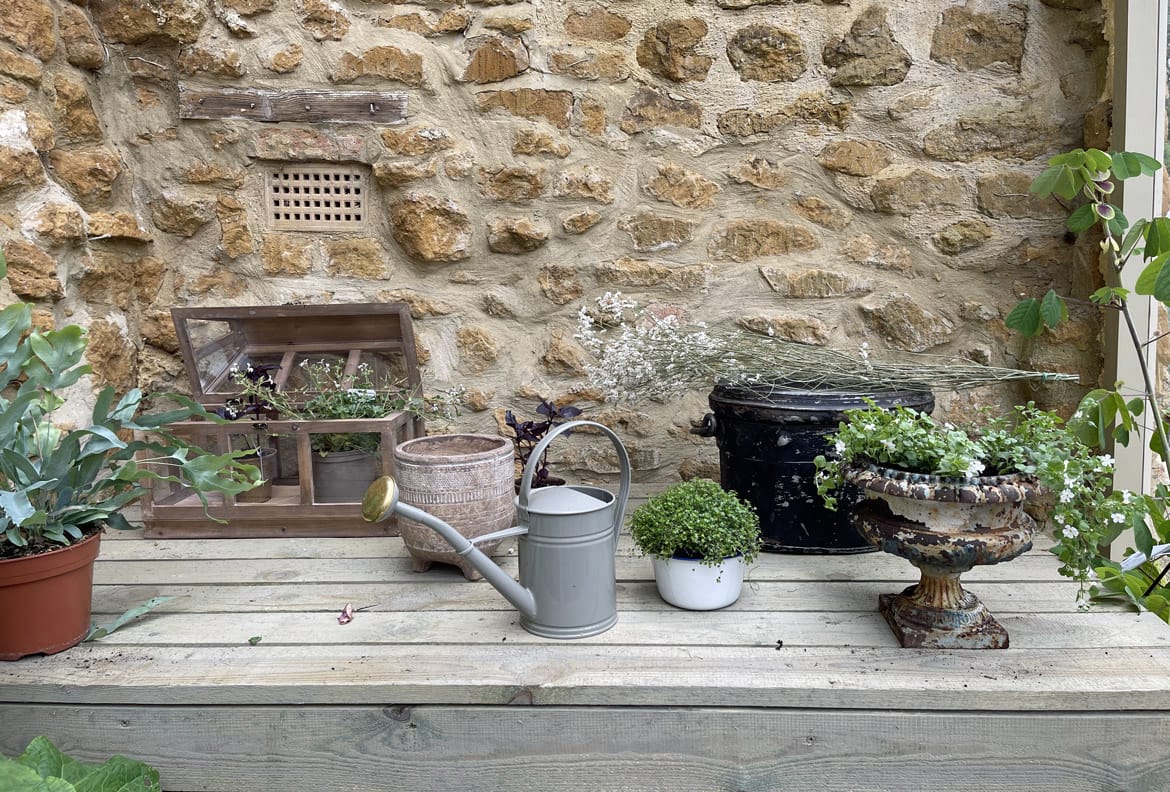 3
Enamel Bowl
From a selection at The Old Flight House, Weston-on-the-Green, Oxfordshire.
4
Black Vintage Pail
From a selection at Charley Grey Antiques, Station Mill Antiques & Interiors, Chipping Norton, Oxfordshire.
Swing around to the other side and there's another spacious bench filled with more treats from the Bloomsbury Home sourcebook.
1. We coo-ed over this darling miniature greenhouse. It's quirky to find a greenhouse within a greenhouse, sure, but it works equally well as a terrarium for small plants in need of a little extra humidity in a kitchen, living room, bedroom, or left open with plants allowed to trail over its sides like a tiny rainforest in a bathroom. Broughton Greenhouse by Bloomsbury Home, £93. 
2. Engraved with a striking design, here's a suitably charming planter. Bring some greenery into your space as indoors or outdoors plants leisurely flourish in this geometrically etched pot. The Sezincote Pot by Bloomsbury Home, £17.
3. Cool white enamel is a classic in the kitchen, sets off the foliage of plants and also serves beautifully filled with water to cleanse your paintbrushes between strokes. Enamelled bowl found at the treasure trove that is the The Old Flight House, Weston-on-the-Green, Oxfordshire.
4. Completing our lookbook of form and function, this well-proportioned vintage pail can hold ample potting mix or makes a great container for plants. Try it planted with Muehlenbeckia complexa, the dark green leaves and dark stems look divine against the blackened surface of a pail like this. From a selection @charleygreyantiques at Station Mill Antiques & Interiors, Chipping Norton, Oxfordshire.
Tempted to create your own gloriously, dual-natured space? Talk to us about your garden vision. Or find more home and garden wares that are as practical as they are beautiful, indoors and out, at the Bloomsbury Home Store.