But even the most stylish dressers can at times find themselves stuck in a fashion rut and in need of a professional stylist to bring fresh creativity to their look. As part of our portfolio of garden design services, our garden artists not only makeover entire landscapes, but also curate container planting design options to complement or refresh established gardens of all styles. 
Recently, the team has been working on some richly diverse styles of gardens, which has had me pondering just how they adapt their expertise and artfulness to create such truly individual container schemes? Schemes that despite their divergent style never fail to enhance and beautify a garden.  It was with this in mind, that I took a peek between the leaves of their sketch-pads and caught them between sourcing trips to grill them on a couple of very different planting scheme projects. 
Clean-Lined Contemporary: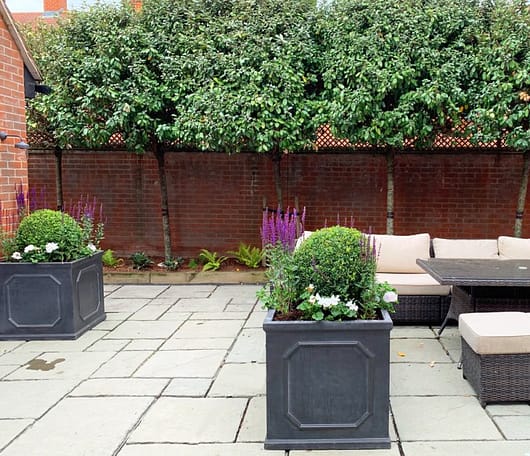 The presence of white threaded through this planting narrative was key to bringing light and soft brightness to a modern garden with this containerised planting scheme. The use of white settles the garden beautifully in the glow of evening, as can be seen at Sissinghurst Castle, where a white, pale planting palette evolved to bring luminescence to moonlit walks.
Three lead planters are sourced to bring drama, texture, shape and interest to a garden with strong hardscaped features. These were planted with mature buxus sempervirens globes and the majestic long-flowering Salvia nemerosa 'Caradonna' which strikes out from the dark lead colour. Pops of white pelargoniums are nestled in to soften and spill forth. A plethora of white plants also underplant half-standard olive trees nestled with Tuscan pots of lavandula. 
Natural Boho Beauty:
A relaxed, wilderness scheme. Think festival in pots. 
We brought together a heady mix of small plants who make two great communities for very differently lit spots. One, a sun-soaked lover, the other, more in favour of shady, coolness, and though that might make them seem like opposites, just like yin and yang, whilst different, they perfectly complement each other and the scene.  
Rich, redolent sweet peas and a muted pastel clematis climb up hazel pea sticks. A pair of planters, full of personality, with flowers to cut and enjoy, long-lasting and ever-changing through the months.
Now, if that doesn't make you want a couple of these wild beauties to adorn your doorstep at home, then I will my Tilley Hat. And if it has then your luck is in, as our ever-generous Planting Scheme Designer has kindly allowed me to share the details of her container planting scheme recipe from bud to bloom in this pair of naturalistic planters for light and shade here: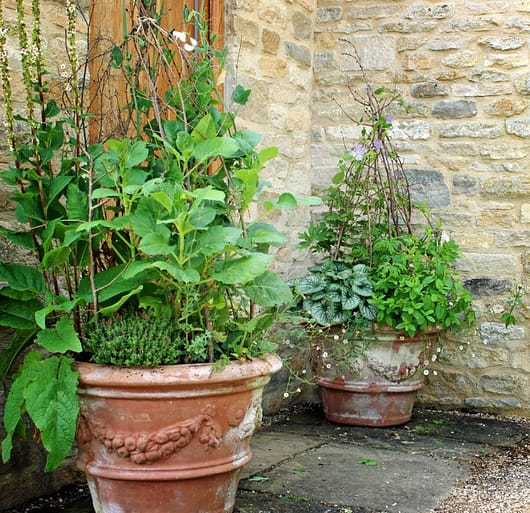 The Cool Customer: (in the background)
You will need:
Generous Terracotta Pot

(Try Poterie Goicoechea for excellent artisan pots)

Hazel Pea Sticks & Twine (to tie them at the top)

Brunnera macrophylla 'Jack Frost'

Hosta sieboldiana var. Elegans

Astrantia major 'Star of Billion'

Clematis (Choose a cool, pastel variety)

Geranium phaeum 'Samobor'

Mint (plant in pot)

Gillenia trifolata

Trollius x cultorum 'Alabaster'

Tradescantia Zwanenburg Blue
The Sun-Soaked Lover: (in the foreground)
Generous Terracotta Pot (Try Poterie Goicoechea for excellent artisan pots)

Hazel Pea Sticks & Twine (to tie them at the top)

Thalictrum 'Black Stockings'

Salvia pratensis

Sweet pea (A white variety works well)

Astrantia major 'Star of Billion'

Erigeron karvinskianus

Bronze fennel

Nepeta racemosa 'Walkers Low'

Campanula persicifolia
Place the plants in the terracotta pots without removing them from their individual pots to begin with. This way you can easily place and rearrange until you're happy with each plant's placement in relation to the others. It's worth spending some time doing this, as care taken here, can really be the difference between a 'lovely' planter and a 'utterly gorgeous' planter. 
Once you're happy with your layout, remove the plants from their pots and plant-up in their new home, topping up with a good moisture-retentive compost as you go (be sure to leave a couple of finger-widths between the top of the compost and the top of pot though. This helps to keep water from running off rather than soaking in when watering). Finally tousle the climbing plants into the pea sticks.
Not feeling confident in styling such a planting narrative then fear not! One of the joys of gardening is that nature creates breathtakingly beautiful plants in their own right, and simple groups of the same plant is so effective, source vintage planters and containers seek larger sizes if you can like an over-sized blazer, deeply stylish.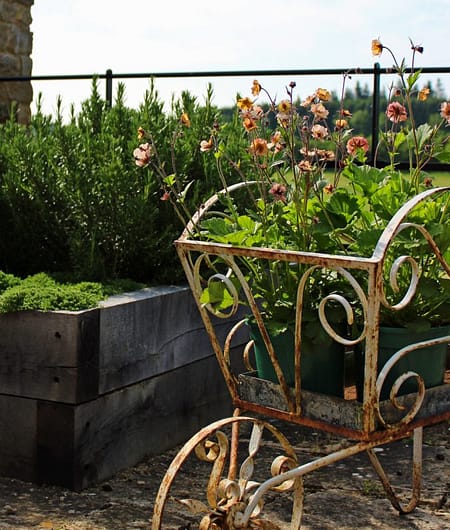 A vintage wheelbarrow with single variety container planting scheme of Geum Mai Tai
Looking to nail your garden style? Talk to our planting scheme and outdoor living designers about refreshing or enhancing your outdoor spaces.