Water and gardens go hand-in-hand, it is the stuff of life that gives our gardens their lush verdancy with Sulis bringing natural properties to awaken our vegetable patches with wondrous variety, but water, similarly to gardens, also has a remarkable effect on our psyche.
Reflecting in the softly swirling eddies of a silvery river or basking by a pond, immersed in the babbling splash-sounds of a fount, water gardens have the ability to soothe the fiercest spirit and compose the most restless soul. How such sensory enchantment might be multiplied by combining the tranquil contentment of a garden with the playful felicity of water.
Not so long ago there was a sudden rush to install water-features. They tended to be tiny pebble fountains or washing-up bowl sized ponds and the craze seemed to have been provoked by a certain late-90's guerilla gardening show. Thankfully, the passage of time has sprinkled its magic hose over the advancement of watery focal points and there are now some breathtakingly beautiful ways to create an authentic oasis.
River-Living:
Lucky enough to live by a river? Then you'll no doubt be aware of the many pleasures that can come from sharing your environment with such a meditative, rolling ribbon of life-force (rare flooding occurrences aside, of course). Yet, how could you make even more of this valuable elemental source?
Pontoons or covered moorings with thatched roofs summon up picture-perfect Constable scenes or how about glazing the roof or igloo canopy for stargazing under moonlit skies, wrapped up in blankets and clutching hot cocoa. Adding wooden posts and rails gives a little built-in security for kids to safely netting minnows from it's sides. Larger platforms might even accommodate seating or a bar.
Go the full-Constable and plant a natural scheme of well-placed trees along the banks to dapple the sunlight, provide shelter to riverbank wildlife and help to prevent soil erosion. Among our native varieties, members of the salix family do particularly well by water, try White Willow (Salix alba), Purple Willow (Salix purpurea) or Osier (Salix viminalis). If you can find it, then another native water-baby is the Black Poplar (Prunus padus) or if you want something fast-growing then try flood-tolerant Alder (Alnus glutinosa). Whilst not native to our land, Weeping Willow (Salix babylonica) has become a classic riverside favourite, gracefully skimming it's tapering green silks over the water.
Image: Courtesy of Woodhouse Natural Pools
If you're looking to pretty-up your river or stream-banks then it's important to choose plants carefully, we stick to non-invasive native species as these won't run the risk of upsetting a finely tuned ecosystem. Sourcing marginal plants perfect for pepping up these places include: Water Mint (Mentha aquatica), Water Forget-Me-Not (Myosotis scorpioides), Yellow Flag Iris (Iris  pseudcorus), Marsh Marigolds (Caltha palustris) and Mallow (Malva sylvestrius). Break up planting and add in some winter structure and form by weaving Common Reeds (Phragmites australis) along the riparian strips.
Pond Paradise:
If you don't live with a naturally occurring water-source like a river or stream, there are plenty of excellent, inventive ways to invite water into your world, evoking the same full sense of peace.
For the more rustically-inclined, how about creating a pond fed by a gently sloping self-feeding stream? We have sourced large organically-shaped stone boulders into design schemes where you can create levels which leave miniature waterfalls cascading smoothly down to the main pool. Water is then pumped by a hidden hose from the main pool back up to the header pool to fall once again in sparkling rivulets back down the stone-shelves. Add ivy to soften the structure and mimic the fall of the water with it's tumbling trails of leaves. 
Sound a little large? You can create a simple, stripped-back version by drilling a hole through a large boulder or urn, placing it over a sump and pumping water through it just enough to bubble over the top. Plan it into a space near your house throw open the doors and listen to it's gentle burble. Hide it in a secret spot or screen it off with willow-work and it'll offer up the same soothing sounds and unexpected tranquility even in the smallest of spaces.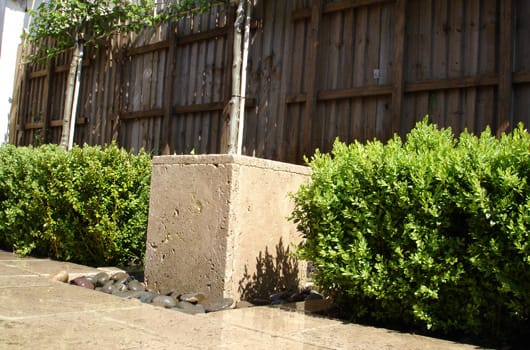 Travertine Stone Cube Fountain installed as part of a contemporary design by The Oxfordshire Gardener
For a more urbane affair, think of utilising the clean, orbital lines of a perfectly circular pond and plan a scheme which repeats the spheroid symbolism throughout. Try domes of lavender, topiary balls of buxus sempervirens. How about a raised deck to oversail the pond, jutting out over the water? You'll feel completely absorbed by your surroundings without getting wet. We can't think of a more lovely setting for practising morning yoga or just a spot of sun-worshipping.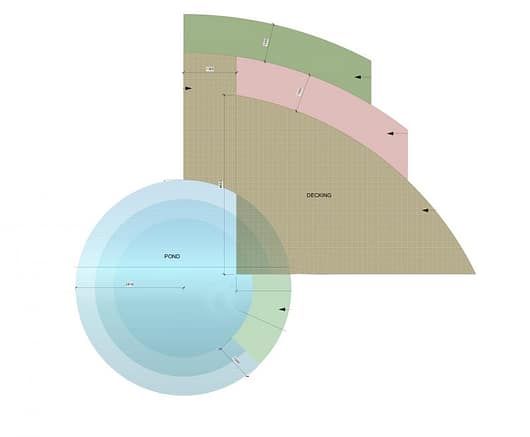 Pond with oversailing deck detail from a garden landscaping project in progress – Spring 2018 – To create a sustainable, environmentally sound water landscape, encompassing planting of aquatic plants with quadrant decked Millboard platform to oversail the pond constructed by The Oxfordshire Gardener
For another way to create a more architectural feel look east to those masters of the Paradise Garden, The Persians. Here symmetry and formality rule the day. Make a true water garden by sinking narrow copper rills into paving, leading arrow-straight to a bench or raised planter, soften with a transformational halo of floaty, waving grasses.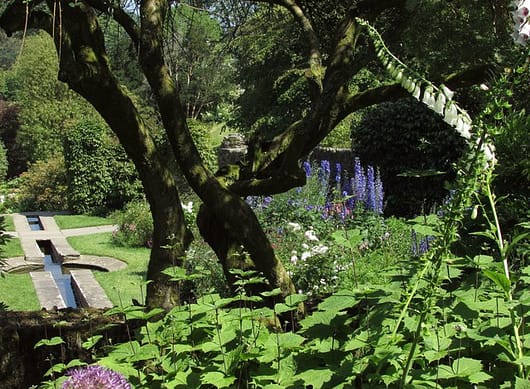 A rill draws your eye along its route
Keeping to muted-greens throws attention on the still-shine of the needle-like water and draws the eye along its length, pulling you in towards a place of contemplation. Weave rills in and out of view through paving, remove the odd stone in the terrace and fill with pockets of creeping thyme and/or low-growing sedums for a more casual contemporary look.
In the Swim:
For real water-babies, gaze into a mirror-like pond will only be a bit of a tease. All very lovely to loll by, delighting in golden sunshine and fresh bubbly air, but the most meditative experience comes with being submerged in the aquasphere.
The answer to that most often comes by way of a swimming pool, which will certainly give hours of relaxing exercise (if that's not too much of a paradox!) as well as being the ultimate way to cool-off during our now regular heat waves, however, concerns over chemical cleaning agents, running and repair costs posed by conventional pools is leading more people to consider natural swimming ponds.
Rather than killing off the micro-organisms in water, swimming ponds use them to carry out the cleaning work required to keep pond water clear and healthy, making these pools attractive to wildlife such as dragonflies and newts. Unlike conventional pools, swimming ponds don't require as much regular maintenance, draining or repairs and they don't need to be covered in the off-season sustaining a beautiful view all year, especially when planted up with a aquatic and semi-aquatic scheme. Just imagine floating amongst water-lilies and drifting past cotton grasses. One such one has its own islet, complete with domed wicker seating pod, only accessible by swimming (or a tiny dinghy).
You can convert a disused conventional pool into a more formal looking natural pool. The real vision though is not to simply land a pool in your garden but to carefully blend it into the overall garden design. Through combining the work of specialist companies, such as Woodhouse Natural Pools and Gartenart Swimming Ponds, who create some particularly gorgeous ponds and pool conversions which offer seriously inspiring natural pools that look suitable for sprites, we amplify your vision for a water paradise within a full garden design or into an established garden with sensitivity. 

Image: Courtesy of Gartenart Swimming Ponds
Not a great swimmer, but like the idea of cleansing your skin under a cooling, silky stream? Outdoor showers used to be something we associated with the humid tropics, but as summers warm up they're becoming more enticing, especially if you hook it up to a hot tap. You can even find some super-stylish solar-heated ones from specialists like Gre. Installing one on the external wall of a kitchen or bathroom is easy and affordable, but if you have great views then consider a standalone shower away from the house. For sleek, contemporary showers try Swiss-based suppliers Architonic. Of course, if your garden is overlooked you'll need to think about screening with plants or more permanently envelope your shower with stone or slate walls or even a converted beach hut to create a bathing booth! Great for dowsing down muddy gardeners and dirty dogs before they get anywhere near the house.
Ready to dive into a new waterscape? Or perhaps you'd like a hand designing water into an existing garden landscape? We can help bring your plans for a paradise garden to life.