The grey chill of winter doesn't have to mean a dearth of colour or scent in the garden. A careful, well-crafted planting scheme ensures the enjoyment of a sense-rich scene that delights all-year-round.
As the snow melts unveiling the hardy little aconites and snowdrops peeking through the warming ground, we are busy nurturing winter-flowering shrubs – the stalwarts of the winter garden – ensuring they bloom for as long as possible. Carefully discarding dead leaves and winter debris extends the display of colour whilst also keeping these stalwarts of the winter garden in optimum health by reducing the chance of disease.
In the showy midsummer, when the rest of the garden is in full bloom, the humble Viburnum x bodnantense is deeply verdant though bare of blossom. But come November, these frost tolerant, deciduous delights spring to life, shrouding their bare branches with masses of delicate pink-tinted blooms and giving off such a gloriously heady aroma that you simply won't be able to resist taking in long, luxurious, deep breaths.
But if you know your varieties then you don't have to sacrifice leaves for flowers with this star player winter's treasury, the Viburnum family offers the best of worlds. Viburnum x tinus holds its foliage year-round and what's more, as winter bites its stems are adorned with not only the characteristic blush-pink blooms, but sports sumptuous blue-black berries too, often simultaneously.
Some winter wonders need a little thinning out at this time of year to encourage strong, healthy shoots and improve flowering as the nights draw in again next winter. Amongst their number is Hamamelis × intermedia, this versatile plant not only provides enticing autumnal foliage, its leaves turning from golden to crimson as they prepare to fall to the ground, but when it has finally lost its plumage, flowers are borne on the leafless branches from late winter to early spring.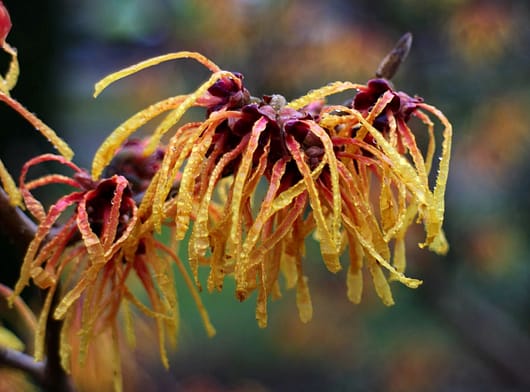 Another winter treat comes in the form of Cornus alba. Here, it's not flowers that offer a welcome flash of brightness but the radiance of its stems.  Shyly, keeping its winter surprise hidden under a cloak of leaves and tiny flowers in the summer months, this Cornus sheds its leaves to reveal dramatic, attention-grabbing red stems, becoming life and soul of the party once again. When spring breaks through winter's icy grasp, cut it back hard to promote active growth of new stems which will continue to provide a fantastic show for years to come.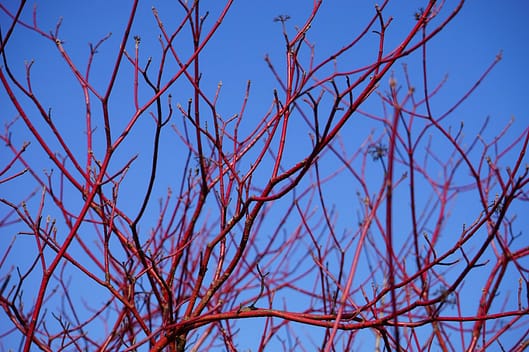 All of this work is meticulously carried out by hand to ensure the health of the plants and to shape them to keep them looking beautiful year round.
As these resilient winter-interest shrubs finish their show and spring bulbs take centre stage, reward them with a good spring feed after their hard winter's work. Giving the right nourishment gives them best chance to recharge and rebuild their stores of energy for next winter.
Need a boost of winter interest in your garden? The Oxfordshire Gardener can work with you to design, plant and provide continuous care to gardens with year-round outdoor appeal.
Our expert horticulturist tend to winter flowering shrubs, ensuring they look their very best, bringing joy to garden owners right around the calendar. Learn more about how we could care for your garden here.