Here at The Garden Barn, we're rather partial to handfuls of delicious raspberries, especially when still warm from the sun, having been freshly plucked from the edible garden through summer.
Whilst our garden is currently bare of juicy, ruby delights, we've been poring over our sourcebook to find some excellent dwarf specimens to add to our enjoyment, and where else to look than the home of ravishing raspberries – Scotland.
Scotland is famous for producing the finest raspberry crops in the world, celebrated for the richness and depth of their flavour and the juiciness of their fruits. But what makes Scottish raspberries so delectable? And how do we re-create the optimal conditions for heavenly raspberry hauls here in Oxfordshire?
Highland Riches:
Raspberries are thought originate from western Asia, most likely in the mountains of Turkey, but were first documented and cultivated by the Romans, who gradually suffused them throughout their empire. However, they don't seem to have been wildly popular until they were improved through the hybridisation work of British growers in the middle ages.  
At some point over the succeeding centuries, it was noted that soft fruits from certain areas of the eastern Highlands, notably Perthshire, were markedly better tasting than those from other regions of the country. Unfortunately for the rest of us, this seems to have remained a carefully guarded treasure trove until the Victorian era, when the area's ability to provide the most glorious fruits was truly tapped into on a commercial scale and the taste of Scottish raspberries became more widely available.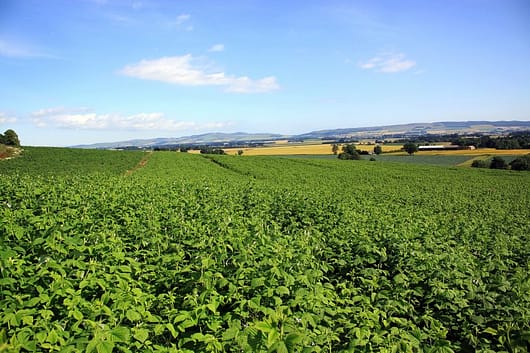 In 1890, JM Hodge – a local solicitor and raspberry grower from Blairgowrie –  rented some land from Thomas Thompson specifically to grow raspberries on a larger scale. He formed the Blairgowrie & Rattray Fruit Growers Association, bringing together local producers and beginning industrial production. By connecting up with jam tycoon – Sir William Hartley – Hodge ensured that the mouth-watering taste of Scottish raspberries was known throughout Britain. Blairgowrie, which stands at the gateway to the Highland, soon earned the moniker 'Berry Town'.
Demand for these jewel-like Scottish treats became so great that in the 1950s they were sent down to London, expressly, aboard their own dedicated steam train – The Raspberry Special.
Perfection in Perthshire:
So, what is it that makes Perthshire so perfect for raspberries?
Some of it is down to the soil, which is lovely, loamy and fertile. Its loaminess lends it the ability to warm up quickly as well as draining well, but the main source of Perthshire's excellence in raspberry production is the climate.
Being drier than the west coast, yet with good, regular rainfall is a major factor, along with moderate temperatures in summer. Too hot and the fruits ripen too quickly, losing some of the depth of flavour that develops with slower ripening.
Of course, Scotland benefits from long daylight hours in the summer too, which gently boosts the natural growth of the canes.  
Garden Growing:
How do we nurture raspberries in gardens into produce such ambrosial fruits as the growers of Perthshire?
To start, we source raspberry canes grown in the prime growing conditions of Blairgowrie, by a specialist producer with generations of raspberry-growing expertise.
Then, we try to mimic those growing conditions as much as possible, by re-creating a similar environment.
As we've seen, raspberries like to be well-hydrated, but they don't like their feet standing in water (and who would?!), so we prepare the soil by digging deep, loosening it up well and introducing plenty of compost and organic matter. Raspberries prefer slightly acidic soil, so don't do very well on anything too chalky. Neither do they like heavy clays.
It's a little trickier to re-create the climate, especially during a blistering southern summer, but raspberries don't tend to mind a bit of shade, so planting them out of the way of any suntraps and where they might receive some shade during the hottest part of the day helps.
One of the great things about the dwarf varieties we've sourced is that they can be planted in containers, making them easy to move out of the searing heat on hot days. The other great thing is that raspberries (even dwarf ones) come as either summer or autumn varieties, so by choosing a few of each, we'll be feasting on delicious raspberries from mid-summer to mid-autumn.
Would your raspberry canes benefit from some thoughtful, expert care?
Our friendly horticultural team tend to all fruiting shrubs and trees throughout the year, leaving them generous with produce. And if you fancy something a little different, we can install raspberries as an edible hedge for you!