Having your own kitchen garden comes with an abundance of benefits. It'll save you trips to the supermarket and you'll be able to enjoy the freshest, most nutritious fruits and vegetables possible. So, I've been chatting with our kitchen garden specialists to bring you a guide to creating the right productive garden for your space, let's dig in… 
When growing your own fruit and vegetables there's nothing more satisfying than sharing your own healthy, homegrown food with friends and family. Gardening is also a great whole-body workout that can get your family into the great outdoors. 
However, every garden is unique and comes with advantages and disadvantages. Some gardens have bags of space, some are more bijou, some will bask in sunshine from dawn to dusk and some will be shadier spaces. You may have inherited excellent soil or earth that needs some work.
At first, installing a kitchen garden might seem like a pipe-dream, something you definitely want, when you have the time, the tools, and the right space, but with a little thought and the right help, you can be harvesting your own comestible jewels sooner than you think…in any garden. 
Glorious kitchen gardens 
The simplest form of a kitchen garden uses in-ground beds. This type of kitchen garden may seem to require less preparation, especially if you have good soil, as there's nothing to build, however, they can be less easy to work than raised beds (more on those below). But, if you have poorer soil, they'll require a fair amount of preparation, introducing lots of organic matter and/or other soil improvers.
Raised beds are a surprisingly generous alternative if you don't have the most productive soil in your garden. Once installed, they're filled with the ideal nutritious blend of compost and topsoil for optimum productivity, no matter the soil type they stand on. Having raised beds helps to lengthen your growing season, when built well, as they'll drain better and warm up quicker in spring.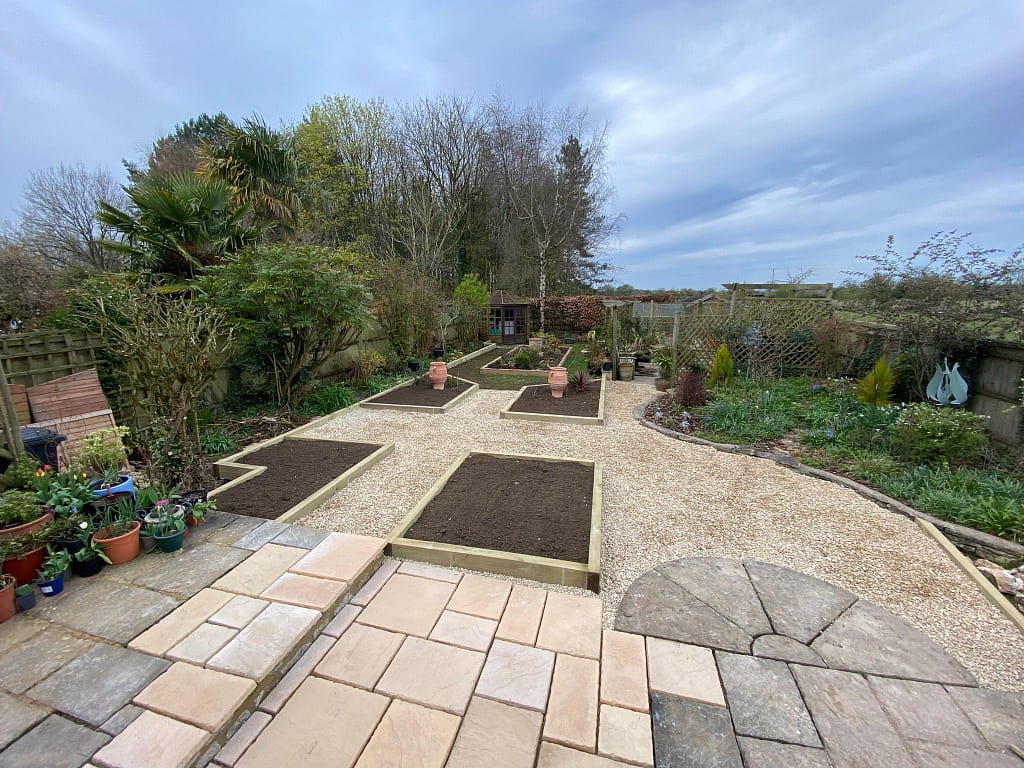 As a bonus that you'll most fully appreciate if you've ever spent time working on in-ground beds, being raised off the ground at knee or even hip height, they offer easy access without strain. The ease of access also helps your soil as you don't need to step inside and disturb them to work on your fruit and vegetables.
Oh, and made from substantial oak sleepers they have rather an air of rustic refinement to them too.
Raised beds can be made in all different shapes, sizes, and materials. Usually, they're rectangular and between 6 to 8 feet long and 3 to 6 feet wide, however, they can be whatever size and shape that best fit's your garden.
But where to put them? You'd be surprised where you can fit them, but it's the aspect and sunlight levels that are crucial to affording fruit and vegetables the best possible growth. We've fitted them into gardens in all manner of ways (and yet still had the garden looking gorgeous). 
We've tucked them away next behind outbuildings and hedges next to driveways, we've created them as abstract structures of different heights to fit, stylishly, into courtyards and we've created smart rows of raised beds for formal potagers. 
Don't be put off growing your own if you have a smaller space though, for instance, you could have a window garden for herbs, a container garden for tomatoes, and a small raised bed for squash.
Below is a project we are close to finishing of a beautiful paradise garden, with some bespoke raised beds ready and waiting for the soil to be installed next week.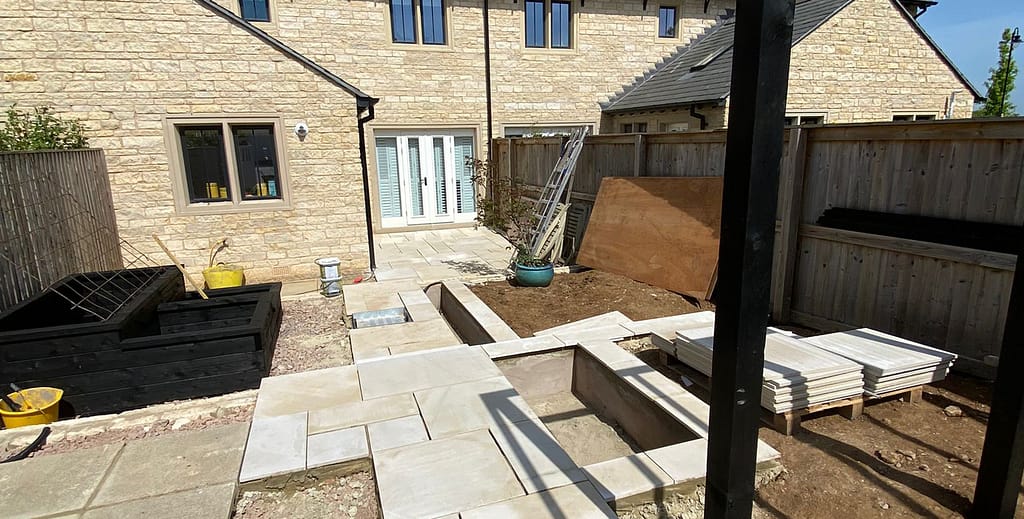 Once built, you can grow almost any vegetable in a raised bed, in our gardens we simply adapt conditions to create the best environment for whichever plants are favoured for the table. Some vegetables prefer lighter soils and some prefer dense, for example, so we tailor each bed individually to provide a rainbow of vegetables, fruits, and herbs.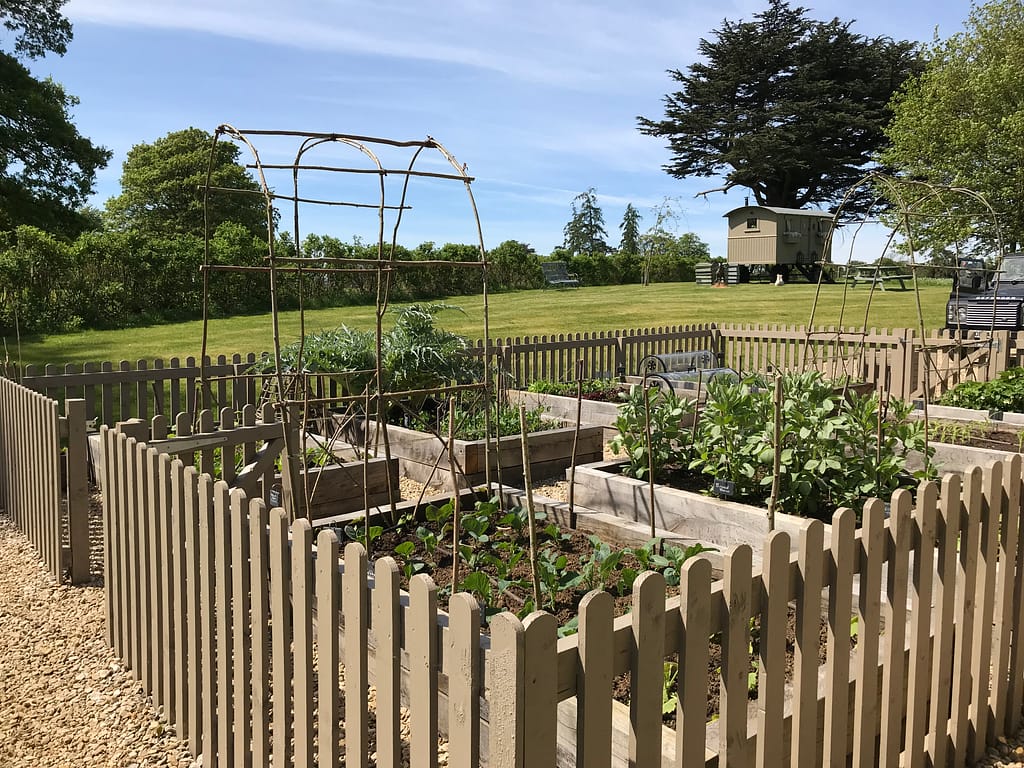 To give you an idea carrots, parsnips, radishes and herbs such as rosemary, sage, thyme and oregano all enjoy lighter soil conditions. Whilst vegetables such as broccoli, peas, potatoes, and cabbage will revel in denser, more nutritious soils. 
I mentioned earlier that raised beds to tend to drain better than in-ground beds, so they'll need watering more regularly, on the whole. That's why we usually install a drip-fed, timed irrigation system when we create kitchen gardens. It takes the hard work out of watering and saves a lot of time. Done right, this can save water, as you're only watering the areas you need, when needed, and the water seeps deep to the roots rather than running off. Studies from agriculture have shown drip irrigation can reduce a farm's water consumption by as much as 60% and increase crop yield by 90%. 
Al-fresco cooking & dining outdoors
Spending more time at home? Invest in your outdoor space and you'll reap the rewards. Picture a summer gathering, grown-ups talking gastronomy around your outdoor kitchen and BBQ area, little ones in the pool and homegrown vegetables on the menu, straight from garden to grill, handpicked that morning. 
Outdoor kitchens are the most desirable of must-haves right now and they'll help to increase the value of your home. Creating your own outdoor kitchen, near your growing space, brings the indoors outside, vastly increasing the area of truly useable space and expansiveness of your home. 
The sky's the limit when it comes to building your outdoor kitchen area. You can surround it with stone-built and tile-roofed structures for year-round use or a bespoke wooden pergola to create a cosy, airy outdoor setting for warmer seasons. Add some garden dining furniture for your guests to relax in and you'll be enjoying those heady summer evenings where time loses meaning.
Growing under glass
Greenhouses are a brilliant addition to any garden and come in all shapes, sizes, and materials. You could have an all-glass greenhouse, or you could choose a stone base greenhouse for more permanence. 
Owning a greenhouse means you can tend your crops in any weather and extend the growing season by controlling the temperature inside, through vents and heaters. And so long as you can control the internal climate, you can grow almost anything you can think of.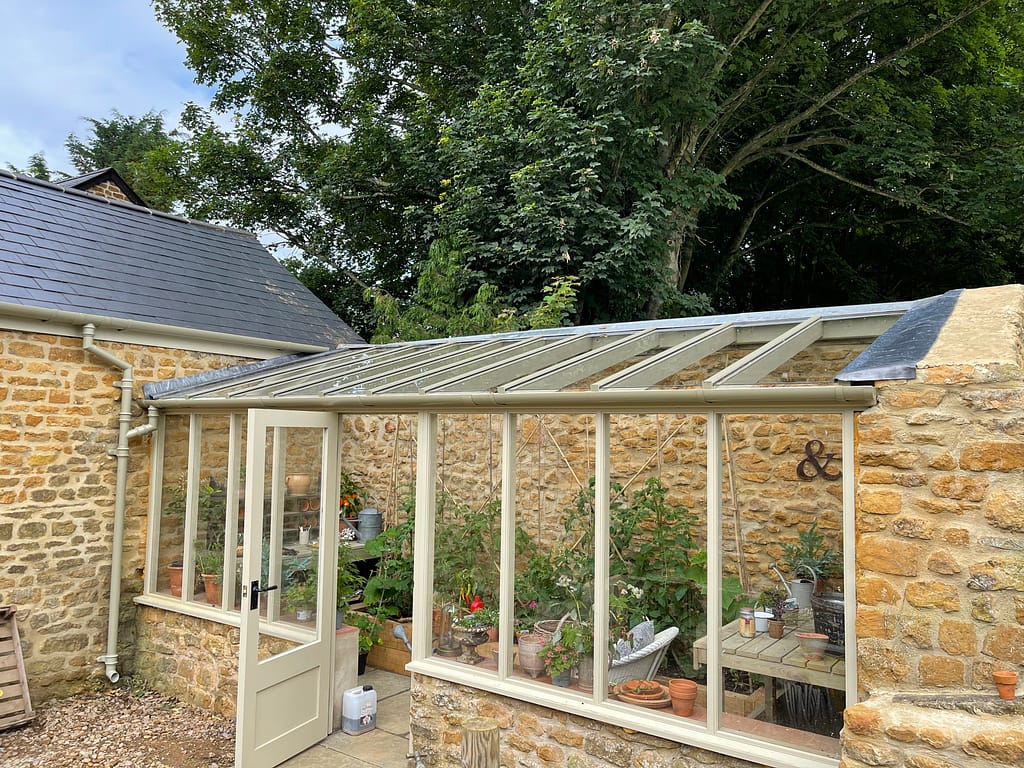 Don't have the space outside? Cold frames or covered container beds might be your friend. 
A cold frame is like a mini greenhouse and using these or a covered container bed allows you to grow in small gardens or even courtyards. They just need an area that gets several hours of sunlight each day. 
It's worth noting though that size can impact what you can grow, as roots will need the appropriate room to spread and tall growing plants may outgrow the height of your cold frame or container's cloche. 
Finishing touches
Think water. In the growing season, your fruit and vegetables will need a regular supply of water. Irrigation is the solution. As previously mentioned, it allows you to properly water your crops when needed and saves time, water and money by giving your crops exactly the right amount of water needed and when they need it. 
Being able to grow your own fruit and vegetables is a great way to get the family outside, surrounded by nature and eat food rich in nutrients, supremely fresh and grown with love. And what better time to bring your kitchen garden dreams to fruition?
Our kitchen garden specialists can help kick-start your productivity in no time. We'd love to hear what you want to grow. Tell us your vision of green bliss.