Is there a gap in your garden that's crying out for something a little exotic? Perhaps you just can't find a hardy plant to suit that empty space? Or maybe you want to reap the nutritional rewards of growing-your-own?
There are protected growing environments to fit every garden, from palatial orangeries to compact coldframes but no matter what the size of your outside space, installing a greenhouse can bring many added benefits to a garden, some are straightforward but others aren't so obvious at first sight and one or two are simply out-of-the-ordinary.
Let The Oxfordshire Gardener's guide you through the reason why getting a greenhouse might be the biggest boon to your garden and your lifestyle.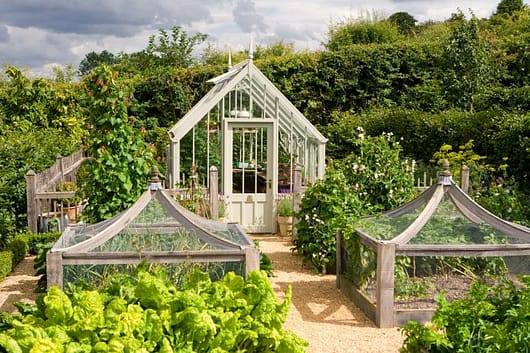 1. Broaden Your Foodie Horizons
Perhaps the most obvious reason to add a greenhouse to your garden is to begin kitchen gardening or to extend the productivity and increase the variety of produce you can grow throughout the year.
The protective environment of a greenhouse means you can grow many crops at a time of year that wouldn't cope with conditions outside, providing you and your family and friends with the year-round benefits of homegrown fruit and vegetables. Indeed, a Kew Gardens Study in 2015 found that homegrown fruit and vegetables not only tasted better than supermarket produce, but are richer in nutrients and antioxidants too. Growing-your-own also affords you the chance to control how your food is grown. You can decide whether or not to grow organically and if you do decide to use non-organically then you can decide on which aids to use and be sure that nothing else has been used.
Even those with limited space may still reap the rewards of an extended season by way of a coldframe. Lambs lettuce, spinach, kale and cabbage can all be sown around mid-February under the cover of a coldframe. Coldframes can also be used to help warm up winter soils ready for sowing by simply placing them over the patch of soil you wish to use.
If you have a little more space, especially if you want to grow tomatoes then opt for something more vertical. A mini walk-in greenhouse or greenframe might suit. And if you have a good-sized garden then a full-sized greenhouse can even see you adorning your fruit bowl with homegrown grapes and peaches.
2) Overwinter Tender Plants
Do you long for a more tropical garden? Is there a plant you adore but simply won't live through a harsh British winter? If you want to introduce lots of tender or exotic plants to your summer show then having a greenhouse is essential. You'll need a substantial greenhouse with plenty of shelves and floor space, and you may well want to invest in a heating and ventilation system to keep the temperature consistent too. 
It's worth noting here that if you plan on using a greenhouse mainly for overwintering then sighting it on an east-west orientation is recommended, as this has the effect of lengthening winter sunshine to the maximum. For growing produce, especially summer crops, north-south orientation is better as this allows both sides of a greenhouse to receive near equal hours of sunlight.
If you have room and want to sow, grow and protect then it might be worth having two smaller greenhouses, each orientated in different directions rather than one large glasshouse.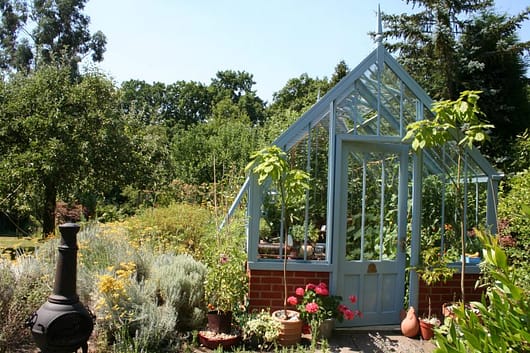 3) Fill Your Garden From Seed
One of the most cost-effective and satisfying ways to fill your garden is by growing plants from seed. Certainly, you can sow a couple of seed trays and place them on a sunny windowsill indoors but it can limit you to a few varieties when seeds fill up two or three trays. Having a greenhouse gives you the room to sow many more, providing your garden with a riot of colour and an abundance of varieties including lesser-known heritage and heirloom seeds. There are so many seeds that are easy to grow and so many more varieties available as seeds than as young plants.
A point worth nothing if you're growing perennial plants from seed is that many do not flower in their first year. During the first year they tend to concentrate growth on their roots and stems, but if you're patient and can wait a year then you'll be rewarded with beautiful flowers year-after-year once the first year is out.
You may have already established plants in the garden that are seed-bearing types? Collecting the seed and raising seedlings from it allows you to increase your stock of any much-loved plants. You could share beloved plants with friends or family, letting them enjoy the beauty in their own gardens or replace any dead or diseased specimens of your own.
4) Create an Aesthetic Aspect
There is no doubt that there are some gorgeous glasshouses available and if nothing else then a beautiful greenhouse, thoughtfully placed can conjure up such a peacefully pastoral mood.
Now we're not suggesting that you go all Marie-Antoinette and build your own Petit Trianon to play the part of Shepherdess in, or that you should have a pretty glasshouse installed just to look at, but it must be said that a well-designed greenhouse, sighted in a pleasing perspective, really can lend added delight to a garden, especially when the design is sympathetic to its surroundings.
Wood tends to look warmer and more handcrafted, and wood-framed glasshouses particularly suit traditional cottage or country gardens. However, whilst they lend an air of quietly rustic elegance or Victorian grandeur they will require occasional upkeep. Much like wooden window-frames, you'll need to treat or re-paint the frame every few years, though you can minimise maintenance if you opt for cedar-wood. It's also worth noting that those Victorian domed glasshouses might look gorgeous but wooden struts and posts tend to be wider than metal ones, which, of course, will let less light into the greenhouse. If you'd prefer something low maintenance then aluminium is the key. Not only does it require little attention but the strength of the metal means that struts can be thinner, allowing more light to flood in.
Metal frames lend themselves well to a modern industrial look, but aluminium can also be painted to soften the effect and be more pleasing to the eye in any garden. Some greenhouse manufacturers specialise in producing traditional-style greenhouses from aluminium that look so good that you'd be forgiven for thinking they're wooden. Griffin Glasshouses make gorgeous aluminium and galvanised steel glasshouses in an enchanting traditional style.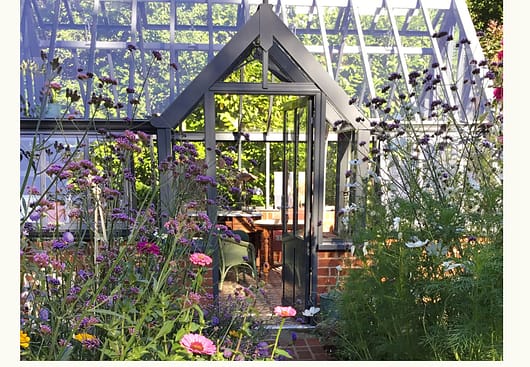 4) Nurture Body and Soul:
Growing in greenhouses keeps your mind and body active. Greenhouses need to be well-ventilated to allow fresh air to circulate and replenish the carbon dioxide which plants need to photosynthesise. This means you'll need to keep in mind when and for how long to open your greenhouse vents, and regularly walk out into the garden to do it whilst keeping an eye on your tender seedlings and how your produce is fairing, tying up and gently living the good greenhouse life. Alitex Greenhouses & Conservatories use a combination of roof and side vents as standard in all their greenhouses to create a 'chimney effect' inside the greenhouse which not only encourages air circulation but also prevents unhelpful through drafts. 
You'll also need to keep your plants well-hydrated and that can mean a spot of weightlifting with a full watering can (and if you have lots of plants then there may be several trips to the tap or water-butt and back.
There's also the physicality of sowing, potting, moving bags of compost and grit, digging beds in the garden ready for your seedlings and plants to be housed in, all which will keep your body active in a much more enjoyable way than spending an hour pounding a treadmill in the gym. But, it's a wonderful tonic for the soul too. There is little more satisfying and rewarding than nurturing and caring for something from seed and watching it thrive and bloom.
Even if you are time-poor then there are a plethora of accessories available to help you maximise the benefits of greenhouse gardening whilst minimising the time-consumption. Automatic vents can be very handy, not just to those short of time, but for when you're on holiday for example, as they can be set to open or close in response to greenhouse temperatures.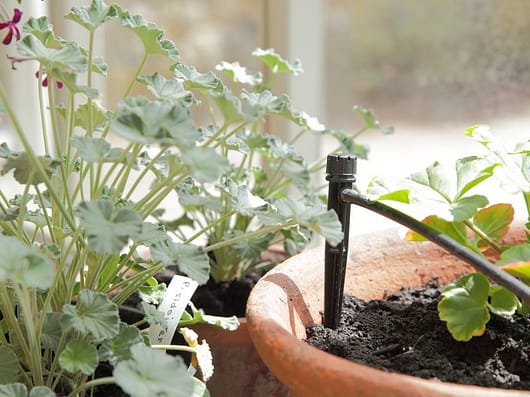 There are also a wide range of irrigation systems that can be installed, so you don't have to worry about watering. Large structures are best suited to sprinklers or overhead spray systems, though if you're planning on propagating great quantities of seeds then a misting system might be the order of the day as this will gently hydrate tiny seedlings without disturbing them. Drip irrigation systems release larger droplets of water at set intervals on the surface or buried within the soil, which is a particularly useful system for plants that do not like to dry out.
For ultra low-maintenance seed capillary mats (or self-watering trays) are deceptively effective. Any plants placed on them 'suck up' as much moisture as they need by the capillary action of their roots, which keeps them perfectly hydrated but also encourages plants to grow deeper roots as they reach down towards the water. And they only need topping up approximately once a week.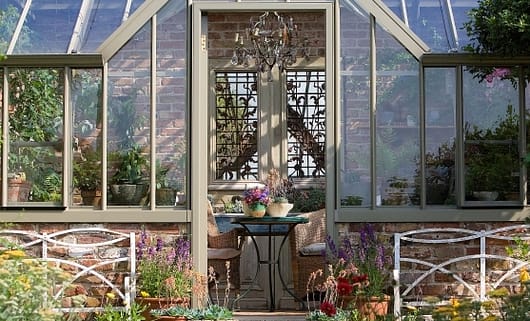 5) Relaxation, entertaining and other less obvious uses!
The original idea of a glasshouse was undoubtedly to provide a protected growing environment but there are many equally wonderful uses that may not readily have sprung to mind. For example, we recently created a raised kitchen garden for one client and are currently working to double the size of this area in order to accommodate a glasshouse and seating area which they intend to use (at least partially) for relaxing in and entertaining.
We have seen greenhouses used as weather-proof outdoor yoga studios, tranquil meditation rooms, covering ponds, pools and hot-tubs and as inspirational workspaces. Research has shown that productivity increases significantly when we are surrounded by plants and that simply looking at nature has a positive effect on our wellbeing, so what more wonderful, effective place to work than a glasshouse where we can be ensconced in plants and look out at blue skies and greenery at every angle? Add a desk and socket and you have all you need for a day in the outdoor office. Just don't forget to turn any sprinklers off!
Perhaps our favourite alternative use is as a fabulous place to sit and have drinks or eat with friends whatever the time of year, much like a contemporary version of the banqueting houses so popular in gardens from the Tudor Period to their peak in the 17th Century. We think it's time for a revival, don't you?
If you're planning on installing a greenhouse, glasshouse, orangery or banqueting house, our expert team can help you plan the perfect position and design a productive, truly gorgeous garden to complement it.