Viburnum × bodnantense, the Bodnant Viburnum, is a group of hybrid flowering plant cultivars of garden origin. They originate in a cross between Viburnum farreri and Viburnum grandiflorum made by Charles Puddle in 1935. 
The Viburnum x bodnantense 'Dawn' is a strong-growing, large, deciduous shrub of upright growth with dark green, ovate leaves and clusters of scented, light-pink and white flowers opening from autumn to spring, from red buds.
With their dense clusters of fragrant, dark pink flowers on bare stems from November to March and toothed dark green leaves. This upright, deciduous shrub is perfect for perfuming winter walks. 
When and Where to plant:
Viburnum x bodnantense 'Dawn' is a brilliant plant to bring colour and fragrance to the garden in winter when few other plants are in flower. Our planting designers choose this variety, among others, to make sure that planting schemes reward their owners with the gift of blooms whatever the season. The bare branches burst into life with dense clusters of tiny rose, pink or blush white flowers when least expected. In the spring, the flowers turn to red, then purple, then black berries, as the branches begin to cloak themselves in foliage. 
It's best to grow the Viburnum x bodnantense 'Dawn' in moist but well-drained soil, in full sun to partial shade. Plant them between September and December, then enjoy their flowers from autumn to spring.
Try planting this shrub close to an entrance or path, where you'll get to regularly revel in its sweet perfume. And, if you find you'd like a few more then they can be propagated by taking cuttings in summer.
This Viburnum can reach a height of approximately 2.5 metres and a spread of 1.5 metres, though it can be kept more compact with regular pruning. To prune established specimens; after flowering removing around one in five of the oldest and weakest branches, taking them down to the base. Then apply a generous 5-7cm (2-3in) mulch of well-rotted garden compost or manure around the base of the plant to give them a nutritious boost.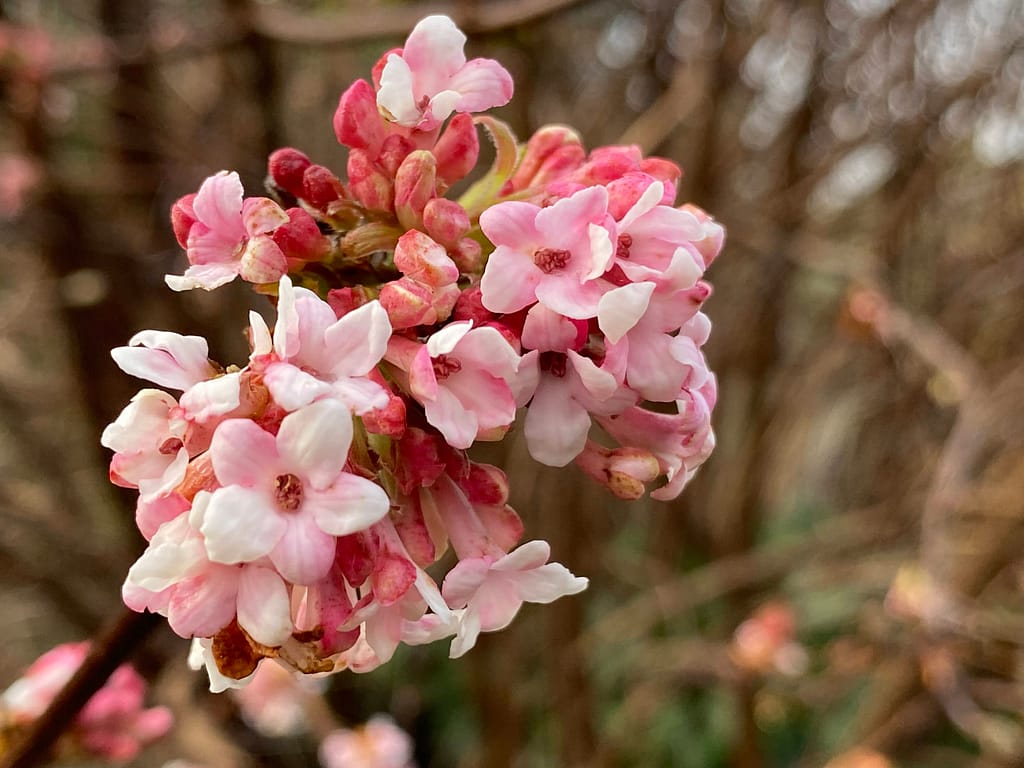 Tolerance and Resistance:
'Dawn' is one of the most well-regarded cultivars and has such has been awarded the RHS Award of Garden Merit for its value to during the colder months, as well as its reliability. It's a very hardy shrub, rarely bothered by pollution or pests. 
Though hardy down to −20 °C (−4 °F), like all early-flowering shrubs the flowers can be affected by late frost, which will affect the production of fruit.
Curious Cuttings:
According to The Plant List, Viburnum × bodnantense is an unresolved name, meaning that it has not yet been accredited as a valid botanical name or synonym. However, Viburnums are also known as 'arrowwood' (along with a few other shrubs) because their branches often grow long, straight and strong, which made them great for fashioning arrows. 
Wildlife:
This beguiling plant not only provides us with a mood-boost in the depths of winter but provides a haven for wildlife too, giving cover to garden birds such as blackbirds, thrushes and robins, as well as supplying pollen, nectar-rich flowers and nutritious berries, at a time when wildlife can struggle to find a good meal. 
Other Viburnums bloom in spring with a fantastic display of large white flowers that offer plentiful support to early season pollinators.
So, there you have it. Viburnum × bodnantense provides a cloud of sweet perfume and a proliferation of blossom when most other plants are enjoying a long winter sleep, giving you, your garden and the local winged creatures a little lift. So, there really is no reason not to include this season-defying beauty in your garden.
Discover more of our team's favourite plant picks – just scroll down for more. 
Need a hand bringing year-round interest to your beds and borders? Learn more about our Soft Landscaping services.