"Have nothing in your houses that you do not know to be useful, or believe to be beautiful"
William Morris, February 1880
We believe the same to be true outside your houses too.
It's the New Year, and with all the bouncy optimism of a newborn lamb, you're determined to blow the cobwebs out of your system and begin the annual health refresh that has become synonymous with the post-festive period.
Knowing the benefits of eating fresh fruit and vegetables, especially when they've been nurtured by the soil in  your own home ground, you'd love your own vegetable patch, but the idea of sacrificing some land to onion sets doesn't quite have the same appeal as new bed of beauteous blooms, then we have just the answer. With its mix of graceful formality, artful romanticism and thoughtful practicality, the potager is just what you need.
First found in France, the potager originated as a simple kitchen garden, designed by monks to grow all the necessary ingredients to make good, nutritious soup (or potage).  The monks chose to lay out their kitchen gardens in uniform geometric shapes, mirroring religious symbols such as the cross, and to liven up what would otherwise be simple muddy patches they would plant roses, whose flowers served to decorate the statues that adorned the area.
As time passed, with the vision of people such as the esteemed architect Jules Hardouin-Mansart, who originally designed the potager at Versailles, the original humbler designs took on a grander status. Boasting an impressive 29 plots, growing 20 varieties of apples and 50 varieties of pears, as well as a wealth of salads and vegetables, the potager at Versailles took the monks principles of making the necessary beautiful and elevated them to an entirely new level, making them fit for a king – and no less than The Sun King himself. Today, the potager is recognised as an ornamental kitchen garden which equally honours the practical and the aesthetic.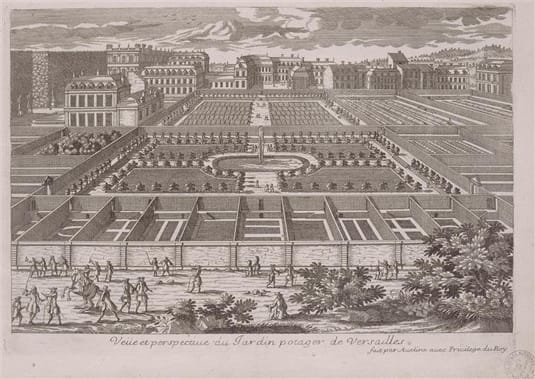 The potager at Versaillesas it was originally designed. Image: Paris Histoire
Combining fruit, vegetables, herbs and a cutting garden in a visually tantalising manner will ensure that your garden is beautiful and if you plan carefully it will also bring year round visual stimulation as well as productivity. So, if the thought of floating romantically amongst precise parterres of bountiful blooms, whilst also being able to pick your own potatoes appeals, then here's The Oxfordshire Gardener's guide to getting your own  little slice of Versailles.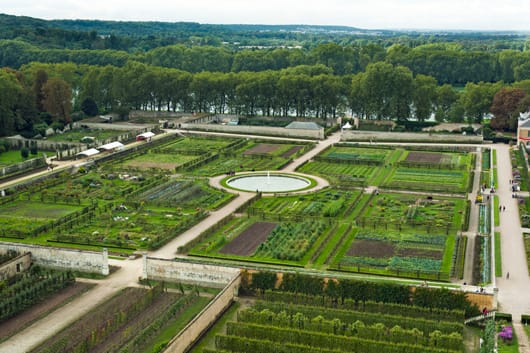 The potager at Versailles as it is today. Image: Paris Histoire
Using geometric grids and repetition as well as a strong focal point such as a towering arch, brimming with beans, or a planter filled with majestic globe artichokes, lends the fundamental structure which forms the bare bones for any potager. Originally, the potager was based around a simple design of 4 identical sized beds, but it recent years us gardeners have become more adventurous, often implementing free form shapes like circular and L beds, which can work more sympathetically in gardens of an overall more naturalistic format.
In most cases, the beds are either raised from the ground and made of wooden edging or surrounded by box hedging. Paths are often paved, gravelled or bark chipped. With careful forethought and a bit of design flair, it's also possible to include rain-water barrels and compost bays without compromising the aesthetic beauty of the finished look.
Not only are potagers a fantastic way to grow your fruit and vegetables, but with careful planning and the addition of companion plants, you will also be providing a perfect habitat for bees and insects to live, in turn, this will assist with pollination and reduce the possibility of common diseases.
Designing what is going to grow in each bed is an enjoyable task that takes some research, but don't worry if you don't get it exactly right in the first year, because the majority of vegetables require annual rotation, so you have the chance to make changes and improve on the design year after year!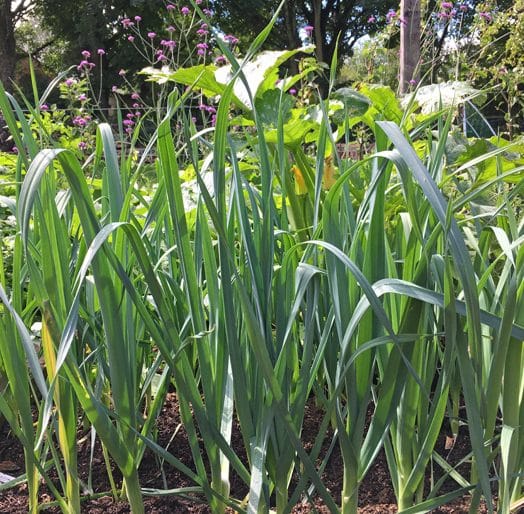 Ready to make a potager a smart addition to your home and health goals? If your senses have been awakened, do get in touch with us and let us lead you through the process from start to finish.
The Oxfordshire Gardener team can design, build and maintain your potager, providing yields of your favourite produce, whilst ensuring elegance is inbuilt.