Evolving from the Modernist design movement of the late 19th and early 20th centuries, Mid-Century Modern design embraced the clean lines and geometric shapes that had been the central tenet of Modernist design and combined it with softer, sinuous forms and natural, organic textures; finally daubing it with a splash of glorious technicolour for a shot of post-war positivity. And it's having a moment now. 
Keen to join the ranks of the cool kids, but not sure exactly what this design movement embodies? 
Let's jump in the DeLorean, hit 88mph and head back to the future to take a fresh new look at the bright, brave and breezy new world of Mid-Century Modern (MCM) garden design. 
Suburban dreamland 
Whilst the birth of suburbia chimed with the arrival of the industrial revolution in the 19th century, it wasn't until the economic expansion of post-war America that this optimistic design movement would begin to emerge. 
After the upheaval, grind and uncertainty of the war years and the lingering hardships of rationing in the post-WW11 era, the world, foremost in the US, began to look and feel like an altogether happier, more flourishing place, as people began to find themselves better off. The suburbs of west coast America began to look like a dreamland of modernity, where veterans could find tranquillity in comfort and families could thrive. 
In order to meet demand, homes were often designed and constructed in a 'cookie cutter fashion', assembled along the lines of mass production. So, by the late-50s and into the 60s people were looking for ways to add their own individuality and elan to their home. 
With the average person's prosperity level and leisure time rising, life was becoming increasingly comfortable, and of course, with more time and more money, it's considerably easier to not only feel more optimistic but also to contemplate and explore different new ways of creating, inventing and living. Much along the lines of Maslow's 'Hierarchy of Needs', once you are able to satisfy the basics needed to survive, you are naturally more able to look to the finer or higher things in life. 
The 50s saw new technologies that brought highly cost-effective manufacturing tools, techniques and materials, which, when combined with a bold, boundary-stretching generation yielded revolutionary designs at affordable prices. Daring new style was becoming readily accessible to all.
Defining Mid-Century Modern
As Art Deco (otherwise known as style moderne) with its emphasis on geometric shapes and sharply defined lines, developed as a reaction to Art Nouveau's elegant lines and organic curves, MCM took the even further refined Art Deco-influenced style of the Bauhaus school, softened the hard edges by reintroducing more naturalistic elements, then adding pops of cheerful colour within the subtle palette. 
How does this translate to gardens? Well, a key theme of the architecture of the time was the blending of indoors with outdoors. The garden was to be lived in, rather than looked at.
Whilst buildings concentrated on geometric design, the structure of homes and gardens (the bare bones, if you like) keeping to a Modernist manifesto, huge glass walls and see-through walkways allowed an uninterrupted connection to the natural environment. 
Sleek and curvaceous motifs celebrated the space age, adding metallic elements to the industrial materials of concrete, engineering bricks and cement steps. 
The hard landscaping elements of the garden mixed simple lines and boxy forms with mind-bending curves. Straight, rectangular paths, patios and raised planters became contrasted and blurred by hazy, tactile planting.
Flowers gave ground to hedging and shrubs, pruned to reflect back the lines of the home and create more privacy. Flowers were still prized, but not en-masse, instead, specimen and collector plants were interspersed with a light touch amongst the scattering of low maintenance but stylish shrubs and grasses to resemble a more natural landscape. 
Open terraces, courtyards and wind tunnels (breezeways) allowed residents to immerse themselves in fresh air, as they were channelled from one wing or room to another, whilst generously proportioned and brightly coloured, moulded outdoor furniture provided sophisticated seating. 
But how can you update MCM for a contemporary take on this style of garden design? 
Mid-Century meets new millenium:
Interest in MCM style has been in decline since the '70s with many turning to more full, floral, traditional and organic styles or leaning to more exotic flavoured designs, but now, people are once again appreciating its cool sophistication and 'bright-future' feeling. And perhaps, having been through some less than sparkling times ourselves in recent years, we too are yearning, just like the post-war generations, for something more optimistic, more comfortable and more 'we-can-do-anything' to lighten our lives. 
To breathe MCM design back to life and ready for the 21st century, takes just a little editing. 
Swap plastics (thinking of that moulded furniture!) for more sustainable materials like wood. Add polished stone and marble tables and natural stone patios (or for a really sleek look how about a porcelain or polished concrete finish). Add clay paver paths and metallic planters to continue the earthy theme. 
Elements like patios and balconies perhaps encapsulate the blending of inside and out in its purest ideal, so take this concept to the max by creating balcony gardens and keeping patios and other areas of hardstanding topped up with terracotta pots and planters. 
Furniture should be functional in form, but oversized for comfort, in neutral tones rather than providing the bright pops of colour from the movement's early roots. Save that for the planting scheme (which tends toward more fullness of flowers and colour in contemporary translations) and the odd splash of vibrancy on a planter or some garden art.
MCM inspiration: 
Looking for some local real-life stimulation to fuel your MCM garden vision? 
St. Catherine's College, Oxford, was designed in the 1960s by Arne Jacobsen and is now a Grade 1 listed building. 
The structural elements of the building and grounds remain true to Jacobsen's original design, which was designed as a series of 3-metre grids, laid out as a series of rooms or spaces, that unify the site. 
Yew hedges define the boundary of spaces, along with the brick walls and covered walkways that link areas of the building.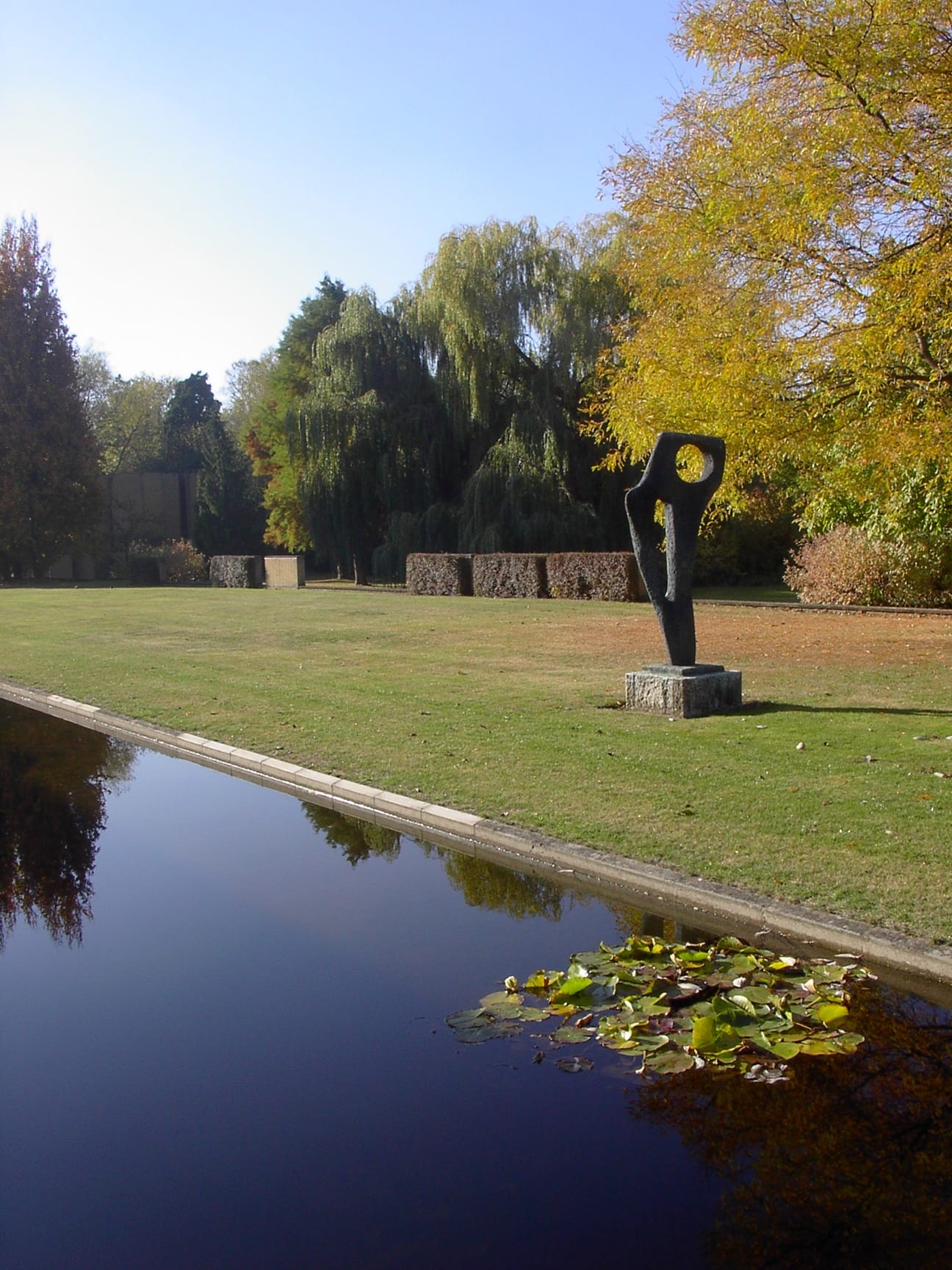 Though the planting stays close to its original ethos, inevitably, there have been changes to the planting. In line with contemporary tastes, planting has become softer and more romantic, cushioning the more Spartan elements. 
St. Catz is an open college and welcomes visitors all-year-round, but to find it at its best, glide around the grounds between June and October. 
St. Catherine's College, Manor Road, Oxford, OX1 3UJ.  Tel: +44 (0)1865 271 700  or email: lodge@stcatz.ox.ac.uk
Ready to get bring a little mid-century magic to your living landscape? We'd love to hear your thoughts. You'll find us by the phone or ready to read an email from you.