Looking for something a bit different to give a great display and last through spring…into summer?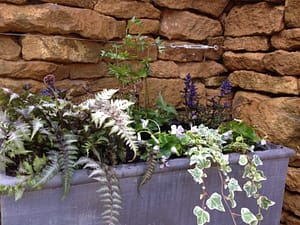 Athyrium niponicum var. pictum, the painted lady fern will brighten a shady area with its spectacular wine-red petioles and richly coloured fronds. If it does catch a little sun the colours become more intense. Here we have planted painted lady with a vivid Ajuga reptans in a lead trough for a client whose garden we maintain in Great Tew.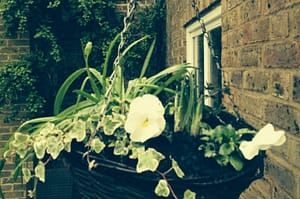 Whilst in a lovely Oxfordshire garden in Chinnor this week creating a herbery and giving a good seasonal Spring tidy-up we planted these baskets, three of, giving a repeat effect with maximum style in an old stone house courtyard. Sorry photograph is not the best in the rain! Scilla campanula, Iris pixie, Ajuga reptans, Hedera trailing and Pansy white with yellow blotch. Lots of form and texture, little informal and unexpected pops of colour from the Iris.
Herbery:
Perennial herbs with good culinary use were planted including bay, chives, hyssop, oregano, curly parsley, french parsley, sage and common thyme. Hyssop is an old herb making a comeback, a good flavouring herb fresh or dried, it tastes a lot like mint but more grown up. Fresh it can be used in salads, summer soups and stews and has the versatility of infusing in puddings, cooking with fruit or sauces. Simon was on BBC Radio Oxford talking about hyssop live at The Big Feastival as it created much interest. We left some space for more summer herbs and to allow the herbery to flourish.