Victorian garden in Oxford.
A Victorian garden in Winchester Road, Oxford with a long and elegant garden required some rejuvenation and a refocus.
Simon worked with the client who was looking for a classic Oxford garden design and landscaping ideas, together they developed the garden design to maximise the light and form of the garden, starting with an examination of the existing plants and structures.
"So often we can make dramatic improvements by rejuvenating the existing mature plants. By reviving them through pruning, shaping, tying up, feeding and spraying, we can turn them into great features of the garden, rather than merely 'plants that have always been there.'"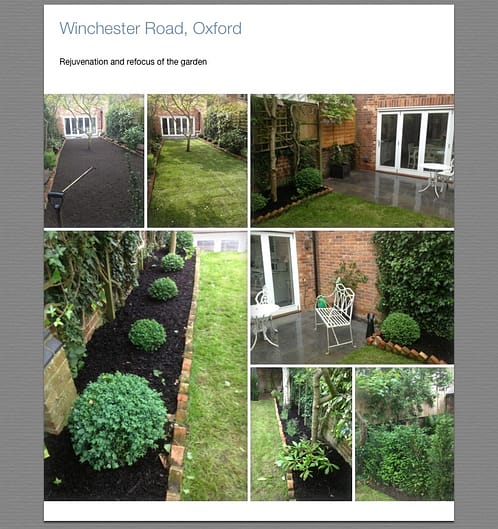 The garden services in this Oxford garden included uncovering a water feature in the shady garden whilst landscaping the rear walled garden.
Taking into account the client's love of symmetry and regular proportions, we created an open space. Preparing the ground and laying of a new verdant green lawn with shaped buxus sempervirens to the borders leading to a painted iron bench with a new instant yew hedge behind, all visible from the beautiful glass kitchen extension.
Through healthy pruning, we gave new life to mature shrubs and created a topiary feature out of an existing mature viburnum.