Everyone has the ideal image of what they want their Christmas tree to look like. Decorative baubles, lights and ornaments which perfectly complement each other in a stylish scheme. However, when it comes to putting the tree up that idyllic image is easier said than done.
Decorating your Christmas tree for each person is a very personal thing, for some it's just another festive decoration and for others it's the pride and joy of your home being the centrepiece for all to see.
Here's how we've decorated our Christmas tree here at Bloomsbury Home in hope to give you some inspiration when you decorate yours. But before that, you need to make sure that you have the right tools to ensure you can make the most of your Christmas tree.
This will include cotton gloves to help shape your branches, scissors for your materials or shaping, and a small ladder or stool to help install any decorations on top of trees.
So now you're all set up, fancy getting that Insta-worthy look with very little effort? Read on…
Invest in a good quality artificial tree or real tree
Artificial Christmas trees crafted from premium materials provide sturdy and reliable support for decorations. You'll find that high-quality trees are generally more durable and can stand up to repeated year after year, all whilst maintaining its beautiful look. Opt for a traditional tree rather than a trend-led one so that it doesn't go 'out of date' after a few years. 
Alternatively, if you really want a real Christmas tree with it's piney-aroma, there's a great selection of different types available to buy at tree farms, markets or home & DIY stores around your local area just make sure to pick one which isn't too big!
'Real' trees are recyclable and can be shredded into chippings which are then used locally in parks or woodland areas. Local authorities often arrange drop-off points or special collections of 'real' trees in early January and advertise the dates this will take place with any other changes to collections over the Christmas period.
Christmas trees take around 10-12 years to grow to the most popular size of 6 feet. During that time, they provide a habitat for wildlife and capture carbon from the atmosphere. According to the Carbon Trust, a two-metre artificial tree has a carbon footprint of around 40kg, more than ten times that of a real tree that's burned after Christmas.
In other words, you'd need to re-use an artificial tree 10 times to negate its carbon footprint, yet it's estimated that fake trees are used only four times, regardless of improving quality.
By fluffing out the branches of the tree it helps to make the tree look fuller and more natural. This process can be very time consuming but it is worth the effort at the end of it. Make sure to separate each branch so they fan out and are able to cover as much area as possible. If needed, you can always bend individual branches to fill in gaps which you can't reach. A properly shaped tree is an appealing sight to all.
Start with the lights first 
The first, most important thing you need to do when decorating your Christmas tree, is to always add the lights first. It's more difficult to do this after you've added decorations like baubles and ribbons.
We would advise that you use the plug as the starting point, wrapping the lights around your Christmas tree's base, working your way up from the centre of the base of your tree. Continue wrapping the lights evenly around the branches nearest to the trunk, and then weave it upwards.
Then once you're at the top of the tree, make your way back down by arranging the lights further out on the branches. Keep weaving the lights until you reach the tips of the branches.
Choose the right decorations 
When it comes to decorations for your tree it's important that they all fit the same theme and don't look out of place. Whether you want to use garlands, ribbons or floral picks, opt for Christmas tree decorations that will complement the overall appearance of your tree. Many bauble sets include different shapes, sizes, finishes and designs. Combining these with traditional baubles will give you more freedom to play with your chosen theme.
It's also important not to clump all of your decorations together. Making sure that they are well-balanced and spread out to your liking is vital. Start at the top of the tree and work your way to the bottom so you can keep the same pattern throughout and not miss any spots. 
You can also layer your Christmas tree with decorative ribbons, which will elevate your tree's aesthetic. You can use different sizes of ribbon to create more depth and impact of the added features. 
Using elements from the earth to make natural Christmas decorations is a great way to reduce waste during the holidays, show your love for nature and fill the house with natural fragrance.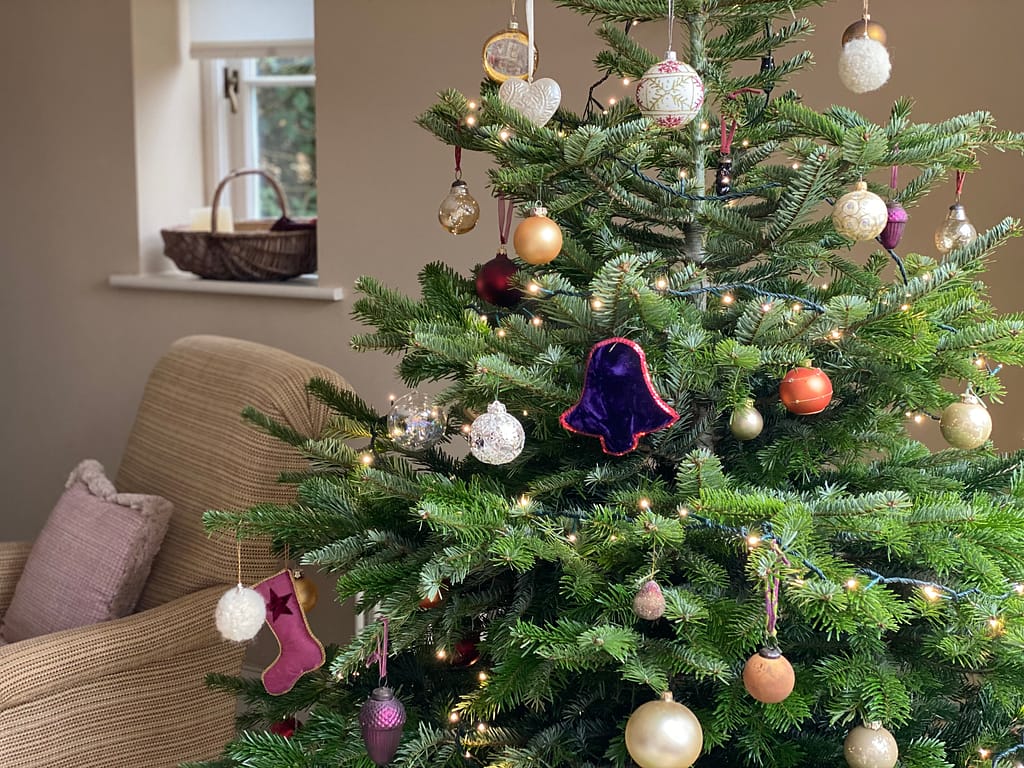 Some examples of this are gold dipped pinecones, dried orange and cinnamon stick clusters, and gathering some dried berries and making a ring with them. 
Choosing the right tree topper
An eye-catching Christmas tree topper is a beautiful way to complete the finished look of your tree. Make sure to choose one that best fits your theme and the proportion of your tree, and take into consideration the height of your ceiling too. You can also choose an alternative design, like a giant bow rather than a gold star, or you could make your own topper.
Finish it off with a tree skirt
Often overlooked, a Christmas tree skirt is the finishing touch to your decorations and serves to balance the overall design of your Christmas tree. Tree skirts have many benefits too, from covering the unsightly 'legs', trunk or stand of a tree to protecting your floors and carpets from any fallen pine needles (if you have a real tree).
Browse the full Bloomsbury Home Christmas Collection & fill those stockings with thoughtful gifts of exquisite elegance.
For true festive wonder, enter MAGIC20 at the checkout for 20% off orders until 22nd December in the Bloomsbury Home Store.