As we seek comfort and, maybe, cultivate new interests in these uncertain times, growing for pleasure from pots to patch and plot, whether it be vegetables, fruits, herbs or flower gardens bringing a sense of calm, as well as more self-sufficiency.
Nurturing ourselves and having a gentler pace through growing produce, Simon's spring series starts today on IGTV and here on the website, to help guide beginners and more experienced gardeners with sowing right through to harvesting, together tried and tested crops. Sharing his knowledge and skills to brighten up your plate and feed the soul with recipes from the kitchen garden along the way.
To get you started, why not dip into our list of everything we're growing over the coming weeks. There's no rush, as we're only just in early spring, so if you order seeds and supplies, you can join in once your goodies arrives.
The List:
The below list comprises the produce we grow every year at this time and only the very best varieties, tried and tested over the last 10 years, make The List.
These are 30 tip-top favourites that pack a punch with plenty of flavour and good croppers, so you'll be amply rewarded for your efforts. Pick the types that you love to eat in favourite recipes,  and you'll soon be creating your own salads and soups.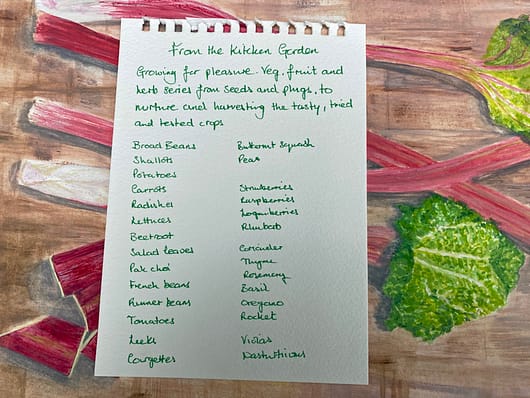 You can also pick some that just make you happy to see. For us that's a scarlet runner bean arch, popping peas growing, wriggling skywards up a homemade pea wigwam or languorous courgette plants finding big, buttery yellow flowers under their leafy umbrellas.
Top Suppliers:
Where do you start? At the beginning it's time to get some seeds…
We hope we've given you a good steer on selecting seeds and next, we'd like to share some great places to buy your seeds. These suppliers are super busy at the moment, but we've checked and they are still open for orders, although with the situation changing quickly, you may need to be patient and pop back.
Most single seed packets come with 100's seeds which is plenty for one growing season and these are being dispatched right now. We've added in plug plants suppliers too (plug plants are young plants which have been greenhouse-raised). We tend to order strawberries, courgettes, butternut squash, cherry, plum, large tomatoes and cucumbers as plug plants. Plug plants ordered now, will be dispatched in the coming weeks, once ready for planting out.
gardenorganic.org.uk   – Have an excellent stock of unique heritage & heirloom vegetable varieties, not widely available elsewhere. Become a member to access their Heritage Seed Library.
seedcooperative.org.uk – Supply vegetable, flower and herb seeds, as well as green manures.
chilternseeds.co.uk – Another excellent supplier of a wide-range of flower, fruit and vegetable seeds
realseeds.co.uk  – Award-winning supplier of heirloom and heritage vegetable seeds, specially chosen for home gardeners.
otterfarm.co.uk – Offers the best of the familiar fruit, vegetables, herbs and spices, along with less well-known plants and seeds that bring incredible flavours.
tamarorganic.co.uk – Comprehensive range of organic vegetable, flower and herb seeds grown organically from the source.
kingsseeds.com – Leading supplier of vegetable seeds, flowers seeds, organic vegetable seeds, herbs seeds, Sweet Pea seeds, fruit trees and various Plug plants, from the traditional home of the British seed industry, Essex.
jekkas.com – Family run herb farm with over 30 years experience in growing & using medicinal & culinary herbs plants and seeds. Offering over 140 varieties, many of which are grown in Jekka's Herbetum.
edulis.co.uk – Grower of an eclectic mix of rare plants, including a large selection of unusual edible plants as well as many rare shady plants.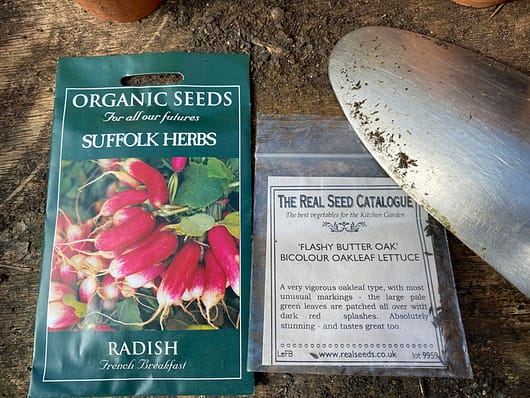 What about compost and feeding?
Compost, we normally buy locally and from peat-free producers in bulk. When we use retail compost we look for Melcourt, a widely-known, good quality brand. Some of the suppliers above supply compost too, as well as pest protection and good information.
Dalefoot Composts,  are up in the Lake District and exhibit at RHS Chelsea every year. They have a great collection of composts from the fells and hold the soil association stamp.
When it comes to feed, we sue liquid seaweed feed and organic tomato feed.
Where do I look for products, tools etc?
Look at what you've already got stored and hidden away. You may have unused pots, planters, troughs and containers that can house a mini-plot.
If you need some new equipment or accessories, then many of the above-listed sites sell tools, garden string for tying up and nifty things. Or head over to Harrod Horticultural who offer a wealth of garden supplies, including some things you didn't realise existed. twowests.com is another useful resource.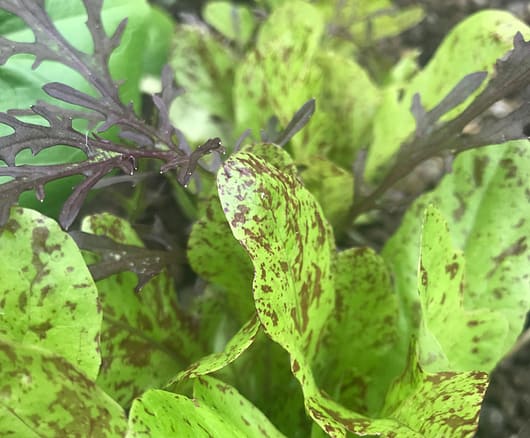 So, go on, give growing your own produce a try.  We'd love you to join us here and on our social media platforms to grow along with us (you'll find links to our social media below).