With the housing market slowing, homeowners have increasingly been turning to other ways to add value to their homes – and renovations and improvements seem an obvious opportunity. 
But, not all improvements are equal. 
Taking into account the cost of making certain improvements vs the financial reward is key and some interesting research undertaken by Post Office Money and AXA have recently shed light on just where to make those home improvements that result in more bang for your buck. 
A study by AXA found that simple having a nice and well-maintained garden can up to 20% on your property value, but Post Office Money's findings go even further. 
"Making the right changes to your home can increase its market value significantly, and it may surprise you to learn that  "garden landscaping coming out on top for the most value added,' as Chrysanthy Pispinis from Post Office Money explains.
Forget installing a new kitchen or conservatory, converting your loft or basement or constructing an extension. Whilst these will add value to your home the spends involved in undertaking these projects can be as much as £100,000 or more. 
Having your garden designed and landscaped is far more cost-effective with the average spend (depending on size and complexity) lying in a range between £8,000 and £30,000.
In their survey of homeowners, Post Office Money found that 63% had no plans to move, but almost two-thirds of these were planning some kind of upgrades to their homes – not only to add value but to improve the look-and-feel of their homes, better reflect their tastes and to increase comfort levels and lifestyle. 
Of these, almost a third planned to have the garden landscaped (perhaps prompted by the lockdowns at the height of the pandemic, when a garden's true value was without doubt brought into clear focus).  
And it's not just value that's added when you landscape your garden. A garden with a wow factor can also significantly improve a property's saleability. House viewings with gorgeous gardens tended to sell much more quickly. Potential buyers walk into a well-designed and tended space, their mood is lifted, senses delighted and feelings of well-being and happiness increased, all adding to their desire to own that home.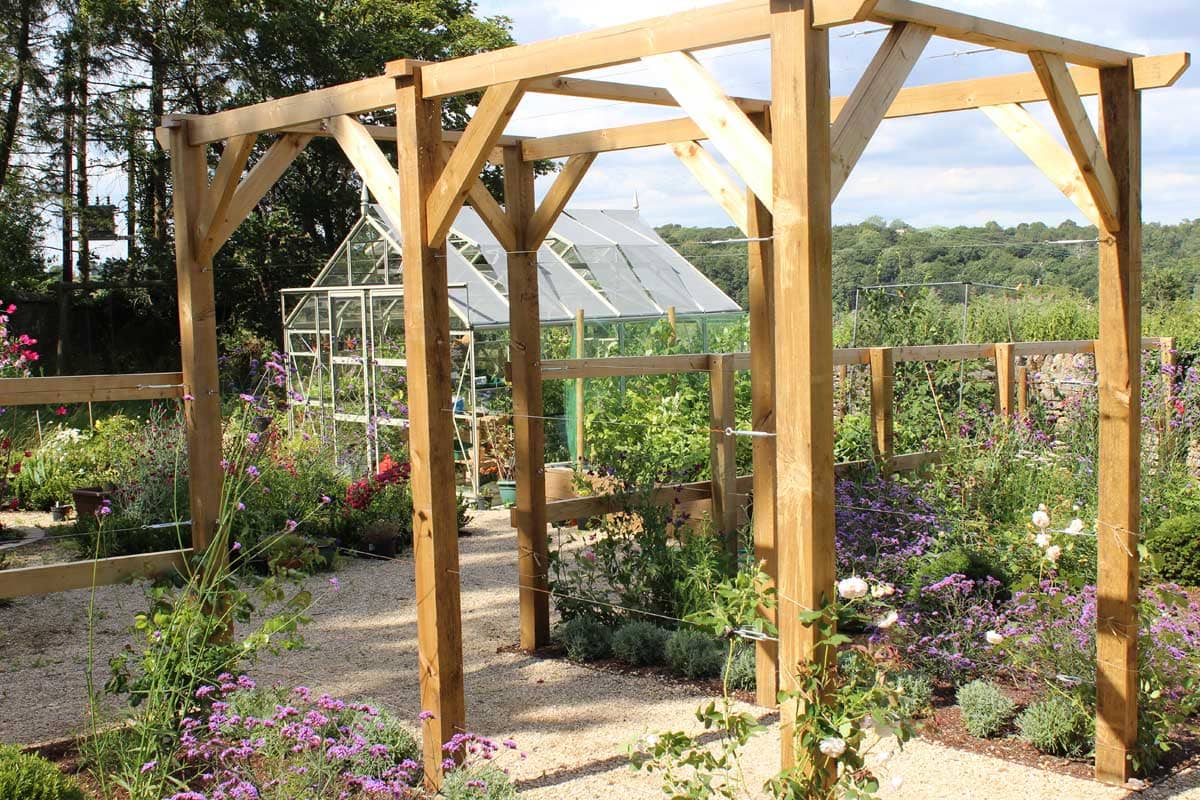 Now, with huge increases in everyday essentials like groceries spiking, many are choosing to spend more time at home and less on holiday abroad or dining out. So making the garden beautiful, welcoming and usable may possibly be an even more solid investment, both financially and for the enhancement of your well-being.
Here's some garden landscaping features that have been topping buyers wishlists:
Blue-sky cheffing
It's hard not to see the appeal of outdoor cooking facilities with dining and seating areas. From a simple Green Egg barbecue and workstation to a fully plumbed and powered outdoor kitchen, replete with diner-style fridges and a wine chiller by the bar.
Make an entrance
Kerb appeal matters. In fact, the difference between a stylishly designed and landscaped front-of-house, when compared to an unloved and dated design, can add up to around 10% to the value of your property.
Functional beauty
Have you heard of 'Functional Planting'? It's really just another way to describe planting that offers more than just good looks, a prime example being fruit and vegetables. With so much interest in growing-your-own currently, orchards and kitchen gardens are without doubt the number one most wanted addition we're being asked to include (and generously proportioned!) in garden designs.
Ranging from formal, grand potagers to simple sleeper-style raised beds, there's room to grow your own delicious food in pretty much any size of garden.
In rambling country gardens, wildflower meadows are popular for attracting pollinators and increasing diversity.
Inside out
An unexpected but utterly charming feature to bring you added value is an outdoor room, but why not have a bit of fun with it? How about a treehouse?
Whether it be a rustic childhood clubhouse hidden in the boughs or a luxury adult treehouse that's spacious enough for a home office or mini cinema, the cost of installation is almost never more than the value they add.
These are the potential increases in value of property with improvements, according to Post Office Money:
Garden landscaping: 77 per cent
Gym: 44 per cent
Extension: 37 per cent
Walk-in wardrobe: 34 per cent
Jacuzzi/hot tub: 27 per cent
New kitchen: 26 per cent
Swimming pool: 22 per cent
Basement conversion: 17 per cent
Conservatory: 10 per cent
Driveway: 9 per cent
Wet room: 7 per cent
Ready to get your garden looking gorgeous AND make the most rewarding improvement you can to your home? 
Our friendly team can guide you through the process. Talk to us about your garden dreams.