Known as the African lily, agapanthus is a garden delight that produces an array of lovely cut flowers to brighten up your interiors. 
Springing to life throughout a number of our gardens this June, agapanthus is a striking garden addition that can bring any border or container to life with it's unique flower heads and structure. Beginning to burgeon and flourish beautifully, let's find out all about the glorious bloom that is agapanthus.
At it's best:
We're not sure about your garden, but here at The Garden Barn, the star of the garden is in no doubt. And it's our showstopping agapanthus.
A native of South Africa where it tends to reside in coastal, clifftop locations, this plant likes to cosy into crevices and ledges where there is little soil but plenty of fresh, salt-tinged air; making it particularly useful for coastal gardens in milder parts of Britain, though it will grow happily in landlocked locations too.
Agapanthus exudes exoticism with its majestic, spear-like stems crowned by a magnificent umbel of starry flowers, and it's at the peak of its floral power in July and August. Most commonly found with blue flowers, though white is a popular choice, you can also find varieties in mauve and lilac shades as well as soft pinks.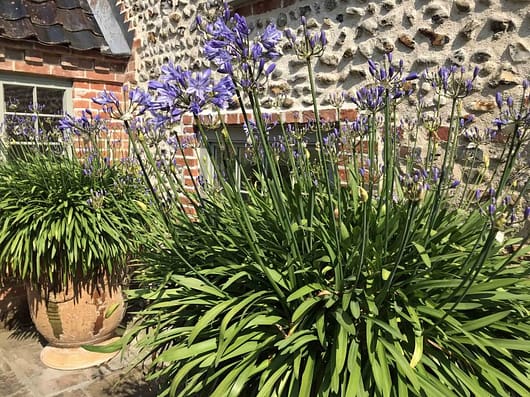 When and where to plant:
Agapanthus has both evergreen and deciduous varieties which they vary in their hardiness (see below for more on this), however, during the growing season, all varieties will respond best to a sunny but sheltered position. They like to be well-watered but will not do well if water-logged, so make sure to plant them in soil that drains well.
This is a plant that likes its roots to be snug. Slightly restricting its space seems to encourage flowering, as it mimics their native craggy environment and this makes it an excellent choice for containers, just don't let it become root-bound. Divide and re-pot with fresh compost every few years to prevent it outgrowing it's home.  It can be grown in beds and borders too, and here they are more likely to reach their full size, though they may take a while longer to coax into flower than container grown plants.
Can be planted at any time but planting in spring will give them a head-start.
Tolerance and resistance:
Slug and rabbit resistant, and not widely susceptible to disease, agapanthus is, however, prone to frost damage. Deciduous varieties are generally hardier than evergreens by virtue of the fact they naturally die back in the winter but read any plant label carefully to be sure. All varieties will welcome a winter-mulching of straw or protection by fleece if kept outdoors. Plants in containers would benefit from being moved to greenhouse or conservatory to over-winter.
Wildlife:
The butterflies and bees in our garden absolutely adore them.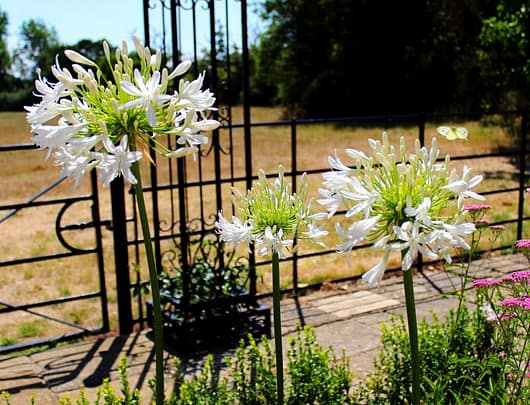 Curious cuttings:
The name 'agapanthus' is derived from the Greek words 'agape', meaning love and 'anthos', meaning flower and it has long been revered in its homeland of Africa for its mystical powers. Considered a plant of love and fertility, houses are filled with pots of agapanthus by people hoping to enhance the happiness of their homes.
And did you know that wrapping aching feet in agapanthus leaves can soothe them after a long walk or too long spent in uncomfortable shoes? We haven't tried it, but we're planning to test it soon!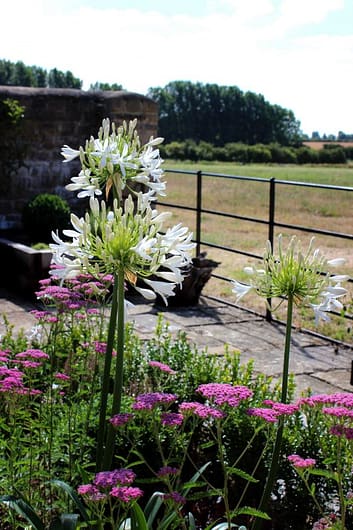 Explore more horticulture, garden design and landscaping inspiration by following our stories here or on social media by clicking the icons below: