Returning from a Roman holiday? Missing the Mediterranean? Read on for our top tips on bringing an artfully elegant latin look to your garden.
It's all Greek…
You might figure that the gardens of grand Renaissance Villas like those at Villa d'Este and Villa Lante, represent the birth of the classical Italian garden, but these 16th century masterpieces were in fact inspired by the gardens of ancient Rome, which were in themselves inspired by the gardens of ancient Greece.
Many of our great British gardens in turn drew strongly on the Renaissance, borrowing common Italianate features. Follies, temples, specimen planting and the use of focal points were all popular influences during the 18th century and some of the finest examples of this can be seen in gardens such as Stowe in Buckinghamshire and Painshill Park in Surrey.
So how can you bring a touch of Italian style to your garden? You don't have to have vast acres. Big or small, key elements can be adapted to suit any outside space.
Water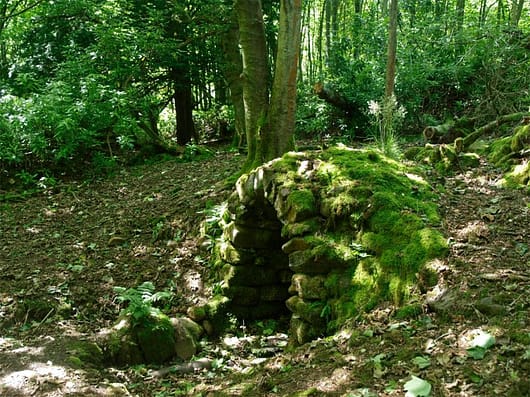 Whilst Villa d'Este boasts a total of fifty-one fountains and nymphaeums, 398 water-spouts, 364 water-jets, 64 waterfalls, and 220 basins, many Italian gardens have a simple stone pool with a single central fountain. Got a bit more room? How about creating your own grotto? Forget fancy shell-encrusted Temples of Venus; smaller, more naturalistic grottos are enchanting when set within woodland areas or stumbled across in sheltered spaces.
Planting
Any Italian garden worth its salt should cast edible plants as star players. Gnarled olive trees near the house make for easy pickings and are more tolerant than you might think, they'll live quite happily whether planted directly in the ground, in large pots or built-up planters. Mix topiaries of cubed box, lollipop bay trees and tall, straight cupressus (Italian cypress) to lend an air of the Tuscan landscape as well as providing definition to vistas.  For instant effect, pots of rosemary, oregano and jasmine placed on patios and by kitchen doors not only look the part, but scent the space with fresh, warm and earthy fragrances.
Balance & Symmetry
The idea here is the imposition of order on nature, think clean lines and geometric forms. Parterres of box or ligustrum delavayanum can be used to create formal beds surrounding specimen plants or even miniature mazes. Moving further away from the inner garden, determine your boundaries and borrow from your surroundings to create views that draw on the landscape beyond your fence.
Materials & Accessories
Whilst conditions in the UK don't often produce the same warmth underfoot of a sun-baked Tuscan terrace, with carefully chosen colours and materials, you can inspire a similar mood. The warm, soft tones of sandstone work particularly well though reclaimed red brick, with it's rich yet worn appearance, can also work to create an aged mosaic effect. For complete authenticity, The Oxfordshire Gardener's very own Italian-trained Environmental & Landscaping Consultant, Dr. Matteo Meloni, suggests sourcing stones "like travertino, granite, marble and natural rocks" throughout the garden to set off the landscape.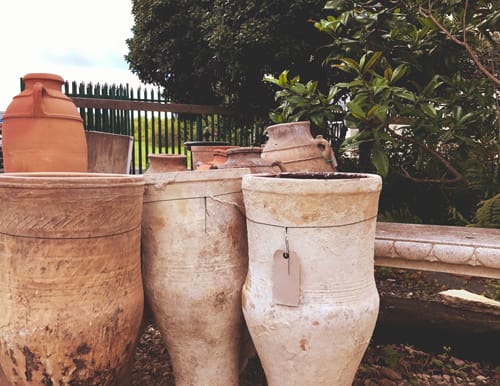 Outsized terracotta urns, pots and planters of various sizes grouped together, along with weathered busts and statues placed at interludes, all combine to create the look. Base your colour palette around the hues of the northern Italian countryside – soft greens and russets with hints of plum and the grape tones of scattered vineyards and you'll find yourself transported back to Tuscany (minus the packing) in no time.
Tuscany or Amalfi?
Matteo also mentions one final point to consider, whilst the formal gardens of northern Italy immediately spring to mind when we think of the quintessential Italian garden, in the last 20 years especially, it has evolved into the somewhat looser, less formal style of the Mediterranean coast. Predominant in the southern regions of the country and across the islands, the planting here combines aromatic plants like rosemary, lavender or winter savory with succulents, such as sempervivum and cacti.
Whether you're looking for an Italian garden designed and installed or a few landscaping nods Livorno, The Oxfordshire Gardener can help.