The positive effects of spending time in the great outdoors has long been documented.
It reached new heights in Victorian times with Poet Laureate Alfred Austin noting:
"The glory of gardening: hands in the dirt, head in the sun, heart with nature. To nurture a garden is to feed not just the body, but the soul."
We totally agree.
With that in mind we thought we'd take a closer look at why our glorious outdoor retreats are so important and what makes them the heart of our health and wellbeing. However small your haven, it can make a big difference to your happiness. 
There has been an emphasis on health and wellbeing at Hampton Court Garden Festival this week. We were particularly taken by David Green's Gold Award winning 'Stop and Pause' garden, which has been imaginatively designed around meditation and the various ways that it can be practised. The central feature, a reflection pool exudes a still, calm and peaceful feeling that lends itself to improving mental wellbeing. With its secluded woodland feel it has a sense of tranquility and is the perfect place for quiet contemplation.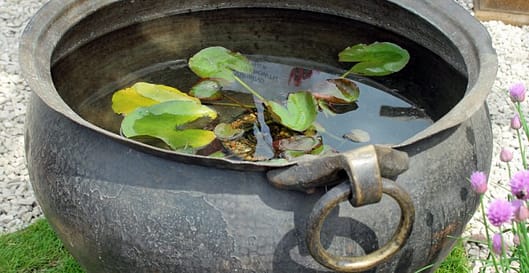 Water is known to have a calming effect, the sound of a trickling fountain and the gentle rippling of a lovingly cared for pond or container pool brings a sense of serenity to any outdoor space. Not only that but if you are keen to bring nature into your garden water is essential. Careful planting can ensure that you get the maximum enjoyment out of your pond, as well as providing the perfect habitat for birds, frogs, dragon flies and much, much more. Using plants such as Gunnera manicata and Nymphaea 'Rembrandt' will do just the job. 
Creating a range of seating areas in your garden gives you a spot to repose to suit any mood. Be it to unwind with a gin and tonic after a long day,  taking time to think or just to sit and revel in the wonders of your garden. While seated you are most likely closer to your blooms and therefore more fully immersing all of your senses in the fragrance and beauty of plants like climbing Jasminum stephanense, whilst also giving yourself time to unwind and just be in the moment.   
A thoughtfully planned planting scheme you can create not only a sweetly scented sanctuary, but also an oasis for bees and butterflies  Astrantia 'Hadspen Blood' and Lavandula angustifolia 'Little Lady'' have our winged friends all abuzz in our Barn garden), apart from doing your bit for the environment, surrounding yourself with nature has a hugely calming effect.   
In a world that's focused very much on instant rewards one of the great joys of the garden is getting your hands into the earth, planting your favourite fruit and vegetables from seed. It has so many benefits. Getting busy in the garden increases you vitamin D levels, reduces your cortisol levels and if that wasn't enough ensures that you have an abundance of sumptuous goodies that will be starting to ripen now including, nectarines, peaches, currents, strawberries, currents and gooseberries. 
As we dig under the sun drenched soil this month, we're harvesting all sorts of delicious treats. Ruby red beetroots, tender carrots and new potatoes direct from the soil. The taste just can't be beaten.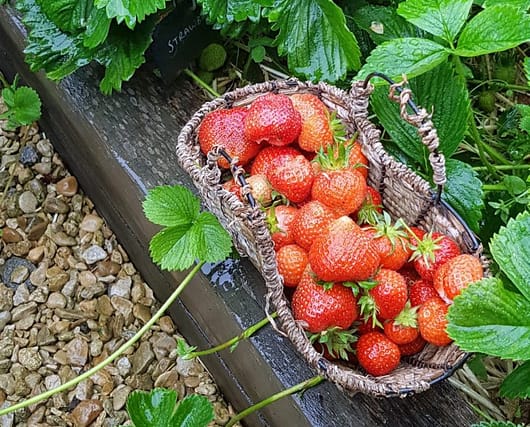 July is a time to revel in your garden and reap the rewards of the hard work of the spring months. There are always jobs to be done and is the time to routinely dead-head to encourage flowering, water well and consistently to help your blooms to thrive and keep up the weeding to ensure that your beds are in fine fettle at this time of year. Enjoy the almost meditative effect of mindfully and methodically work in the garden. 
If an oasis of calm is exactly what you need our team are on-hand to take you through the whole process from conception to completion.
Short of time? Don't let that stop you, we are on-hand to maintain your tranquil paradise leaving you to relax with friends, read an improving book or settle into your yoga pose at the end of a busy day. Say 'Hello' and find out how we can help here.