How do you know what jobs to do in the garden this July? Many might brush the muddy fingerprints off a stack of garden reference books or, invariably, these days you'll likely be consulting Google. 
Both sources will give you a list of standard practices for an average July, but with our climate becoming, seemingly, increasingly unpredictable, perhaps it's time to rethink that approach to diarising certain tasks in the garden strictly by month. We think it's best to pay more attention to the weather's effect on the garden and less on the date on the calendar. 
Every year and every season is different, therefore, our horticultural team take the time to get to know each and every garden we visit in order to provide them with their own individual treatment plans. Our experience leads us to know what is needed now and what will be required on subsequent garden care & maintenance visits to achieve the healthiest gardens. Working with what nature tells us how this month's weather is actually shaping gardens rather than how textbooks tells us it should be. The knowledge of recent climate conditions, forecasted conditions, soil types, pests and diseases, as well as an understanding of how each garden performed previously ensures that we give transcendent care to the garden at any given time. 
So how are gardens shaping up this July? We managed to corral our wide-ranging, talented and intrepid horticultural team for just a few minutes, during the height of a very busy month to ascertain exactly what they're seeing and doing in clients gardens this July. Here's a glimpse of our work: 
Roseology: After the first bounty of blooms we'll feed roses to continuously encourage health, growth and prolific flowering. 
Top-Notch Nutrition: We're applying liquid seaweed or Fish, Blood and Bone feeds to herbaceous borders to encourage plants to continue producing blooms throughout the summer, and to give young buxus or taxus baccata hedges a healthy boost. Olive trees are given a specialist weekly feed to keep their leaves deepest-green.
Luxuriant Lawns: Tending to lawns with regular mowing and edging, whilst also giving them a summer feed to promote growth and leave them at their greenest and glossiest.
Beds & Borders: Continuing work here includes dead-heading, weeding, maintaining strong supports for voluminous perennials and checking for 'The 3Ds' (dead, diseased and damaged plant material). Keeping a beady eye on pests.
Dividing & Re-Planting: We'll be routinely dividing bearded irises, for example, increasing the stock of them in the garden, which allows to transplant the newly divided rhizomes to other suitable areas in the garden for an even more abundant beds and borders next year. We'll also be talking to garden owners about other plants we could potentially divide for them as autumn rolls around.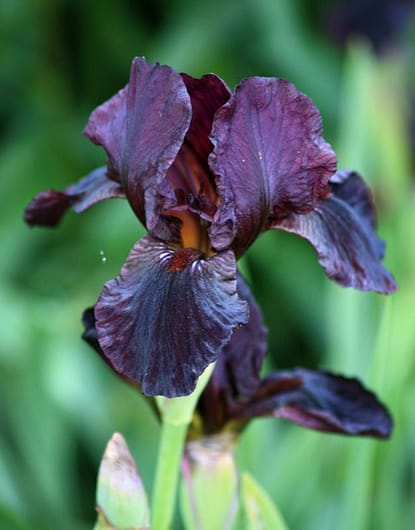 Hedge-Cutting: Many young birds will have now flown the nest*, we'll start to cut back, tidy and reshape hedges, from the youngest planted to the most mature established hedges on private estates. We prune, cut, shape and feed them, making them visions to behold, neat and clipped. We'll also continue to formatively prune topiary.
(*Please Note – Not all birds will have fledged yet, so if you're thinking of cutting your own hedges please do as we do and check them very carefully first, if in doubt then check with the RSPB for guidance).
Watering: Giving a thirst-quenching early morning drink and a good dose in the evening, close to the plants base, ensures its delivered where it's most needed straightaway and keeps most plants from wilting on warmer days. Watering at the base rather than from above helps prevent moisture from evaporating during hotter spells.
Aquaculture: Clearing weeds and algae from pools and ponds.
In Kitchen Gardens: Continually sowing salad leaves and peas. Harvesting young courgettes and broad beans. Training and feeding the cucumber and tomato plants in the greenhouses 
Later This Month: We'll be looking at formatively pruning summer flowering shrubs, such as philadelphus, alongside the summer pruning of wisterias and trained fruits like espaliers, cordons and step-over apple and pears,  as well as plums, apricots and cherries. Careful pruning helps reduce the risk of disease and maintains good shape and overall health.
So, that's a little insight into our garden task-list for this July and it's somewhat different from the jobs we did during the intense heatwave that we experienced last July. It's just a small example of how we tailor our work to each garden and pay attention to changing weather patterns and their influence on diverse gardens. 
We hope it's given you some food for thought with regard to your garden, but if you're just too busy to maintain your garden or you think it would benefit from regular, professional care, then tell us about your garden here. 
Great Garden Maintenance
``Thank you to the team. You've all been hard at work this week and the garden is looking great. I am looking forward to seeing it."