Making leaf mould is good motivation for raking all those leaves up; the more leaves you have, the more leaf mould you will produce.
Leaf mould is an excellent soil improver. Be patient though; it takes a year for the leaves to turn into leaf mould, but it's worth the wait and it's free as it's from your leaves!
Here is how it works….
Find or create a contained area, box or bin bag, making sure there are plenty of gaps or holes for aeration
Place all the fallen leaves into a contained area, box or even bin bag
Note that some leaves will rot down quicker than others; oak, alder and hornbeam compost quickly, whilst beech, chestnut and sycamore take rather longer. Evergreens leaves take considerably longer so best to only include small amounts and give them a head start by chopping them up too.
Leave until next year and then simply dig this soil improver into the garden
It's as easy as that! It's a great way to keep your garden tidy and well-nourished.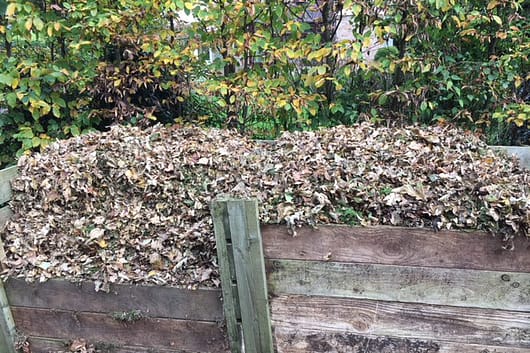 The Oxfordshire Gardener designs and installs practical compost bins for all types of garden. Our garden maintenance team makes rich leaf mould for clients and applies it to their gardens, contact us to find out more about our garden services.