Have you recently felled some trees and aren't sure what do with leftover stumps and logs? Do you have a shady area under trees or hedges, where nothing much grows? Don't ignore shady spots, they're the perfect place for a wonderfully atmospheric woodland stumpery.
Low maintenance and a great home for birds, insects and hedgehogs, a stumpery is an unusual yet surprisingly effective addition to any garden, large or small.
Ingredients:
Tree Stumps (at least one, but as many as you like or have, depending on the size of the area to be filled)

Driftwood and/or logs (again as many as you like or have space for)

Ferns

Handfuls of moss

Woodland plants and bulbs (try foxgloves, bluebells, Japanese anemones, narcissi, snowdrops, primroses, cyclamen, astrantia and fritillaries)

Edible fungi spore dowels

Natural yogurt

Leaf mould and compost

Bark chips
Method:
Start by forking over the ground to loosen any compacted soil.
Incorporated plenty of leaf mould and compost to recreate the rich humus conditions of a forest floor.
Choose hardwood stumps and logs, hardwoods are best as they rot more slowly, choose Chestnut, Oak and Beech.
Position your stumps (if they aren't still in the ground where trees have been felled), taking time to stand back, view and rearrange to give the most interest.
Try positioning in groups and individually for a naturalistic look.
If you have a large space then add logs and driftwood (the more gnarled, the better) intertwined, laid on top of each other or placed in spaces between stumps, you can even use them to create a loose border around your stumpery's edge.
Fill gaps between stumps and logs with compost and plant up with ferns, if your stumps have large hollows you can plant ferns here too, just add a little gravel and drill some drainage holes to ensure they don't get waterlogged.
Remember not to bury the ferns crowns, leave them just proud of the surface or they are likely to rot.
Add handfuls of moss around the crowns to help secure and protect them (but don't cover the crowns), water well.
Plant clumps of woodland flowers and bulbs in and around your stumpery, scatter bulbs and plant where they land; group young plants together for an artfully uncontrived feel (see above for flower and bulb suggestions)
Add bark chips around plants and to cover any exposed ground to discourage any weeds and enhance the forest floor effect.
Daub logs and stumps with natural yoghurt to encourage the growth of mosses, lichens and fungi.
You can also buy edible fungi spores to add to your stumpery, giving you a harvest of mushrooms too. Gourmet Woodland Mushrooms offer a wide range of DIY mushroom growing kits as well as excellent customer support. For a real talking point then Mushroom Box offers special 'glow-in-the-dark' mushroom spores! Take note that some species of luminescent mushroom are not edible, so please read descriptions carefully.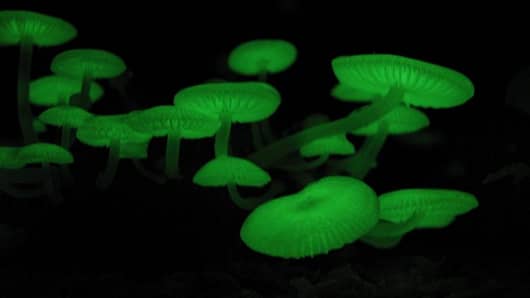 Need a hand creating your stumpery or woodland walk? Let us help care for your trees and habitat with natural design and planting.