Whilst our garden-nurturers have been out tending to gardens lately, they've noticed that the intense heat & drought of this summer has led many plants to exhaust themselves somewhat early, or worse still, expire completely.
Plants that would usually be in full bloom throughout August, keeping beds and borders colourful all season long, have faded away or simply not been able to cope with the extreme conditions and died, leaving noticeable gaps in planting schemes and gardens looking a touch monochromatic.
Thankfully, horticultural help is at hand and our team have been handpicking plants to plug the gaps, perk up pots and refresh colour well into autumn.
Has this summer's heatwave got your garden going over early? We've drawn upon the knowledge and experience of our team, as well as the expertise of the passionate plants people at our chosen specialist plant nursery, to bring you their collective wisdom on which plants they're picking to emblazon beds and borders from now until the first chills of winter roll in:
1. Agastache 'Blackadder'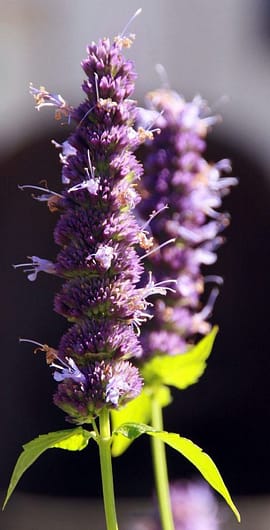 A perennial The Oxfordshire Gardener team favourite, Agastache adds height and colour to sunny spots in the garden with a mass of long-lasting deep-violet lances which are speckled with tiny lavender-hued flowers. Looking good right now, it should continue to provide eye-catching beams of amethyst into October, but leave flower spires on the plant after flowering to bring interesting winter architecture too.
Find out how to use Agastache 'Blackadder' in our recipe for a stunning late-summer container. Watch here.
2.

 

Japanese Anemone 'Praecox'
This pretty ballerina is a silky-soft hot pink and though it often flowers earlier than other varieties, it keeps going longer, flowering through October. Perfect for shadier sites, especially to underplant mid-sized shrubs and trees, as this little dancer is lower growing than most of its close relatives.
3.

 

Dahlia 'Cafe au Lait'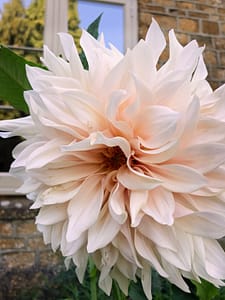 Dreamy-creamy blush-pink tones swirl through the myriad petals of this ravishing beauty, as they're unlocked from their glossy green buds through August and September. Though it may need some protection in winter, Cafe au Lait will reward you with plentiful, saucer-sized blooms. Here at The Garden Barn they're currently welcoming visitors to our door as the star ingredient in this year's late-summer planter recipe and much-admiration they're receiving too.
4. Liriope muscari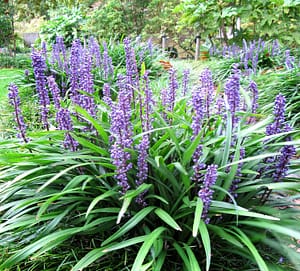 What an uber-useful little plant this is. Providing luxuriant ground-cover all year round, liriope muscari puts on a show at the end of the summer, sending forth prolific spikes of royal purple pinheads, like jewelled sceptres, which slowly open revealing tiny flowers,  all the way until the opening frosts of winter. Excellent for edging paths and borders in areas of light shade, they will tolerate a little dryness too. They grow well year on year, we lift and divide in the spring to create new clumps and prevent them muscling in on other plants nearby.
5. Perovskia 'Little Spire'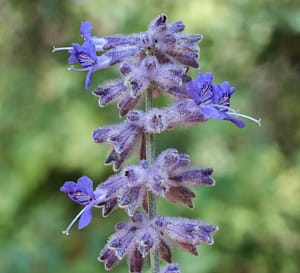 Like all Perovskias, Little Spire's lilac-blue spikes are attention-grabbing, though as the name suggests this variety is more petite than others and therefore less likely to need supports. Its flowers are not dissimilar to lavender, with which it also shares a love of being planted in similar conditions. Position where it will receive maximum sunshine, in poor but free-draining soil and Little Spire will sing out during late-summer and early-autumn.
6. Ceanothus 'Autumnal Blue'
Growing up to 3m tall, this hardy, evergreen shrub will certainly fill any large gap and becomes so abundantly flowering from August to October that it can look like a flocculent blue cloud from distance. If you've been left with bare patch on a sunny south-facing wall, then Autumnal Blue is also great for training.
7. Helenium 'Butterpat'
Finally, if you're missing a real splash of sunshine colour, then Helenium 'Butterpat' will be your tonic. The daisy-like flowers are utterly charming. Gloriously warm, butter-yellow petals are topped with bun-shaped noses and are held aloft by stiff, upright stems. Butterpat is compact, bushy, a bee-magnet and blooms later than most other varieties, freely-flowering from July to September. It will be happy in almost any soil, but prefers not to be too shaded. Best in full sun or slight shade.
Our Horticulture & Garden Maintenance Team keep gardens rich with interest and marvellously healthy throughout the year. If you'd enjoy some regular, expert garden care, then we'd love to hear about your garden.