There are a range of prompts that lead garden owners to approach us for garden designs and landscaping, but there are several classic scenarios that recur again and again. Increasing safety and sanctuary is one of the most common.
It could be they've newly moved home and want to shape the gardens to their taste or that lifestyle changes mean they want to use their garden in different ways – perhaps children have flown the nest and they no longer need such a child-friendly space, for example.
One of the most common themes is a desire to increase privacy or a sense of safety and garden owners look to us to provide innovative, creative and tasteful solutions to create a natural green sanctuary surrounding their home. 
So, let's take a little trot through just some of the key features that we create through landscaping, that can aid and increase that feeling when you enter the grounds of your home, that you are truly entering a secluded place where you can leave the stresses and worries of the workaday world behind.
Define your boundaries: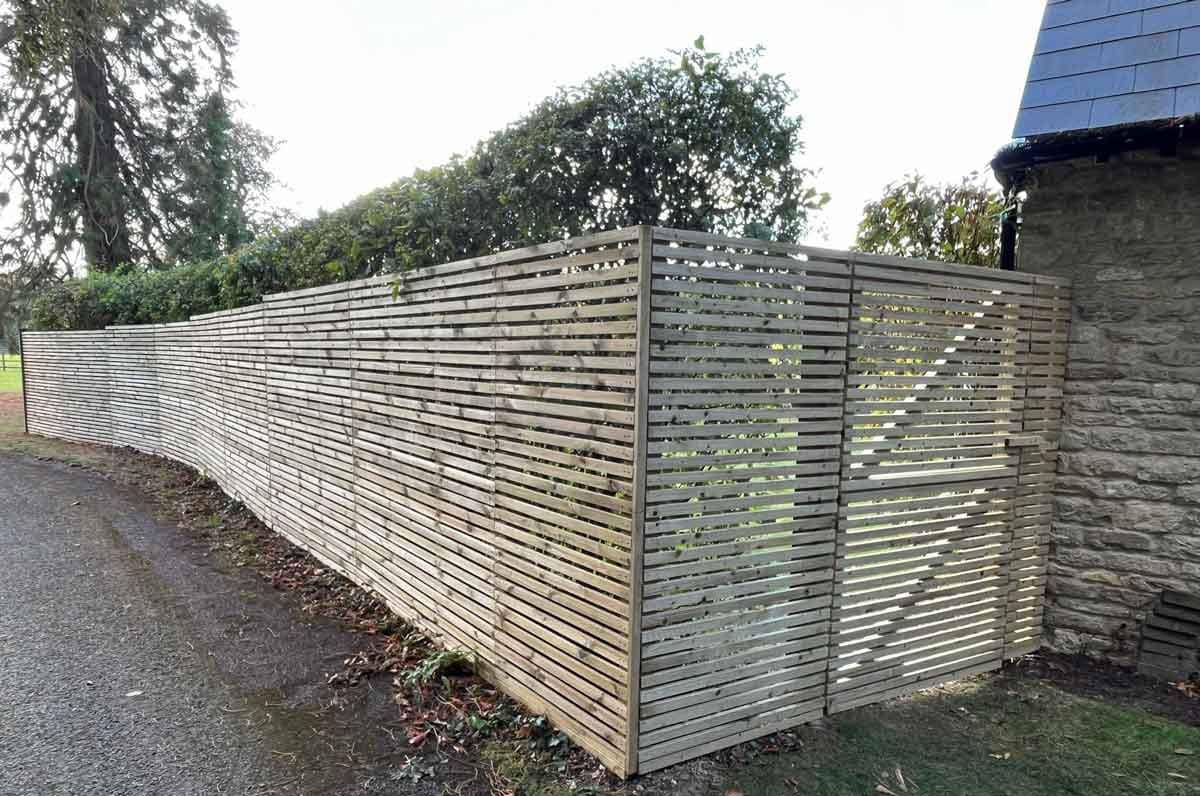 When people describe their dream home the phrase most used has traditionally been '…with a white picket fence…'. Now that may not be your ideal look, but it does go to show how important the boundary of your home and garden is. 
Creating firm, yet beautiful boundaries doesn't just craft a smart, well-kept, kerbside appeal, but it also helps define the watershed between the external world and your own private realm. 
Perhaps the firmest, most solid way to do this is with bricks and mortar, and walls will certainly stand strong against storms. Building a design into the courses can take a standard brick wall and elevate it to the next level too. 
If that feels just a touch too fortress-like for you, then how about a natural stone wall in honey-coloured Marlstone or creamy white Cotswold Buff to match the house?  And if you prefer to blend in with the landscaping even more, then fences of sustainably sourced, treated timber can be easy on the eye too. 
Restrictions may mean that you're limited on the height of your boundary structures, plus it's important not to build so high that you block out too much light, but they may leave you feeling overlooked or exposed. That's where screening comes in. 
Though you cannot exceed the maximum height allowable for your boundary fences, you can use trellis to increase the height of your fence or wall without blocking so much light. 
Training some climbers along the trellis will soften and blend the boundary whilst increasing privacy too. 
Soft landscaping offers even more naturalistic solutions. We often use a row of pleached trees, planted along a wall, to add screening above the height of a wall. Hedgerows too offer thoroughly natural boundaries and privacy screening with the added benefit of providing wildlife corridors to small mammals, insects and birds (oh, and they help clean the air around them too!). 
Need a little peace and quiet? Fences are available that reflect sound or absorb it, even reducing highway traffic noise. Hedges can be bespoke planted with the best varieties for reducing noise pollution. Dense evergreen varieties are most effective with Beech and Hornbeam also offering good noise filtration. 
Safe & sound:
Once you've got your boundaries set, you'll want to make sure that access points are easy to use and secure. 
Maybe you're tired of arriving and fumbling with locks and keys in the rain or turning into a driveway that's just a bit too tight has become a minor irritation? 
Installing remote-controlled gates or keypad locks on beautifully crafted and practically-minded entrances makes for a wonderfully smooth transition home. 
Textures and surfaces can make all the difference to your sense of security too with many people, especially in rural or semi-rural locations, opting for gravel driveways and paths so that the approach of vehicles or footsteps of unexpected visitors can be heard before they are seen.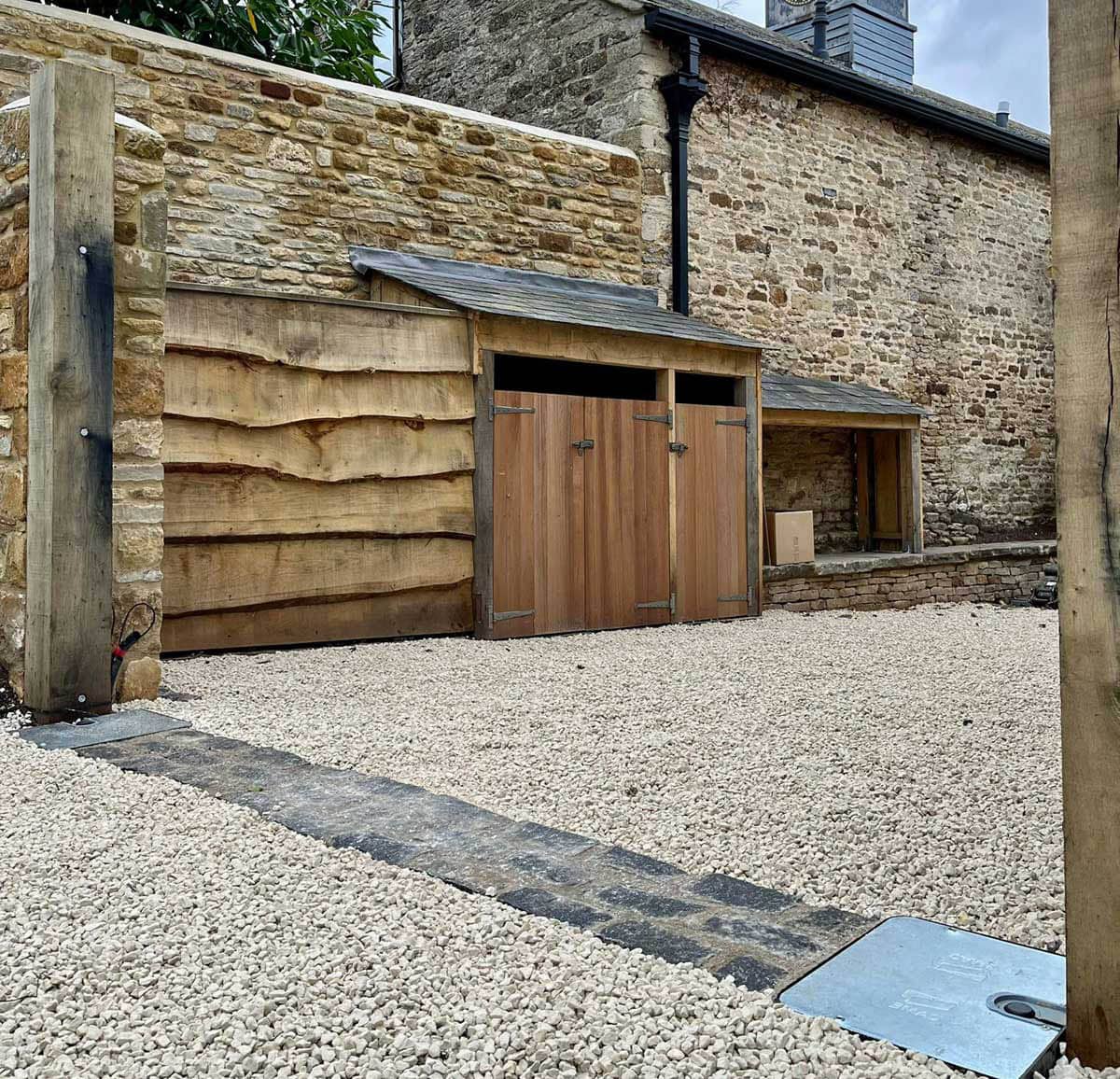 Updating crumbling or rotten garden doors also gives a lift to the garden's look as well as securing access and making them a pleasure to use and view. There's something so exciting about finding a gorgeous gate or door in a garden and idly musing or what secrets lie beyond. They are also useful if you want to create private areas or rooms within a garden, just for you, or secure them from boisterous pets or curious toddlers. 
Shine a light: 
A well-designed lighting plan makes a huge difference to the look-and-feel of your properties outside areas. 
Interesting specimen plants can be highlighted adding drama to the nighttime scene, whilst path lights and entrance lighting make moving around the garden after dark a much less inexpedient activity. 
Entranceways in particular may benefit from security lights with motion sensors or lights on remote control which can be flicked on only as needed; saving energy as well as deterring intrusions.
Motion-detecting camera doorbells or cameras at other access points are a godsend for receiving deliveries when no-one is home, but also for acting as second pairs of eyes in places that can't be seen from inside the house. 
Inner sanctums:
Introducing landscaping elements designed for security is simply about keeping people out. Far from it. Your garden should be a welcoming, inviting place for you and your friends or family to relax. But, feeling overlooked can make it difficult to fully let go. 
We frequently install or construct features that allow the undisturbed pleasure of being unseen in areas of the garden made just for enjoying the outdoors, relaxing or entertaining. 
Structures with privacy roofs or slatted and semi-open ceilings are just the ticket. 
Think arbours, pergolas and gazebos. Covered with fragrant climbers or dripping with wisteria blooms, they make a wonderful place to sit and relax shielded from view. 
Larger structures with full roofs can be used all year round, screening occupants not just from view but also from the elements. They make great places for playing games like pétanque and table tennis or wrapping up on an outdoor sofa with a hot chocolate. 
Helping your garden feel more secure doesn't have to feel like turning your home into Fort Knox. Landscaping can help your garden feel more like a haven, a spot of sanctuary that is actually more inviting, more likely to lure you outside no matter the season or time of day, as well as being more functionally, safer and easier to use. 
Our team of friendly, professional landscapers can help make your garden truly gorgeous and a joy to use. Talk to us about your hopes for creating a haven.