It's a bank holiday weekend and whilst it's far from being a normal one, there are still plenty of garden projects to complete.
Here, our planting scheme designer, Samantha, puts together a special springtime recipe for a free-flowering get-together of plants.
From ditsy forget-me-not-like Brunnera to the sublime geum 'Mai Tai', Samantha took the fun and freedom of festivals as inspiration, pitching up flowers with edible herbs and rocket seeds, all under a wilderness-esque canopy of sweet peas.
Ingredients:
Brunnera macrophylla 'Jack Frost'
Astrantia major 'Roma'
Foeniculum vulgare (Bronze Fennel)
Geum 'Mai-Tai' 
Geranium macrorrhizum 'Spessart'
Origanum (Oregano)
Rocket seeds
Lathyrus odoratus 'Strawberry Sundae' (Sweet Pea)
Pulsatilla vulgaris (Pasqueflower – Pasque derives from the word paschal, which means Easter and the Pasqueflower is said to open to signify the beginning of Easter)
All the plant ingredients included in this container design are bee-friendly pollen-rich flowers.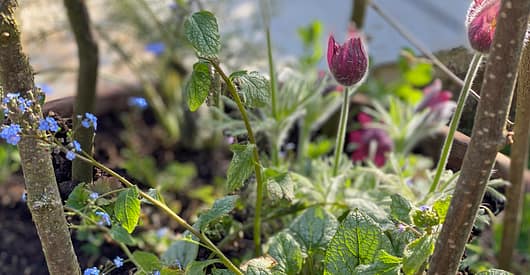 Substitute Plants:
If you can't get hold of some of the above plants, here's some alternatives that would work just as well.
Fragaria vesca (Wild Strawberry – this would look great as it has a trailing habit and will softly spill over the sides of your container)
Salvia pratensis (Rich velvet spires of flowers)
Hosta (If you intend to place your finished container in a shady spot)
Erigeron karvinskianus (A small daisy-like flower with lateral growth)
Clematis Freckles (An excellent alternative to sweet peas)
And if you'd like to prepare for a summer container project, view our late-summer container recipe.