Pheasant's eye-level roaming amongst the later-flowering Narcissus poeticus.
Planting scheme designer, Samantha, used this ancient variety to create a calm, white space planted on a large scale, with the far reaching views as a end focal point. A light touch of design.
The single mass planting of Narcissus poeticus, (poet's or pheasant's eye) nestles in a magical, semi-deciduous woodland space giving the sweetest of scents.
This area of the landscape was transformed firstly through the use of painterly sketches and observation notes taken from this rustic space, carefully noting the position of the late afternoon golden light and warmth of late April – May days, in order to create a tranquil experience. Wandering spontaneously into a fresh, enchanting landscape from the country-garden, whilst also capturing a beautiful view from the house with a mass of flowers.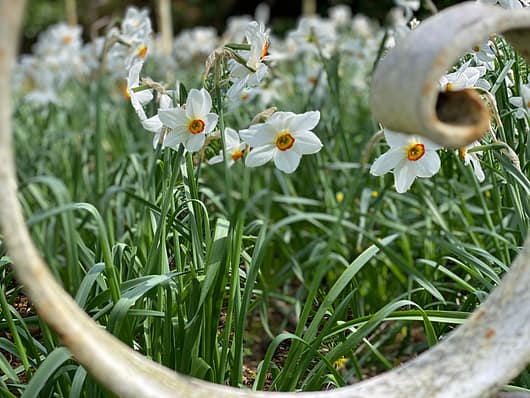 The Narcissus poeticus was chosen in the design vision for its flowering time and makes a valuable cut-flower with it's sherbet lemon eye, jet black iris and ruby frills. The deep, voluminous white drifts, planted with their grey-green foliage, give rich pickings, meaning you can keep cutting and still maintain a truly full display for weeks, thanks to it's long-lasting flowering linking spring to early summer.
White is resplendent in the evening as we see from Vita Sackville-West's moonlit masterpiece in The Pale Garden at Sissinghurst. The scent of poeticus is also richly sourced as an essential oil of spring fragrance by perfumers.
The naturalistic planting design continues into May with languorous drifts of Camassia leichtlinii with it's violet-blue stars rising up through the soft, umbelliferous sprays of Pimpinella major 'Rosea'. The dreaming spires of Linaria follow and the scene culminates in early summer with a romantic blossoming of wildflowers in a palette of lilac, rose and white beneath the starry blossom of mature Apple trees.
The light and airy canopy of 10 Betula utilis 'Jacquemontii' (West Himalayan Birch) trees in a loose, informal style sustain the natural feel of the planting plan. Specified for their timeless, sensitive structure with paper-white bark, the tranquil planting narrative continues, as you walk beneath the trees. A final swathe of wildflowers attracts butterflies, bees and insects whilst drawing your gaze out to the undulating pastures beyond.
Discover more of our planting design expertise.