Illuminate your festivities with our stylish selection of lanterns and candles.
Despite the early sunsets and frosty mornings, there's something magical about this time of year. To accentuate the enchantment, fill your home with flickering candles and softly lit lanterns, crucial ingredients to creating a cosy space.
Candlelight is scientifically proven to reduce stress and anxiety. This is because the warm light helps our brains to switch off, the opposite of the stark blue light emitted from electronic devices. A candle's flame triggers our brain to switch from beta waves (those associated with alertness) to alpha waves which correlate to creativity and relaxation.
The soft ambience created by candles also improves social situations. As their glow relaxes our mental state, upbeat attitudes and positive conversations are encouraged, contributing to a convivial atmosphere.
Now you've learned all about candlelight, it's time to bask in its benefits by browsing our versatile collection. Read on to discover our favourite lighting solutions and allow Bloomsbury Home to warm up your winter.

The Asheham Candlestick has found its perfect companion in the Pillar Candle. This pair will certainly answer your yearnings for winter cosiness. The gentle amber glass is accentuated by the candle's flickering flame, reflections dancing across the glossy surface. The Asheham Candlestick comes in both small and large, and as a duo their varying height levels make an alluring display of gentle warmth.

Do you enjoy a subtle hint of sparkle? If so, the Glimmer Candle will be sensational for creating idyllic home scenes. Create a twinkling display of festive magic by arranging a number of these over the mantlepiece alongside other magical decorations, like our Star of Wonder.
Lanterns have been staple items in our lives for a very long time. While they were once a necessity, such as for sailors on ocean voyages, we now revel in their functionally gorgeous glory. Our collection of lanterns offers traditional vintage styles through to uniquely contemporary designs. Whatever your taste, they'll light up your home and garden, enhancing your Christmas celebrations with resplendent radiance.
Versatility and functionality matter to us, as we believe purchases should be made thoughtfully and sustainably. Therefore, all of these lanterns are multipurpose, suitable for use indoors and out.

The Homesteads Lantern is a timeless classic, and will add a dash of vintage to your home decor. Both functional and elegant, this lantern encapsulates the essence of Bloomsbury Home. Available in two sizes, as a pair they'll beautifully light up your lounge. While they make a glorious home for a candle, why not consider using them to display a succulent or even to create a mini terrarium within?
Out of Stock
The Tika Lantern puts a modern twist on the classic light vessel, with industrial accents contrasting against its natural wicker frame. We adore the rippled shadows that spill out in concentric circles. Glowing both indoors and out, it has an innovative solar powered battery, alongside an electric charger.

The West Lanterns gently diffuse light through their diagonally patterned casing. They glow softly while dispersing playful shadows, both inside the home and out in the garden. We love their rustic, vintage aesthetic that nods to the trend of elegantly aged interiors. Their refined appearance also ensures they'll work in any home, whatever your style may be. Available in two sizes, as a duo their undulating proportions create levels within your space and a dynamic focal point for the eye.
Out of Stock
The Large French Stable Lantern is a beautifully classic piece, featuring gorgeous reeded glass for a textural element. This subtle touch creates shadows that spread out in a circle, reminiscent of sunny light rays. Wonderfully multi-functional, use it in the garden to add a glow to social gatherings, or bring inside to create cosy ambience.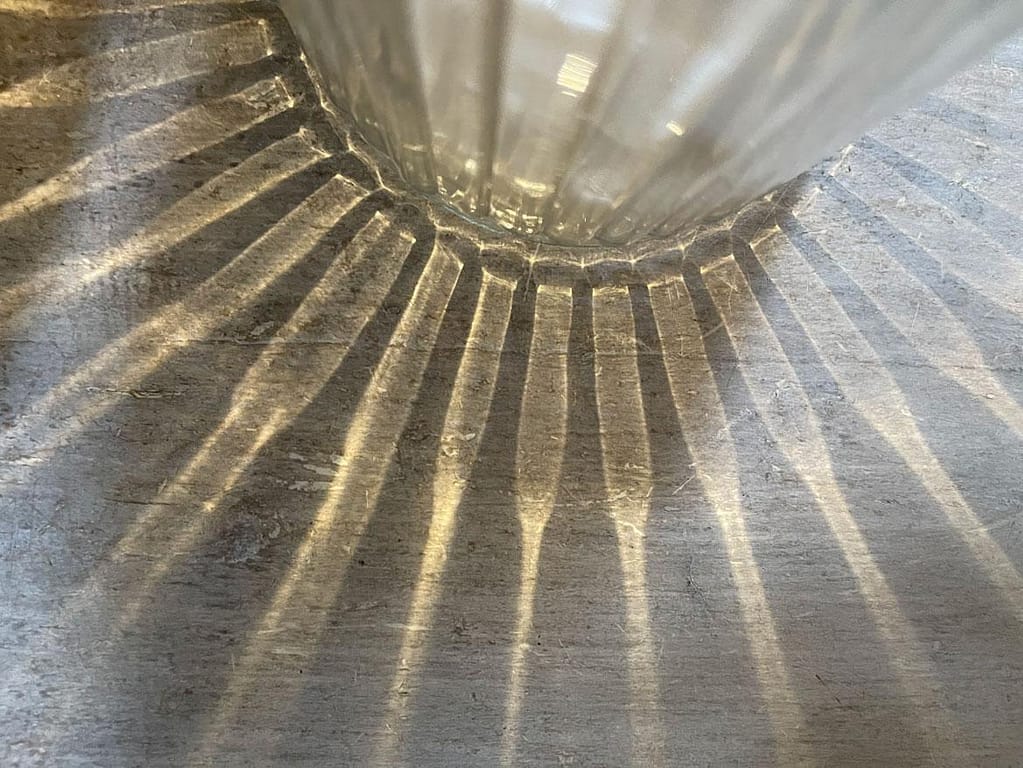 The Night Garden Lantern features beautifully embossed iron, entwining elegance with an industrial hint. Shadows dance a gentle waltz as they're shaped by the delicate case, effusing gorgeous patterns of light. At only £13, this lantern is a great choice for displaying alongside a few others. Create a magical feature with 3 of the Night Garden Lanterns, or an arrangement alongside The West Lantern and The Homesteads Lantern if you prefer an eclectic touch. 
Looking to pair your glorious new lighting with other festive treats? Browse our diverse Christmas collection, and get 15% off using the code MAGIC15 until 22nd December.
Out of Stock

Out of Stock

Out of Stock