Spring and summer's mild, showery seasons this year have set the stage for autumn to reveal one of its most dazzling shows of colour in recent years.
The reds are richer, coppers brighter, ambers more burnished and golds more candescent, so it's time to strike out on a woodland walk and envelope yourself in this kaleidoscope of resplendent colour.
Here's a small selection of local arboricultural treasure troves that we'll be kicking up leaves in this weekend:
Stoke Wood, Stoke Albany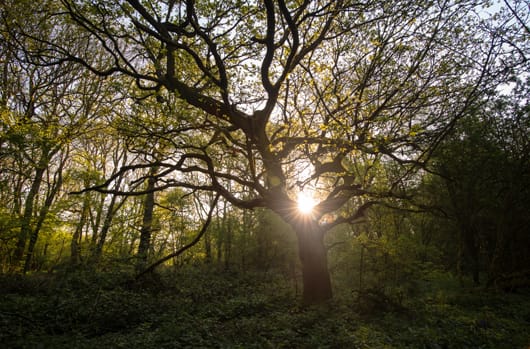 Image courtesy of Robert Read/The Woodland Trust
Blanketing a promontory in the plains of the Northamptonshire/Leicestershire border lies Stoke Wood. This haven for woodpeckers, treecreepers and chiff-chaffs is an ancient woodland of native broadleaf trees and conifers from further afield, which delights the senses through a contrast of tone and texture. 
Stumble across one its glades, and on a fine, crisp autumn day,  you'll have found yourself in restful spot to reward your explorations with a warming picnic (don't forget the thermos of spicy squash soup or hunks of hearty farmhouse bloomer).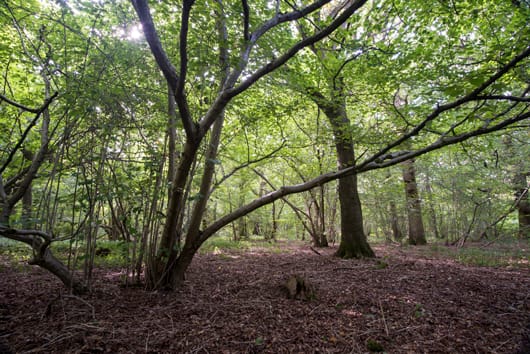 Image courtesy of Robert Read/The Woodland Trust
The woods once formed part of the Swift's House Estate owned by Sir Thomas Mostyn in 1800, though records of woodland here date back at least 400 years. Indeed, the perimeter of the wood is defined by a woodbank, which is likely to date from the medieval period. 
Visitors to Stoke Woods cite it as a wonderfully quiet place and recommend you take a camera (we definitely will!). 
One hard surface path means it is accessible for wheelchair users too. 
Stoke Wood is beautifully maintained by The Woodland Trust. 
Harcourt Arboretum, Nuneham Courtenay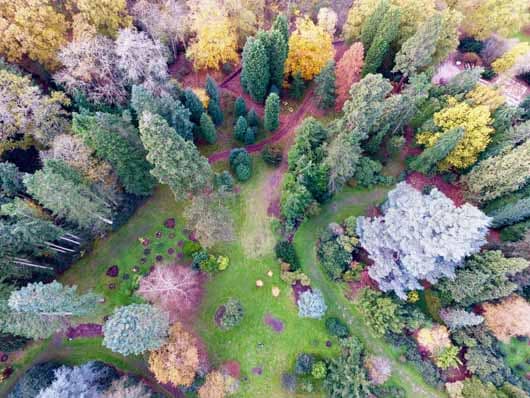 Image courtesy of The University of Oxford Botanic Garden and Arboretum
This is the place to find rare species as well as revel in native woodland, the also plays home to some of the oldest redwoods in the UK. 
The Serpentine Ride is a grassy path that meanders along a winding route among gorgeous glades, perfect for lazy Sunday morning ambling or a brisk stroll before tucking into a well-earned roast lunch. 
Again, the planting here has been designed to contrast and compliment with evergreens being used to augment prominent plants. For example, the deep green of taxus baccata has been cleverly used as a backdrop to acer palmatum to enhance its form and colour. 
Not only can you enjoy more than 14,000 native trees, the spectacular colour in acer glade and the vivid, red-glow of dawn redwoods, but Harcourt Arboretum also plays home to 300 species of animals and a huge range of interesting fungi.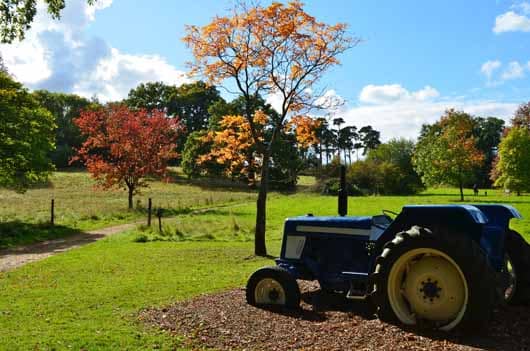 Image courtesy of The University of Oxford Botanic Garden and Arboretum
Now under the careful guardianship of the University of Oxford, the Arboretum was originally created by Archbishop Harcourt in 1835. Artist and landscape designer William Gilpin created The Pinetum and Serpentine Ride in the parkland of Nuneham House in The Picturesque Style, which Gilpin originated. 
The style is best described by Gilpin as "a term expressive of that peculiar kind of beauty, which is agreeable in a picture". It champions natural rusticity and managed wildness, that disregards symmetry and portion. 
Visitors are welcome to picnic in the Arboretum, but watch out for the peacocks! They can track the scent of cheese sandwich for miles. 
Harcourt Arboretum is almost entirely accessible by wheelchair, if you're prepared to give it some oomph in places, but for a more relaxed ride, wheelchair-friendly path maps are available. 
Deer Park Wood, Witney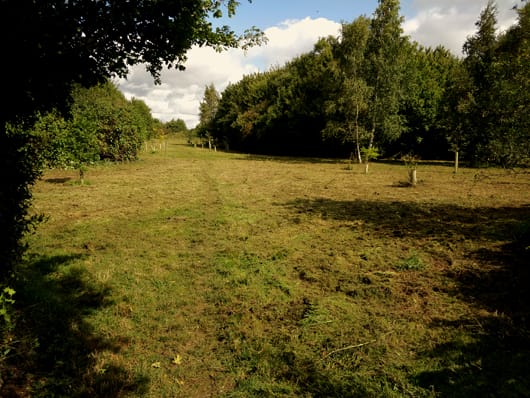 Image courtesy of David Colbourne/Witney Woodland Volunteers
The 11-acre site of Deer Park Wood is a fascinating place, being entirely managed by the commendable folk of Witney Woodland Volunteers. This intrepid group are devoted to actively improving and developing the land for the benefit of wildlife and the enjoyment of all. 
The central grassed avenue is lined by woodland with oak benches dotted along the way and a log seating area for picnics (it also makes a great setting for schools to use as an outdoor classroom). 
In recent years the group have added to the established woodland planting young oak, ash, lime, field maple, silver birch and hornbeam to help expand the canopy, creating even more homes for local wildlife. 
Image courtesy of David Colbourne/Witney Woodland Volunteers
During term time, The Hedgehog Club meet here every Friday morning for natural craft activities, storytelling, bug-hunting and hot chocolate. What better way to get toddlers out, active and learning about the natural environment?
Records seem to suggest that this is the last remaining tranche of land which in the 16th century had been a royal deer park and hunting ground. Prior to this it had been part of the Bishop of Winchester's estate, however by the mid-16th century it had been turned over for use as grazing land. 
And speaking of grazing, there's also an orchard where visitors are welcome to pluck the odd apple, plum or pear from the trees, very handy if you forget to pack the snacks. 
Batsford Arboretum, Moreton-in-Marsh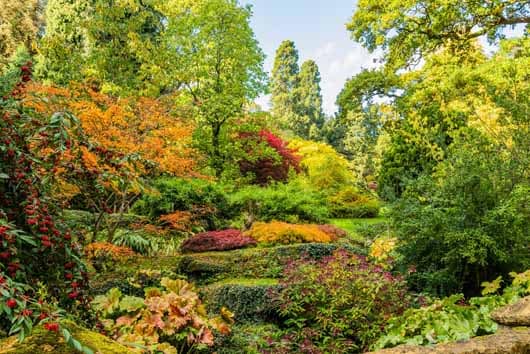 Image courtesy of Bradley Rogers/Batsford Arboretum 
The UK's largest private collection of trees and shrubs (with over 2,550 specimens) is a must for autumn colour. Batsford Arboretum is autumn par excellence. 
The collection brings together a wealth of plants from around the globe, though there's a keen interest in plants from the Far-East in particular. 
Varieties of acers and sorbus, amongst others, put on a ground-anchored firework display with the rich colour of their foliage and berries, but it's not just a visual feast here. Don't miss the Cercidiphyllum japonicum (Katsura Tree) which releases a scent akin to caramelised sugar each autumn. 
The estate was indirectly inherited by Algernon Bertram Freeman-Mitford (yes, those Mitfords) in 1886, and it was his passion for oriental landscapes that led him to completely remove the old formal gardens, replacing them with a wilder, more natural style.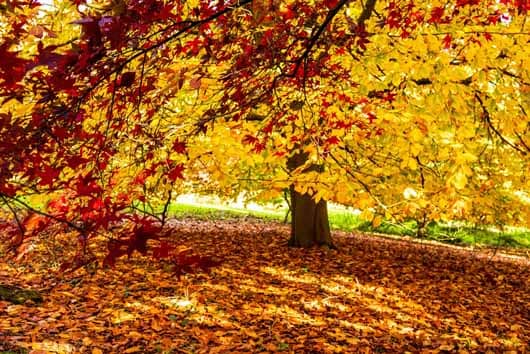 Image courtesy of Bradley Rogers/Batsford Arboretum 
Later it was passed to the 1st Lord Dulverton, a dendrophile who set about returning the then neglected and overgrown grounds to their former glory. He introduced a collection of birch, maple, oak, ash, lime, magnolia, mountain ash and pine, as well as rarities. 
25% of the arboretum is accessible by wheelchair and traditional wheelchairs are available to hire, though as it's quite hilly it may be a little challenging, thankfully all-terrain Tramper Mobility Scooters are available too! 
Autumn really is the time when our woodlands and arboretum are at their most wondrous and enchanting, giving us a truly stunning sensory spectacular, so go on, get out there and make the most of it before the leaves fall and we enter winter once again.
Why not create a wonderful woodland of your own? We can design, plant, manage and maintain a glorious arboreal area just for you. Your own private forest theatre. Please get in touch to find out more.