The gentle, hazy descent into the mellow-gold of autumn is, as yet, just beyond the horizon, so before we say goodbye to summer there's a major job to do in the gardens…. August is the perfect time to tackle summer-pruning wisterias.
Our master pruners and all-round plant whisperers give us their expert advice on this timely task.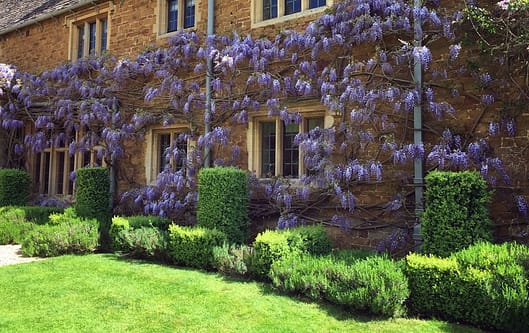 The team is abuzz with talk of wisteria pruning at the moment, but why do we prune wisteria in August?
Well, wisteria will flower if left unchecked, but flowering can be improved when it's pruned biannually, once in late summer and once again in winter. The late-summer prune is generally thought to be best undertaken in August.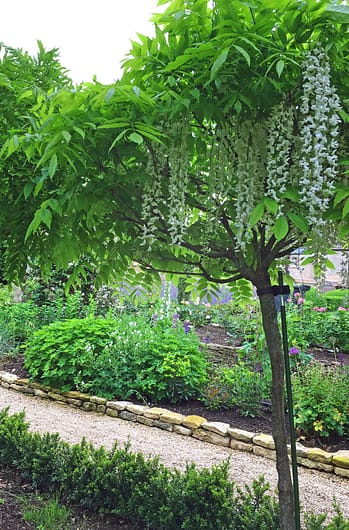 Apart from encouraging blooms is there any other reason to summer-prune wisteria?
Pruning twice-yearly also helps to keep over-vigorous extension growth in check.
Sounds good! So much do you cut back at each prune?
In August, we cut back extension growth to within about 15cm (6ins) of the main 'framework' of the wisteria. For the winter prune, we'd cut down again to 2-3 buds.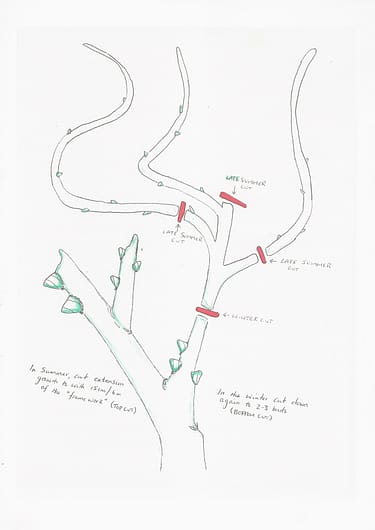 One of the most common complaints we're asked to look at is poorly flowering wisterias. Other than pruning, are there any other reasons a wisteria might lack blossoms?
If a wisteria has been regularly and properly pruned but still fails to flower then poorly conditioned soil might be the culprit. Established plants will benefit from an annual application of fertiliser in spring, but they shouldn't be overfed and the fertiliser must be well-balanced. A fertiliser which is high in nitrogen will encourage leafy growth at the expense of flowers, whereas using tomato food or a sulphate of potash is more likely to encourage flowering.
Another cause of poor flowering can be extreme drought. Wisterias are generally drought-tolerant, however, they can suffer if they are planted in a rain-shadow and little moisture (i.e. on a wall under deep-set eaves), though this can be helped by giving them a good watering and mulching, which helps to conserve soil moisture.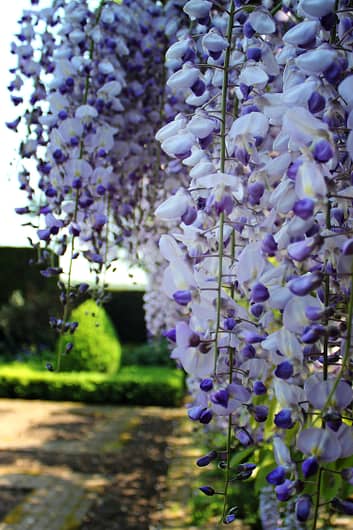 Finally, do you have any other top tips for planting and caring for wisteria?
First and foremost wisterias need plenty of sunshine to grow and flower well, so they shouldn't be planted on north or east-facing sites. Other than that, if possible, plant them where they are least likely to be confronted by dry conditions, vastly fluctuating temperatures and frost, as this can cause flower buds to drop in the spring.
Wisterias look gorgeous when trained against a house, however, they actually much prefer to grow free, so try simply planting one in your borders and watch it flourish as a standalone tree or loosely woven structure.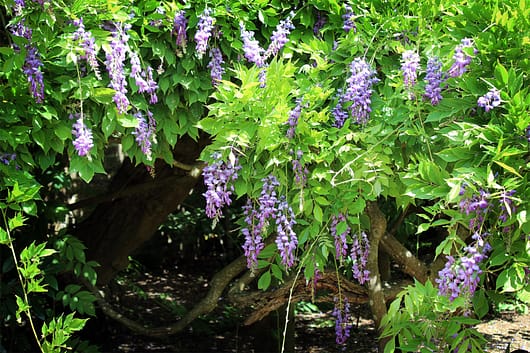 Is your garden getting a bit out-of-control? Talk to us here at The Oxfordshire Gardener about your green spaces and let our garden maintenance team work their magic on your plants, trees and shrubs.