Thinking of adding an extra sprinkle of winter interest around your garden? Look no further! With splendid barks, foliage…or both, our team have handpicked their top 9 winter trees & shrubs for encouraging vibrant winter colour and texture. 
Whilst winter might not conjure up quite the number of plants to rival the fantastic displays of the warmer seasons, mother nature has still provided a variety of species to bring the colours of the rainbow to your outside space. Here's just a few of our favourite winter trees and shrubs who grab winter by the horns and make it their own:
1) Himalayan Birch 'Grayswood Ghost' (Betula utilis var. jacquemontii – see above image)
With white shot-silk bark and slate-black twigs, this slower growing specimen of the birch family reminds us of a charcoal sketch, once fully revealed by the autumn leaf-drop. Especially effective when planted in groups, but also good for slender gardens due to its limited horizontal spread. For maximum effect (and for general care) give the bark a gentle scrub with soapy water once a year to remove any algae and to brighten the white stems.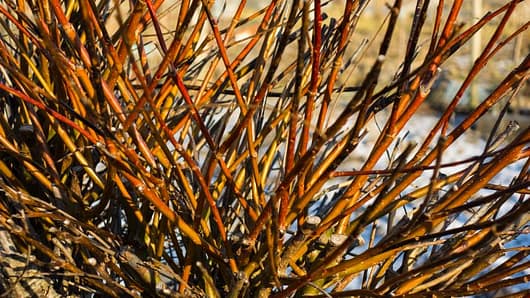 2) Dogwood 'Midwinter King' (Cornus sanguinea)
Create a virtual bonfire in your garden with a fiery display of brightest yellow, orange, pink and red twigs. Dogwood is a deciduous shrub with mid-green leaves and small white flowers in the summer, but it's only in winter that the glowing glory of its stems are fully appreciated. Plant in sunshine for the best display, though Midwinter King will grow reasonably happily in partial sun. Thin but don't cut back hard until a few years old. Planted against a backdrop of our next pick Midwinter King will create real drama in the border.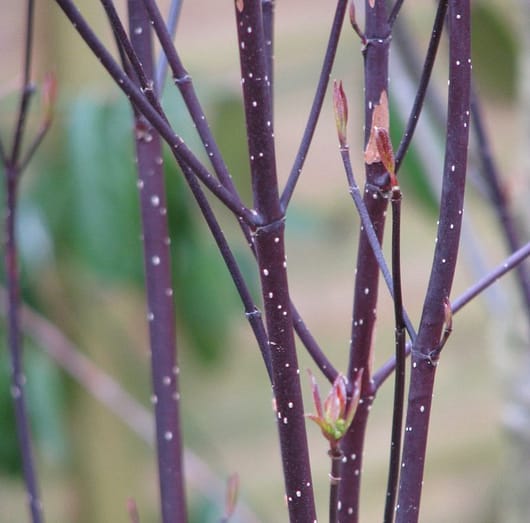 3) White Dogwood 'Kesselringi' (Cornus alba)
A somewhat misnomered variety of White Dogwood, Kesselringi has beautiful blackish-purple stems in winter, which make for a striking contrast when planted next to Midwinter King. Not just a shrub for winter though, Kesselringi also has clusters of small creamy flowers in summer, followed by white berries (and there's the 'white'!) and lovely merlot-coloured leaves in autumn. It will do well when planted pretty much anywhere, except deep shade.
4) Compact Winged Spindle Tree or Burning Bush 'Compactus'  (Euonymous Alatus)
The prize for most spectacular foliage has to go to euonymous alatus 'Compactus'. For most of the year it appears as a fairly inconspicuous spreading shrub with nice elliptical green leaves and non-showy tiny greenish-white flowers, but my word does it prove it's worth in the garden in autumn. As the air begins to cool Compactus' leaves turn stunning hot-pink to bright red before they fall in winter. At the same time, it bears purpley-red fruits which burst open to reveal orange seeds that are often retained well into winter, if the birds don't strip them first.
Being as compact as suggested it's a great shrub for containers, allowing you to easily move it to where your garden most needs a shot of colour.
5) Paper Bark Maple (Acer Griseum)
As is often the case with acers autumn turns their green mantle of foliage to yellow, then orange and through to deep red, however, this particular variety has another string to its bow. The light brown bark on this small, slow-growing variety peels attractively during the winter, giving it the look of a cinnamon stick. It also offers small yellow flowers in April. Good for small gardens or planted anywhere it can be easily viewed, though avoid exposed sites.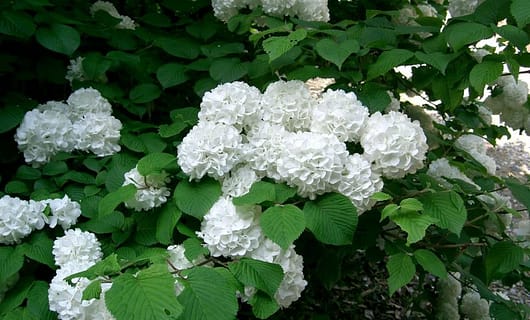 6) Japanese Snowball 'Sawtooth' (Viburnum plicatum f. plicatum)
Big, bold snowball flowers in May make a hydrangea-like show against attractive forest green foliage. The leaves are serrated and it's this feature that inspired the name 'Sawtooth'. If this plant was chosen only for its spring/summer blooms and large, deep-veined foliage it would have earned its place in the garden, but the attraction doesn't end with the warmer weather. Sawtooth's foliage turns beautifully burgundy in the autumn. This viburnum is not drought-tolerant so keep it well-watered in hot, dry weather, but plant in free-draining soil as it won't appreciate being waterlogged either.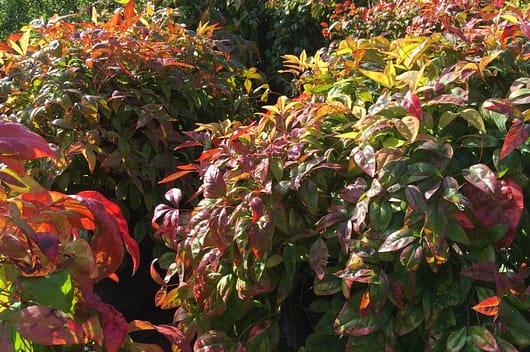 7) Sacred or Heavenly Bamboo (Nandina domestica)
Not actually a bamboo though nandina definitely shares many of bamboo's habits. Its leaves are pinky-red when young, turning green as they mature, then returning to a more colourful reddish-bronze each autumn and staying throughout the winter. This small evergreen is largely unheard of, though makes a fabulous addition to any garden. Panicles of starry white flowers turn out each spring followed by the added bonus of red berries. Makes wonderful front-of-house plant, plus it has been known to withstand even extreme drought.
A native of the Far East, where it is thought to have the ability to dissipate or deter bad dreams, hence it is thought of heaven-sent.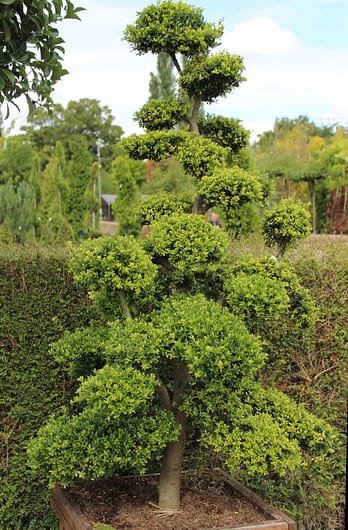 8) Ilex crenata (Japanese Holly)
A holly that's not just for Christmas!
At first glance this may seem the least showy of the winter trees and shrubs in our compendium, but its small, dense buxus-like leaves conceal a splendid attribute which makes it worthy of inclusion on our list. Ilex crenata is terrific for topiarising.
For centuries, Ilex crenata has been used in Japan for creating the highly stylised, manicured miniatures of wild pine trees known as niwaki. Niwaki are larger then bonsai and tend to be planted in gardens rather than potted, but similarly, the master-pruner will carefully trim and prune the leaves and branches to reveal the grey-beige matte bark, shaping the remaining foliage in pads resembling cloud, hence they are also known as 'cloud trees'.
Now, whilst pruning to a cloud-form as shown here is certainly a highly-skilled art, it's not everyone's cup of tea. Luckily, you this accommodating little tree can be pruned into a huge variety of shapes and forms from traditional balls, cones and spirals to miniature sailing boats!
Ilex crenata is so forgiving it will tolerate almost any soil or aspect in full sun or partial shade.
9) Pittosporum (Cheesewood)
A charming evergreen shrub, Pittosporum is a fabulous plant for adding winter interest throughout the garden. Flourishing a collection of sleek green leaves, these fragrant delights are tolerant to the colder seasons, displaying their glorious leaves all winter long.
Eager to discover more plants that thrive in the wintertime? See our guide to winsome winter berries here.