Whether you are looking to add some structure to your garden, hoping to do your bit for the environment or just replacing an old tree, we have some suggestions for you that will stand out from the crowd and make a stunning statement in any garden.
The horizon has been aglow with colour lately as the trees have treated us to a glorious display this autumn. Nature's rich array might have whetted your appetite to bring some of it's tapestry of radiant hues to your own personal eden, but how about picking something arboreally more imaginative?
We've been out to our specialist tree nurseries to seek out 7 showstoppers that are just what you need: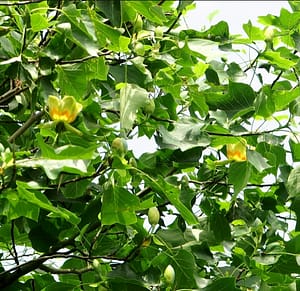 1) Liriodendron Tulipifera (Tulip Tree)
The Liriodendron Tulipifera is magnificently architectural, though better suited to a large garden as it grows to a colossal 20 metres tall with a 10 metres spread. The unusually shaped foliage turns a buttery-gold colour in the autumn, perfectly offsetting its chalky-grey bark. When it reaches maturity (approximately 10 years old), enchanting green and white tulip-like flowers will start to appear, putting on a majestic show for the month of July. Well worth the wait!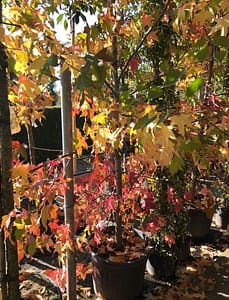 2) Liquidambar Styraciflua 'Lane Roberts' (The Sweet Gum Tree)
Liquidambar Styraciflua 'Lane Roberts' is not only drought resistant (so would have sailed through the unseasonably hot, dry summer we've just experienced), but also puts on a spectacular lengthy show in the autumn with its maple like leaves turning a rich crimson. These stunning trees really pop against the backdrop of a glossy green lawn. These sun-worshippers will grow to approximately 12 metres with a spread of 8 metres.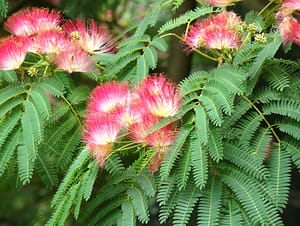 3) Albizia Julibrissin Ombrella (Silk Tree)
In need of something more compact, but don't want to compromise on eye-catching good-looks, the look no further than the Albizia Julibrissin Ombrella. This tactile charmer naturally matures into a broadly crowned yet petite specimen, with frond-like leaves which give a beautiful dappled shade on sunny days. When the nectar rich flowers appear, from July to September, the silken pink tufts are sure to draw attention without overpowering or appearing gaudy. This particular variety is the hardiest of the Albizia's, though having originated in the middle-east and south-east Asia, it appreciates being planted in the direct sunlight. This really is the gift that keeps on giving, not only does it not need to be pruned but it also loves to live in poor soil and is very low maintenance. Sold!
4) Corylus Avellana (Corkscrew Hazel or Harry Lauder's Walking Stick)
If you are after something more artful, then Corylus Avellana forms a living sculpture that makes a striking addition to any garden. It is particularly well-suited to a compact space that is in need of some winter interest as it only grows 2.5 to 4 metres in both height and spread.  As the name implies, the branches have a naturally curly growth pattern that resembles a corkscrew. The showy male catkins add an extra aspect in early spring and are followed by edible nuts. The branches are often cut to make striking indoor displays.
5) Parrotia Persica (Iron Tree)
For true year-round interest the Parrotia Persica puts on fantastic show of autumnal foliage, as well gorgeous flowers in late-autumn and early-spring. This deciduous tree is closely related to witch hazel, it is perfectly suited to open woodland and is very happy to take up a spot in partial shade as well as full sunshine. At full maturity (20 – 50 years old) it will reach a manageable 4 – 8 metres in height, but make sure it has room to grow as it will grow to over 8 metres wide.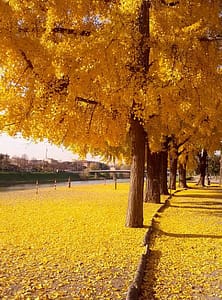 6) Ginkgo Biloba (Maidenhair Tree)
Also known as the Fossil Tree, this deciduous delight brings an air of ancient sagacity to your garden, being one of the oldest tree species in the world at a mind-bending 350 million years old. Ginkgo is slow-growing tree that originates from China, it will reach a full height of 15 to 25 metres and 4 to 8 metres in width, and although it starts life a slender tree, as it ages it spreads and becomes irregular in shape. In autumn, this prehistoric tree will fill the horizon with yellow-lobed luscious leaves that will leave you longing for more.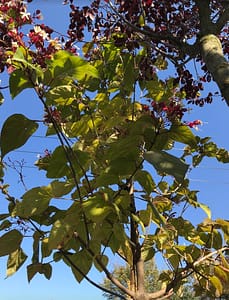 7) Clerodendrum Trichotomum (Harlequin Glorybower)
Last but definitely not least is the Clerodendrum Trichotomum. This versatile plant can be either a tree or a bushy shrub and grows 4 to 8 meters in height and width. Having also originated in China, it prefers to grow in a sheltered sunny spot and will thank you with a fabulous long display of tubular white flowers that are offset by a fleshy maroon calyx. The blossoms are soon followed by bright blue small fruits to ensure that your garden is not short of colour right through summer and autumn.
Inspired to add a form and majesty to your garden? We design, precisely source and plant soft-landscaping schemes for gardens across Oxfordshire and beyond.