Raise a glass to cherry blossom – the frothiest celebration of spring.
At The Garden Barn it feels like spring is finally here, heralded by the burst of fresh life that is the annual show of cherry blossom. Sure, there are earlier signs of spring-like snowdrops and early daffodils, but whilst these brave early bulbs bring a rejuvenation of optimism and excitement for the season ahead, it is often still rather cold and grey and monochromatic outside. Even with these little, low-level dabs of brightness it still feels like winter, even if technically it's not. It's not until the flowering cherry trees and their prunus family cultivars explode into blossom that we truly feel the vernal season has arrived.
Perfectly timed to coincide with the end of the cold season, the blossoms seem to unfurl from their buds just as the first bumblebees buzz by and grey clouds retreat once more to reveal the sun blushed with just a suggestion of heat. It's almost as though all but the hardiest of nature's realm have been tucked up together through the harsh winter and a collective alarm-clock has pealed out, signalling to flora, fauna and astral bodies alike that it's time to wake up. It's because this great awakening seems to happen apace from this time on that seeing great clouds of frothy blossom is like a manifest invitation to the launch party of spring. It's certainly seen this way by the Japanese, where the celebration of Sakura (the Japanese term for cherry blossom) reaches almost worshipful heights.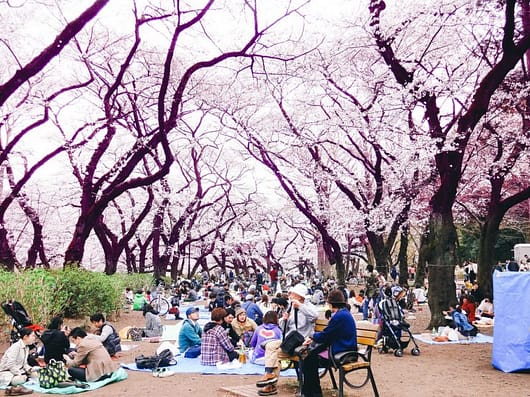 Throughout the spring, Sakura is celebrated in week-long festivals, starting in late-March in the most southerly and sub-tropical island of Okinawa, following the blossoming northwards through central Japan in April and ending up in the northernmost territories in May. The much-anticipated blossom is monitored by various agencies up and down the archipelago and as soon as the trees in the south release 5 or 6 flowers Sakura Season is declared open on broadcasts across the nation. Friends and families gather for hanami (flower appreciation) picnics and parties in public parks under groves of cherry trees, often lasting all day and well into the night, with the trees lit with lanterns until dawn. The celebrations end as the blossoms gently float down like natural confetti to cover the ground with 'sakura snow'.
So, if all this talk of pretty blossom parties has you inspired to bring a little springtime sparkle into your garden, we've some ideas for stylish sakura design that might just vivify your environment.
Zen & The Art of Cherry Champagne:
Single prunus specimens look particularly lovely when placed next to a pool or stream of gently splashing water. Weeping varieties such as Prunus 'Kiku-shidare-zakura' (otherwise known as Cheals Weeping Cherry) pour forth their waterfalls of blossom almost down to the ground, reminiscent of a bottle of pink fizz that's popped it's cork, spilling its rosy bubbles into a coupe de champagne. Add a little tranquillity to the scene by offsetting this compact prunus with acer palmatum, providing year-round interest to enjoy from your Teahouse.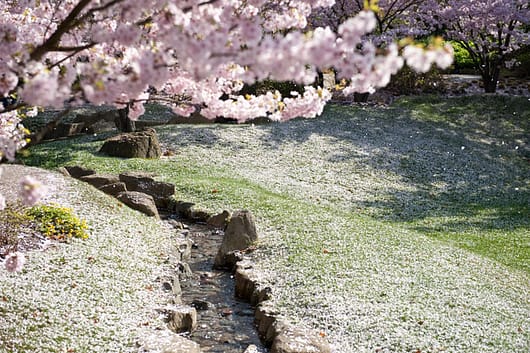 Got a large, straight stream or formal rill? Lined with cherries along its banks it will look spectacular. How about bathing with blossom? Surround your spa-pool or swimming pond with cherry trees and enjoy a relaxing, rejuvenating Japanese-style onsen bath.
Floral Frames:
For an unusual but gorgeous way to frame your garden and provide enhanced privacy, use flowering cherries as pleached panels; creating an aerial hedge that will give extra-height screening for most of the year and in spring, will top a fence or wall with a wide ribbon of confetti blossoms. Underplant with spring bulbs like muscari and narcissi to repeat the effect down-below and add lavender to the border to continue the show through the summer. Prunus 'Accolade' and Prunus 'Umineko' both work well as pleached trees and their fiery autumn foliage means your borders will be glorious right through to winter. Accolade has a classic pale pink double flower, whilst Umineko has single, white flowers.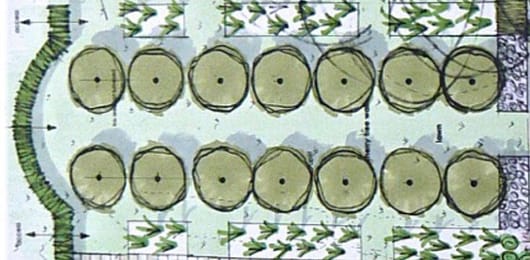 Pleached panels or naturally spreading clear-stem varieties are also perfect for planting in parallel rows along a path, uplit with spike lights to turn a pedestrian pass into a cherry walk. Whether it be a formal avenue of pompom trained cherries or a winding cherry trail, your senses will be delighted as you wander through the clouds of confetti and breathe in the sweetly scented air.  Here again, we mirror top with bottom, underplanting with miscanthus, verbena bonariensis and erysimum to blend away hard edges and give year-round colour.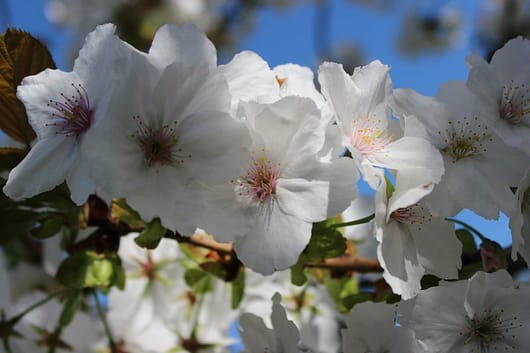 For smaller gardens and front gardens, columnar forms of this tree can be paired to frame doorways or entrances. Prunus 'Amanogawa' forms a compact, narrow spire, smothered with semi-double shell pink flowers in April and will enchant callers when placed to either side of your front door.
A Study in Simplicity:
Sometimes single spreading specimens, beautifully pruned, are showstopping in their own right and need nothing more than the canvas of a lightly undulating lawn to create a hypnotically eye-catching focal point. At a talk we once attended at the Oxford Literary Festival, we were enthralled by Fergus Garrett's (Head Gardener of the esteemed gardens at Great Dixter) tales of the Japanese Master Pruner who visits Great Dixter every year to artfully prune the orchard trees, but cherry trees are wonderfully forgiving and you don't need to be a master pruner to present a picture-perfect prunus.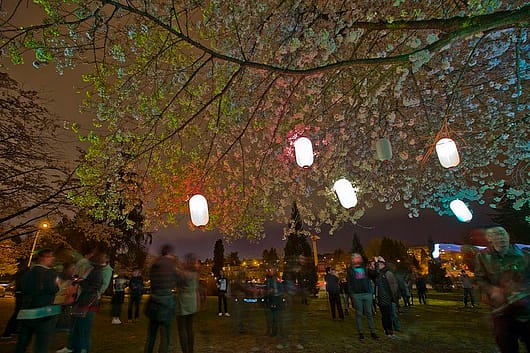 In larger landscapes grow in graceful groves, under which to hold hanami picnics on halcyon days. Hang lanterns from lower branches to take the party from day to night in a dreamscape.
Even smaller gardens can feature an ornamental cherry tree. Prunus incisa 'Kojo-no-mai' is a petite white-blossomed tree which would pretty-up any patio or courtyard garden, taking well to being containerised.
If you've got a bit more space, but only enough for one example then choose a variety that will do double-time. Tibetan Cherries (Prunus serrula) not only have the froth of pastel petals in spring but bark that looks like polished mahogany which peels away in papery bands to take up the attention in winter.
Varieties to look out for in 2023
With springtime ahead of us, we wanted to uncover this year's most popular and bright new Prunus varieties. Displaying more of a petite and ornamental structure, we have seen Prunus 'Pink Shell' grow considerably in popularity. A charming cherry blossom that flourishes an array of pastel pink blooms, this delicate tree is perfect for attracting pollinators within the garden whilst adding a delightful burst of colour to your outdoor surroundings.
Flowering gorgeously in the springtime, Prunus 'Shōgetsu' is another unique variety that spreads as it grows. Burgeoning small pale pink buds, these delightful shoots soon emerge into dreamy white flowerheads. Contrasting beautifully against green foliage, these emerald leaves soon turn to a mixture of ruby red and burnt orange to add a delightful splash of autumn interest throughout the garden.
If your garden is missing the fizz of springtime sakura, talk to us about how we can design this much-loved beauty into your landscape or provide master-pruning and care for your established specimens.