Spring has officially sprung, bringing with it an optimistic air of new beginnings.
Bulbs are slowly retreating back into their subterranean hibernation, herbaceous borders are expanding at a rate of knots and the heady scent of freshly mown grass is filling the air. 
With this in mind, Simon has shared with us what has been keeping him busy in the garden over the weekend.
Supporting the peonies and delphiniums
As these beauties take flight and grow, it is essential that they have sufficient support. Even the strongest plants will struggle under the weight of their water drenched oversized flowers on a rainy day.
Feeding the olive trees
Olives are enormously popular, who doesn't love being transported to their favourite holiday spot in the sunbaked Italian olive groves? Feeding your olive trees weekly using extracts of kelp, and other beneficial nutrients will ensure that they have healthy long term growth, and will keep them in fine fettle all year round.
Checking roses for greenfly
These sap-sucking aphids can suppress the growth of your roses, decreasing their vigour and meaning that they will not perform to their full extent. Their natural predators are ladybirds who will keep them in check, but if you don't have an abundance of ladybirds hovering helpfully then a spray of soapy water will have the same effect.
Sieving and applying homemade compost
As the sun becomes stronger and (hopefully!) more regular, the ground will dry out quickly. It is invaluable to mulch vulnerable plants, focusing on your new additions, to ensure that they have the best chance of surviving and to keep watering to a minimum. Why not use your own garden/kitchen waste to reduce the cost and help the environment.
Planting up early summer containers
Removed existing tulips, refreshed the compost, planted a naturalistic shady scheme including geum nivrum, dryopteris and anthriscus ravenswing. Underplanting an existing pair of half standard bay trees with lavender and planted up heuchera 'Black Pearl', tiarella cordifolia 'Tapestry' and Cornus.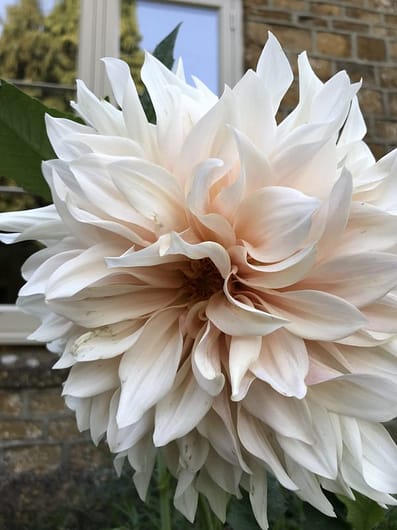 Adding to the cut-flower garden
Planting of Dahlias including favourites Karma Choc and Cafe au lait and Centaurea Sweet peas to grow up his wigwam made from hazel coppiced in garden over the winter.
Mowing the lawn
Lawns are often neglected but a well cared for lawn is a thing of beauty. Not only is it aesthetically pleasing, it is also crucial for the environment, trapping pollutants, cleaning the air and preventing runoff and erosion of topsoil. Simon applied spring lawn care treatment earlier in the week, thankfully just before the much needed showers, leaving a couple of days grace before he mowed his lawn at the weekend.
Planting beans, carrots and peas
Simon has done extensive research over the years and knows exactly what variety of vegetables will go down a treat in his household! This weekend he planted giant red carrots, chosen for their great taste both raw and cooked. Heirloom 'Havel' early peas, chosen for their productivity as well as staying sweet for a long time on the plant if you don't get round to picking them.
Harvesting asparagus
Asparagus might seem like an expensive luxury as it is only in season briefly and comes at a premium in-store, but it is gratifyingly easy to grow and can last for up to 25 years. It takes two years before you can harvest it, but is worth it. Simon was gifted some year 2 asparagus from an old Oxford garden which he has harvested this year, as well as some new spears which he added last year.
Creating wigwams, supports and fine mesh covers
Creating suitable supports for your vegetables not only has the advantage of increased yields, but it also saves space in your kitchen garden. Squash, for example, grows merrily over a structure, but if left unsupported will wind its way through your beds, engulfing everything in its wake.
Fine mesh is not only extremely effective at stopping insects such as the cabbage white butterfly, which can ruin an entire crop, it is also totally chemical free and doesn't cause any harm to the beneficial insects that are found in your vegetable patch.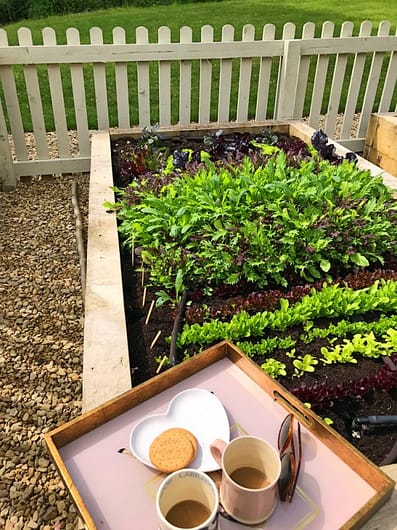 Sowing salads
Nothing reminds us more of the taste of summer than picking fresh salad leaves, drizzling a bit of olive oil over them and taking that first crunchy bite. Simon has been busy succession sowing his salads and has been sure to include his favourite, flashy butter oak lettuce, great for picking a few leaves at a time for salads.
Keeping potatoes well-hydrated
Watering your vegetables is essential at the time of year, but remember where you can use grey water and water butts as often as possible. Watering in the evening or early morning is the optimum time as less is lost through evaporation and will not scorch. Adding a dose of liquid seaweed will really help and will give you the best yield possible.  
Dreaming of a beautiful, productive garden, yet don't have the time to care for it? Get in touch and our team of trained horticulturalists are on hand to help.