As the autumn chill begins to circulate, why not snuggle up with a steamy bowl of Simon's scrumptious leek and potato soup? 
Tickling your taste buds and warming you to the very core, this dreamy soup is an adventure for your senses. Full of both protein and fibre, this tasty treat also makes a quick and healthy homemade dish that will feed both you and the whole family (how great is that!). A dish that can also be made completely meat free, this soup is also superb for vegetarians or for people who are looking to make small dietary changes in order to reduce their carbon footprint. 
It serves 8 people, that's a bit big, you might say? Well not to worry, as this nutritious soup can also be kept in the freezer and saved to enjoy all over again another time. 
Most importantly, what we love about this recipe is that you can grow and obtain some of the ingredients from your very own garden. So, if you're eager to put a smile on some familiar faces with our delectable leek and potato soup, then follow this quick and simple recipe that is sitting below.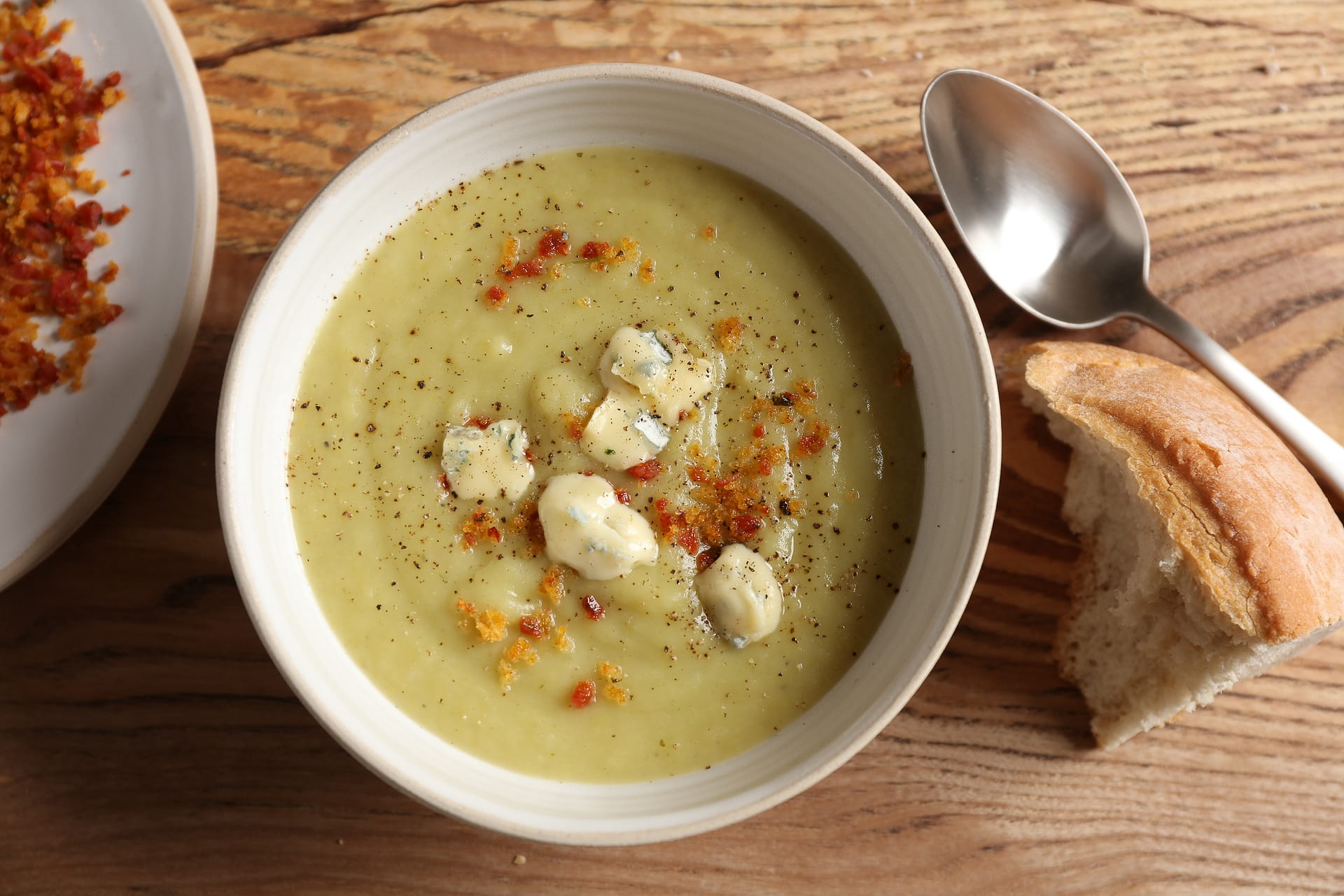 Prep Time: 10 minutes 
Cooking Time: Between 30-35 minutes 
Serves: Up to 8 people
Ingredients: 
Butter, 40g
2 finely sliced leeks (approx 500g)
2 rose pink onions, chopped small (one of Simon's favourite onions to work with due to their sweet flavouring and firm nature whilst cooking)
3 medium sized Maris Piper potatoes, (approx 600g) diced
1 stick of celery, finely chopped
2 cloves of garlic, pressed 
Vegetable stock or chicken stock, 1 litre 
A few crunchy slices of a bread of your choice to serve
For the chorizo crumb:
Breadcrumbs
Oxford baby blue cheese
Method: 
1. Grab your largest pan (perfect for a big, bubbling soup) and begin melting the butter over a mild heat.
2. Once the butter has melted, then you can go ahead and swiftly add the chopped leeks, onions, potatoes and celery into the pan. For maximum flavour, add a generous amount of salt and pepper and then proceed to cook the vegetables for around 10 minutes (making sure that the lid is firmly shut, covering the pan and holding in all the flavour).
3. Every so often you should make sure to stir the vegetables, to ensure that none of them get stuck to the bottom of the pan.
4. Next, in with the garlic and continue stirring the vegetables for a further minute.
5. Once the minute is up, pour in the stock of your choice. Whilst you do this you should make sure to bring the mixture to a boil. Once bubbling away, turn the heat back down low and allow the soup to slowly simmer for a further 25 minutes.
6. Now, the vegetables have become softened, you can take the pan off the heat and pour the mixture into a food processor. Or if you don't have a food processor you can use a hand-blender in the pan, making sure to blend the soup until it becomes smooth and silky (also don't forget to season the soup to your liking!).
7. Finally, begin chopping up your chorizo mix. Once finely sliced, quickly blitz both the chorizo and the breadcrumbs in a blender. Then pop the mixture into a pan over a gentle heat and allow it to crisp up.
8. Voila! You can now serve your flavoursome soup in the Artisan Potter's Pearl Soup Bowl (found within our very own Oxfordshire Gardener Store). To create the piece de resistance, decorate the surface with your tangy chorizo crumb mix whilst crumbling a handful of Oxford Baby Blue cheese. Take a piece of buttery bread and take a delightful dive (wait don't forget the instagram shot! Whoops, that was a close one). Crunch, slurp and most of all, enjoy! Mmm… now our tummies are rumbling.
To discover more of Simon's culinary creations, take a look through our stories section and unearth a series of thought-provoking articles, that include luxurious lifestyle inspiration and other scrummy recipes.