A boozy berry dessert to delight the senses, light and refreshing.
If you've been following us for any length of time now, you'll know that Simon is extremely skilled in both the construction of kitchen gardens and growing fruit and vegetables. He's passionate about benefits of garden-to-table food and can often be found tending his own productive garden.
But, what you may not know is that, ever the man of authenticity, Simon doesn't just grow a bounty of vegetables for the family, no, he's also a tip-top cook too.
So, to kick off the run up to this winter's festivities, here's just one of his celebrated desserts.
Simon's Berry Terrine is a surefire winner when it comes to livening up a yuletide table.
Stayed tuned for more seasonal recipes as we head toward December.
Simon's Berry Terrine – a mouth-watering, palate-cleansing treat! Our thanks to Bloomsbury Home for providing the most gorgeous tableware.
Prep Time: 35 minutes, plus 10 minutes chilling time
Cooking Time: 10 minutes
Serves: 6-8
Ingredients:
800g mix of fresh cherries (150g), raspberries (300g), strawberries (300g), blackberries (50g), you could also use blackcurrants, blueberries, redcurrants.
125g caster sugar
5 sheets of leaf gelatine
200ml of sweet white wine
Edible flowers to set as the top (optional) shown here with nasturtium, but violas would add a festive touch for Christmas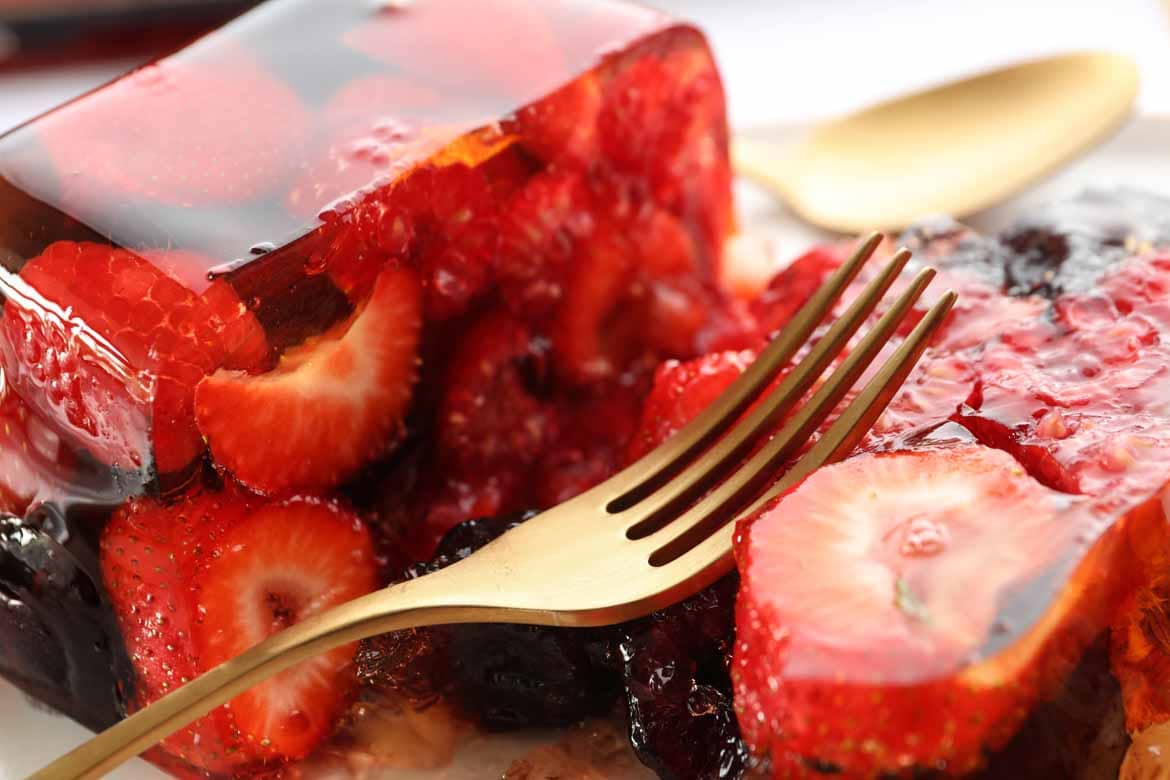 Method:
Soak the gelatine leaves in cold water for 5 minutes until soft
Spoon the sugar into a saucepan in 100ml of water over a low heat to dissolve. Turn the heat up and boil for approx 3 minutes to make a sugar syrup.
Grab a sieve and strain the gelatine, add to the syrup and stir, once gelatine dissolved add the sweet wine and allow to cool for 20 minutes.
Take a 1kg/2lb non-stick loaf tin or mould and pour in enough of the liquid to just cover the bottom, then place a few edible flowers in the liquid, face down, (this will make a pretty top to the terrine when turned out). Place in the fridge to set.
Hull the strawberries and halve, if large. De-stone the cherries and remove any stalks from your berries.
Once the base is set, layer the prepared fruit to the top and then pour in the remaining wine syrup.
Cover and chill in the fridge overnight.
When ready to serve, dip the base of the loaf tin into a pan of warm water for 5-10 seconds, this should loosen the terrine just enough to make turning it out on a serving plate easy.
Stand back, admire your tantalising terrine and bask in the sound of cooing and lip-smacking from around the table!
Delicious on it's own or with a dollop of vanilla cream.
Looking for some more garden to kitchen recipes? How about a scrumptious rhubarb crumble.