2018 saw big, bold yellows emblazoning borders. This wasn't just a splash of sunshine here and there though, no, this was a full palette of yellows from lemon chiffon and pale daffodil to canary-yellow and rich buttery golds. 
Elsewhere plummy, jammy tones lent moody romance to cottage gardens with an abundance of lupin spires adding height and drama amongst softly hued roses and lavenders.
But what can we expect from this year's new introductions? What will the best-dressed borders and beds be wearing this season? With some of the UK's biggest nurseries and retailers recently releasing the results of their plant trials for 2019, we round-up 3 of the hottest trends in planting scheme colours for 2019, as chosen by industry insiders, style forecasters and by public vote.
A Year in the Country:
The first of the colour trend themes we're seeing is inspired by the colours of the countryside over the course of a year, but if you think of the British countryside only terms of the muted or heathery, then think again. Look a little closer and you'll see our surroundings are clothed in a riot of deep, rich, pure colour. Our natural environment provides buttery-yellow-golds in the form of flag Iris (Iris pseudacorus) and wild daffodils (Narcissus pseudonarcissus), burnt oranges in scarlet pimpernel (Anagallis arvensis) and autumn leaves, right through to the deep, dusky magenta of wild Foxgloves (Digitalis purpurea) and damson-tinged hellebores.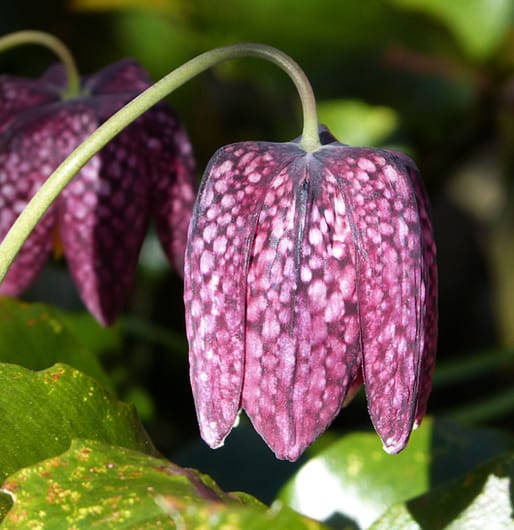 The trick to creating a naturalistic and harmonious country-inspired scheme is to balance these strong colours with intricate patterns and delicate textures. Keep in mind the diminutive mulberry and white chequerboard pattern of the snake's head fritillary (Fritillaria meleagris), in which nature mingles both rich colour and intricate decoration successfully to make a delicate and understated, yet sublimely eye-catching little plant.
Mixing up your textures in locations where you don't generally expect them also works to create an artfully relaxed look and feel.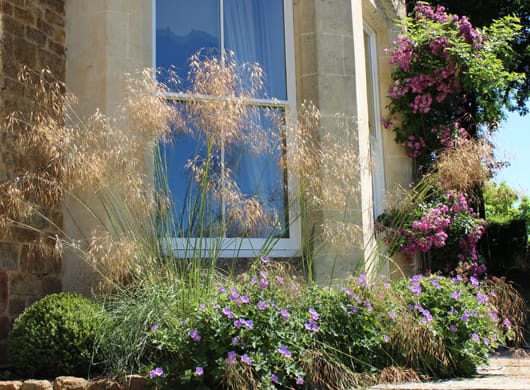 How about adding some sensuous grasses amongst the floral beds of bay windows? Try the sway of a stipa gigantea amongst ultra-violet of geranium 'Rozanne' and the backdrop of a tumbling rambling rose. You'll be able to enjoy its airy movement from inside and out.
Painting with Pastels:
Here the garden becomes a spa for the senses. Mind, body and soul are soothed by a palette of soft, pastels shades in lavenders, pinks, light blues and peaches, contrasted against neutral tones of sage-green, grey, milk chocolate and white. It's gentle and romantic, and it doesn't apologise for its big, blousy blooms or sweetly evocative fragrances. Everything is chosen to make you want to reach out and stroke it, breath in its perfume or bathe your eyes in its impossible beauties.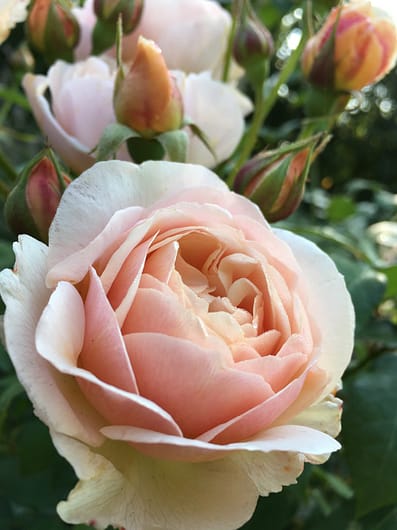 Fill borders with headily fragrant roses like apricot-coloured 'Sweet Juliet' or blush tinted 'Chandos Beauty' and underplant with swathes of lavandula 'Sawyers'. Dot in spikes of stronger splashes of colour like digitalis purpurea or digitalis alba for a little contrast and form.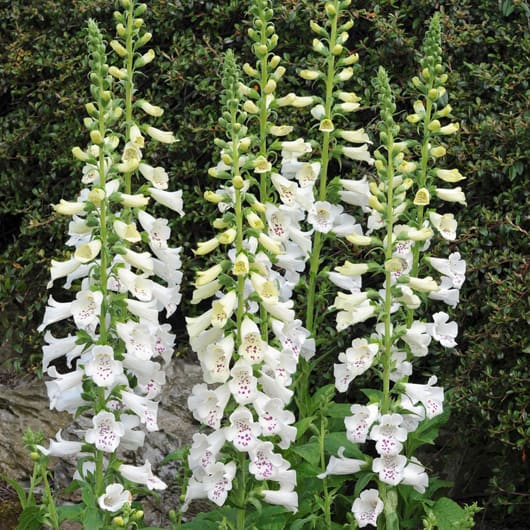 The silver-grey foliage of sage (salvia officinalis) or the shrub bluebeard 'Sterling Silver' (caryopteris clandonensis) help complete this scheme's calming kaleidoscope of peaceful tones.
Homeground:
Can't decide between the richness of the countryside or the romance of peaches-and-cream? Well, luckily, this year, you don't have to, because the final colour trend we're seeing coming through neatly blends the two.
Homeground takes the traditional, classic planting scheme colours of strong blues and pinks, and infuses them with contemporary blush neutrals and modern coppery chocolates.
Add Dahlia 'Cafe au Lait' amongst hot pinks and cornflower blues. Its rosy-beige blooms somehow seem to dial-up the interest, whilst turning down the heat. The pinkish-brown bottle-brush tails of Pennisetum alopecuroides 'Hameln equally softens both texture and spectrum.
Tired of resting your eyes on the same old scheme? The Oxfordshire Gardener creates stunning planting schemes, together with clients, to suit their landscape, surroundings, lifestyle and desires. Talk to us about your wishes for your garden here.