The bank holiday is upon us, as is Alex James' Big Feastival with its vast array of delicious treats on offer. Remarkably for a bank holiday, it looks like the heat is on for the weekend too! Which has us thinking… how we can emulate the veritable banquet of delectable delights at the Big Feastival, on a smaller scale, in our very own garden and make the most of eating outdoors? Read on for some creative ways to maximise your garden's entertaining potential.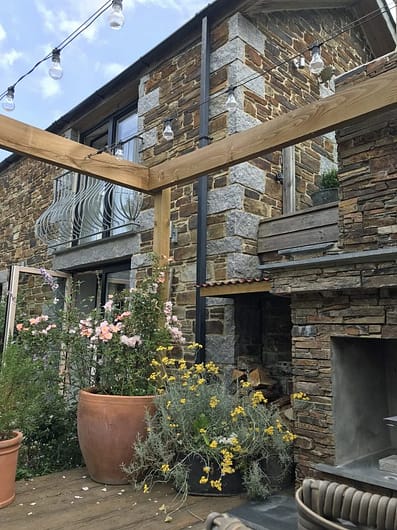 What could be better than spending time outside whilst cooking up a feast for your friends and family? What makes the ideal culinary workspace for preparing food al fresco all year round, whilst at the same time breathing new life into your outdoor space?
Feeding friends and family inevitably leads to someone spending time in the kitchen preparing all the delicious morsels, while everyone else is enjoying themselves outside. But not any more! Whether yours is a bijou oasis or a broad canvas there's an array of ways to implement cooking and eating areas in gardens. 
What better way to prolong the season of glorious sunset dining than lounging around a generous fire-bowl, watching the flickering flames dancing. Fitted with a grill they can be used to cook, just like a traditional bbq and when dining is done, the smouldering charcoal has the effect of lulling you into snuggling up in the gloaming. 
If you are looking to up your grilling game you can't go wrong with a bespoke barbeque station handcrafted to your specifications from hardwood with a cornucopia of drawers and cupboards to store all the accoutrements from crockery and cutlery to cooking utensils. What about a plumbed-in Belfast sink and plenty of steel work surfaces for ingredient preparation and serving? You don't want to keep dashing inside every time you need to chop some salad! Add a handy log-store and keep it well stacked with seasoned timber for topping up the BBQ throughout long, lazy afternoons and beyond.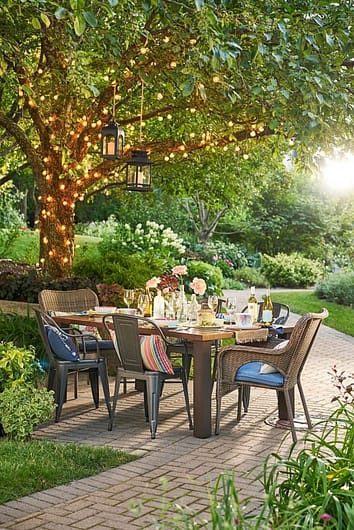 What about incorporating a brick wood fired pizza oven? Who doesn't love the authentic crusts that only a wood fired oven can provide. Get the feeling of dining in your favourite Italian pizza restaurant right in your garden. Set the mood with some soft lighting and transport yourself to Naples, the home of pizza. Let our Outdoor Living Designer recreate the romanticism of a traditional trattoria. An evening spent with friends, sharing homemade pizza under a pergola laden with vines, traditional wrought iron table and chairs. And don't underestimate the impact that lighting can have. Delicate lighting, well-designed lighting can lift a scene, setting the tone  and bringing the romance of mediterranean into your garden.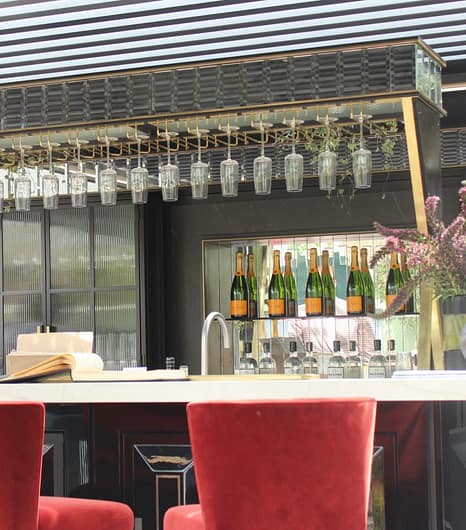 Don't be put off by the odd shower. You can make the most of your outdoor space whatever the weather, by simply adding a roof to cover all eventualities. A thatched roof would complement any English country garden or for a more modern twist, how about a timber framed glass roof, where you can spend your evenings reclining under the starry sky. Add adjustable lighting and a surround sound music system and you'll have everything you need for entertaining in your outdoor paradise…or for your own total relaxation. What about installing a fully stocked bar with ice-maker, temperature controlled wine fridge and contemporary glass racks to really top it off?  
Turn your outdoor eating and entertaining spaces into beautiful, comfortable and truly usable year-round gastronomic hotspots.
Tell us how you'd like to use your garden and our landscape team can help you bring your ideas to life. Talk to us here.