This spring sees us busily bringing to life some truly grand garden designs and the buzz of sculpting the land into such Miltonic dioramas has our creative kundalini flowing at full pelt, dreaming up new visions for future landscapes.
A positively balmy February, followed by a lovely temperate March (albeit with a bit of a wild ride for a few storm days) has brought many people out into the garden early this year, and many of those found their landscape wanting for lack of the functionality that allows them to fully live out-of-doors… and in a beautiful environment to boot. Some lack areas to eat, some lack entertainment (for both guests and errant children), some lack both. But with a little forethought, time and planning, you can have a garden that will have you and your family outdoors all day long and throughout the year too.  Here are some of our grand design ideas for large scale landscaping (and some pared-back projects for more bijou backyards too):
Ace Al-Fresco Eating
: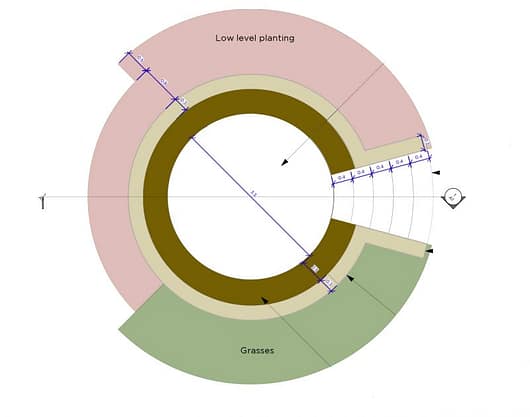 We know more than a few people who have already enjoyed the first barbecue of the year, but how can you make cooking and dining outside a more permanent fixture in your daily life?
Creating a spacious sunken fire-pit complete with built-in circular seating and sumptuous burnished fire-bowl offers shelter from flame-wicking breezes as well as enough grilling space to feed a garden party. A removable grill means that you once you've fed the five thousand you can load it up with logs for campfire Kum-ba-yahs well into the evening. You could even pop a pergola over the top or a flame-resistant roof (remembering to keep it high enough to be out of reach of flames) for more all-weather feasting fiestas.
And if you're into growing your own produce, why not have a kitchen garden fit to grace the pages of Peter Rabbit? There's something so satisfying and soothing to the eye about a series of uniform raised sleeper vegetable beds, enclosed by low picket-fences and topped with elegant bean-arches over entrances.
Parterre Patios:
Patios, courtyards and driveways needn't be pedestrian slabs of paviours, break them up with buxus lined parterres, planted with long-flowering plants and herbs to add scent and colour to a stone or gravel expanse. Symmetrical, geometric beds lend a neat formal look to greet visitors at the front of house, whilst more aimlessly (though no less thoughtfully placed) beds give a naturalistic, looser feel, which blend well into garden as you move from indoors to out.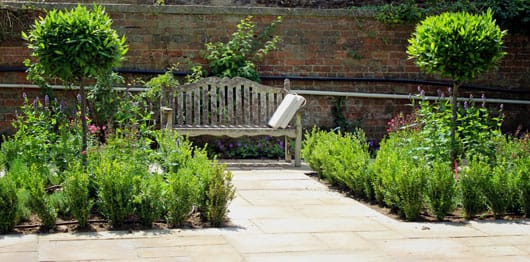 Fear not if you don't have the space for palatial parterres, small paved spaces can be equally prettied-up by including planting pockets in the design. These are spaces where the odd paving stone or group of cobbles have been deliberately left out of a hardstanding and planted with tread-tolerating plants like creeping thyme or, depending on their size, plants to add drama with height and colour like agapanthus or penstemon 'firebird'. Firebird's glowing red flowers look especially glorious in the sunshine and will flower throughout summer and beyond into autumn
Fabulous Furniture:
Once you've got your patio parterres in place you'll need somewhere luxurious and comfortable to sit and admire them. Here bigger is better! You wouldn't sit for long in your living room if you had to perch bolt upright on a bog-standard plastic garden chair, so don't skimp when it comes to outdoor lounging either. Make the transition from indoors to out a seamless experience by apply the same principles to outdoor furnishings as you would to interior decorating. Think wide, deep-seated sofas with soft, sumptuous cushions in beautiful fabrics, places where you want to curl up with something long, cool and refreshing whilst chatting to enchanted friends, they'll be seriously impressed by your style. It's easier than ever to dress your outdoors as well as your indoors with many brands specialising in elegant outdoor furniture using performance fabrics that look so good you'll hardly notice the difference between indoors and out.
But where to place your lust-worthy new furniture? In your swanky new loggia, of course. Not au fait with the loggia? That's probably because they have, until now, mainly been the preserve of Mediterranean villas, but the concept is beginning to take hold here in Britain as milder climes become the norm.
A loggia is essentially an open-air living room attached to a property (though not always) which has at least one side open to the elements, with the open side often supported by columns or arches of stone or oak. They can often be found on the 1st floor or roof of a property, though those in this country tend to be attached to the ground floor and lead out into the garden. The idea is to fill them foliage and soft furnishings as well as all the other trappings generally associated with indoor lounging, except here you'll benefit from fresh air circulating and birdsong permeating the atmosphere. You could wire in a music system and lighting for evenings spent outside or build-in an open fire with chimney stack for chillier times.
Landscapes for Sports & Leisure:
It's easy enough to put up some goal posts on your lawn and no doubt, many young 'uns have demanded a mini football pitch recently in order to emulate their heroes on the England Team, but there many more creative ways to make your garden a sporting triumph.
Got some golfers in the house? You might not be able to install the full 18-holes, but if you have a serious golfer in your life how about planning a mini-golf course? Sweeping fairway style lawns lined with majestic specimen trees and few strategically placed holes can lead to woodlands planted at their edges with drifts of marginal plants, each scene connected by packhorse bridges. You could even add your own clubhouse pavilion.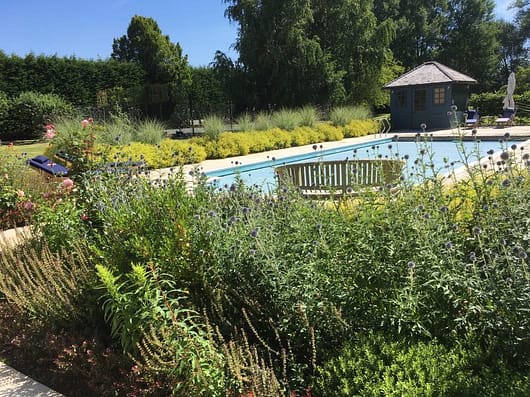 If you're more of a water-baby, then perhaps you'd prefer to get active in the garden with a classic swimming pool or natural swimming pond? These ponds are perfectly clean, safe pools with space enough to swim, but are chemical-free and surrounded by aqua-loving plants like water-lilies and irises.
Add an overhanging sail-shaped deck to a shallow pond for non-swimmers to trail their toes in the cooling oasis.
Not feeling sporty? Culture vultures might delight in their very own open-air amphitheatre for putting on performances. What better place for children's party entertainers to showcase their talents or as an intimate enclosure for a private outdoor cinema?
With a little thought, some careful planning and healthy dose of imagination there is so much you can do with landscaping to create a magnificent, engaging and interactive garden… and one that you can really live in.
If you're interested in creative landscaping for your garden, talk to The Oxfordshire Gardener about the shape of things to come for your kind of outdoor living.