If you've always been quite magnetised by forests and woodland, by how they can take you back to impish childhood ways, rustling through leaves, delighting in clusters of small, impossibly perfect snowdrops and carpets of bluebells or gazing skywards in awe of giant, sometimes other worldly trees, then muse with us for a minute on creating your own mini-woodland, as we take you inside woodland planting. 
Woodland can be a marvellous habitat for you and your loved ones to enjoy using just a few simple approaches to create this ancient way with nature. 
Creating the Canopy
Ideally, you might have some existing generously proportioned trees, but if not then a copse of small trees such as Betula utilis 'Jacquemontii' (Himalyan Birch) can get you well on your way to creating a forest canopy.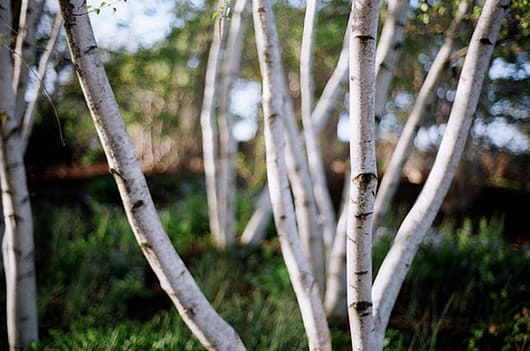 Betulas are great as they have a plethora of attributes. Their slim stems, upright habit and slender crowns mean they can be repeat-planted more closely than some other birches, making them ideal for creating a copses where space is a factor. Its intriguing ivory-white bark peels from the stem like sheets of parchment to reveal fresh, brilliant white bark underneath, the whiteness of which only gets better with age. 
Helping a betula to shed its skin is not only immersive, but deeply satisfying, though please only strip a little of the already loose outer bark, being careful not to damage the inner bark (phloem), as this can interrupt the flow of nutrients around the tree's system and can potentially cause irrevocable damage.   
Betulas also have a beautiful open canopy of leaves that bring a dappled light through highlighting the carpet of woodland planting below.
And so to the woodland planting that lies beneath. 
Planting the Forest Floor
Think of your favourite woodland walks and the wild, native plants that you pass along the way. The aim is to recreate and enhance this underplanting in your own private grove, but first you'll need to strip back existing ground-cover, removing any turf in preparedness to plant up your woodland floor scheme. 
Polystichum setiferum is a joyous, semi-upright evergreen fern, whose foresty fronds sit perfectly in woodland schemes. 
When it comes to bulbs taking a simple, large scale view is gloriously effective, especially if you mass the same species of bulb in an abundance of varieties. Try Galanthus nivalis (Common Snowdrop) with their nodding pearl drops, then add interest with different varieties from doubles to glorious green frills.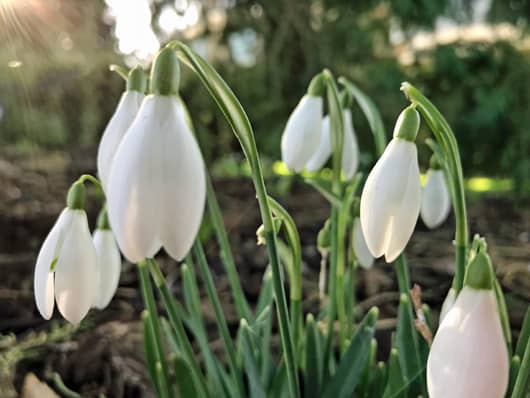 Another super-chap is the bulb Fritillaria 'meleagris' with its rich magenta hue known as 'snakeshead' for its print. Fritillaria planted in groups of 5 are a welcome vision. 
Surely no self-respecting forest floor is without a blanket of British bluebells (Hyacinthoides non-scripta) in spring? Vivid blue trumpets hanging delicately from bowing stems make an utterly enchanting sight, offering a shot of vibrant, unexpected colour to winter-habituated eyes. And then there's the scent!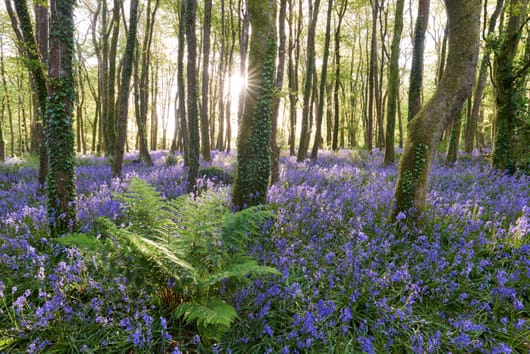 Wonders of the Woodland Garden
A grove or miniature woodland walk as part of your garden can be one of the most rewarding of all garden styles as it bestows a beauty, sometimes gentle and charming and at other times dramatic and striking, throughout the year. 
In winter, the evocative twists of bare branches and ancient exposed roots are nature's own architecture, waiting to be reawakened by the spring bulbs mentioned above, which herald the beginning of the floral year.  In summer the woods provide cool relief under their shady boughs and then in autumn comes the woodland's greatest show. Going out in a blaze of glory, the woodland turns those familiar, though no less stunning, shades of yellow, burnt orange, russet and even deep pinks, though not before autumn cyclamen makes us think it might be spring again.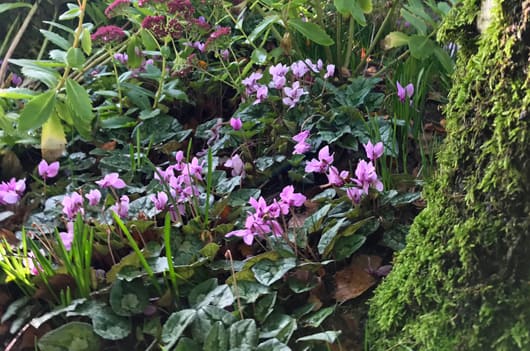 Sustainable Woodlands
Throughout October & November we're planting woodland schemes, using a good mulching treatment with a high bark ratio to complement woodland appeal and help to recreate the natural sylvan environment that will help woodland plants to thrive.
But it's not just the plants that help create a sustainable and healthy woodland environment. The bug hotels and small havens often included in our woodland plans are crafted by our Hort-team in gardens to enrich the habitat and provides sheltered homes for insects. 
Woodlands offer the perfect spot for rest and rejuvenation, as well as bringing out the inner 'Puck' in all of us, so talk to us about creating your own enchanted woodland for leaf-kicking autumn walks and springtime forest floor delights.