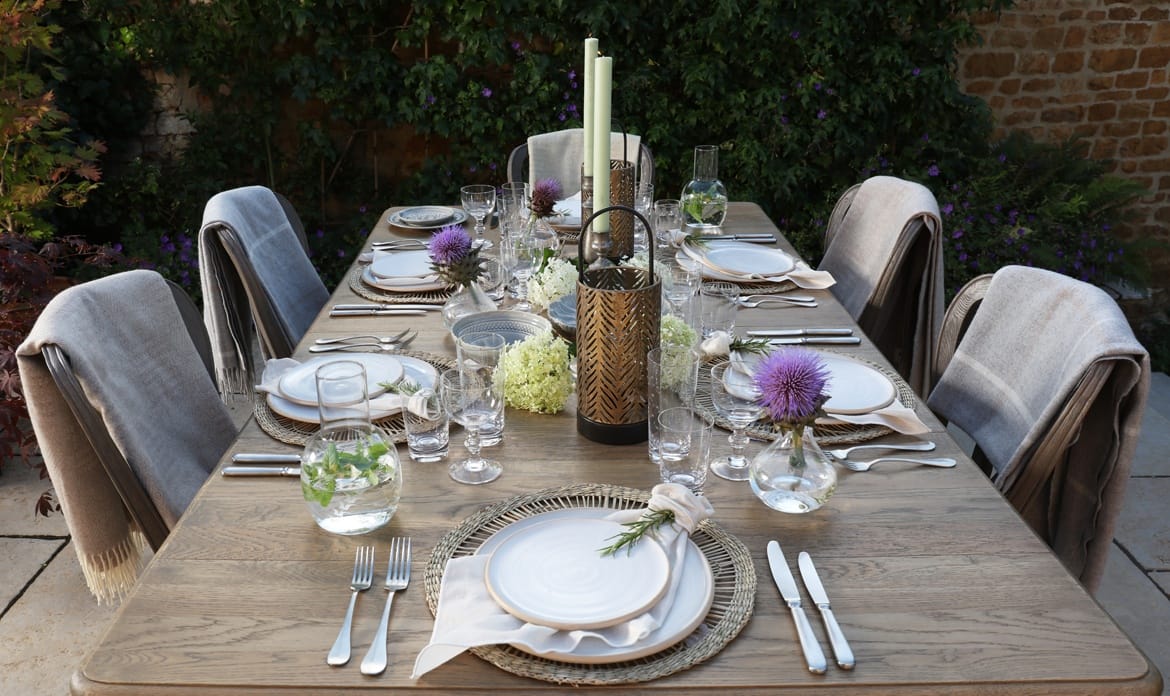 Zhuzh up your festive feasting. 
Like you, we're not exactly what shape Christmas will be taking this year, but what we do know that no matter what form it takes or who we'll be sharing it with, we'll be making it look and feel as luxurious and special as we can, because everyone deserves a bit of pampering.
Cast your magic wand over your yuletide table and turn a spread of delicious treats into a sumptuous feast for all the senses.
Here's some 'hero' items to help you:
1 & 2. British handcrafted, artisanal plates in a soft neutral shade make every dish feel that bit more delectable.
3. These raffia table mats add a stylish natural finish to place settings. A small touch that just makes the whole tablescape look 'finished'.
4. What brings more atmosphere to a dinner table than the flickering light of a lantern? This one comes with its own battery powered glimmering light, so you don't need to worry about forgetting to blowing it out. Oh and it happens to ooze gorgeousness too.
5. Hand-etched with delicate vintage designs, a carafe is a must for raising your table water game. No plastic bottles on our festive tables!
6. And while you're at, how about exchanging plain old wine glasses for antique style wine goblets, so you can toast the New Year with glamour and gumption.
7 & 8. Matte metal cutlery is a really refined choice. Soft to touch, it sparkles without a glaring shine. A real pleasure to use and much-admired.
9. With your table water being poured waterfall-like from a handblown carafe, you could hardly hold it in a workaday glass. Choose instead to sip your aqua vitae or aperitif from an hi-ball engraved all over with tiny stars.
10 & 11. Feeling a chill? Get cosy and wrap up in after dinner in throw. Our Faroe throw comes in 3 neutral tones, whilst Harris carry a gentle check design.
12. What's more chic than French grey? The Deauville bowl is sophistication indeed, clothed in Art Deco detail and glazed in shades of cool grey. Perfect for passing the roast potatoes.
13. Subtly dusted with golden freckles, these napkins say 'Christmas' without garishness.
14. And finally, no table is complete without flowers, even in the depths of December, so take a seasonal bloom and place it this beautifully decorated crystal vase, then sit back, relax and bask in the joys of your very own banquet.