The Oxfordshire Gardener shows us how to put together a gorgeous display of late-summer colour
Ingredients:
1 x Dahlia 'Bishop of Leicester'

1 x Calamagrostis x acutiflora 'Overdam'

2 x Agastache 'Black Adder'

2 x Crocosmia

2 x Gaura

2 x Persicaria affines 'Darjeeling Red'

1 x Physalis 'Gigantea'
 Method:
Fill a water bath or tray with a couple of inches of water, add the plants in their pots and allow them to soak up the water by capillary action for a minimum of 2-3 hours, but preferably overnight. Don't leave them much longer though as the roots will start to rot when left too long.
In a large planter or pot, add some drainage aids such as crocks. In a heavy pot like this one, Simon recommends using some empty plastic plant pots with holes in, placed upside-down as they're lightweight and it will make moving the planter to its final location a lot easier.
Next add peat-free compost, here Simon is using a mix of Melcourt (RHS approved, organic compost, widely available from garden centres) and his own compost mix (1 year old, twice-turned).
Starting with your main focus plant (in this case our dahlia), begin removing the plants from their pots, teasing out the roots and arranging in the planter. It's a good idea to test out the overall effect and style by placing the plants in the planter whilst still in their pots, you can then move them around until you're happy. Simon has created a naturalistic style by allowing the plants to meld in with one another for a relaxed look and not focussing on planting round the rim.
Look at each plant as it's goes in and snip any old leaves and spent flowers.
Once all the plants are in, add more compost in any gaps and press to firm the plants in a little.
Give your planter a good watering.
Sit back and admire your handiwork!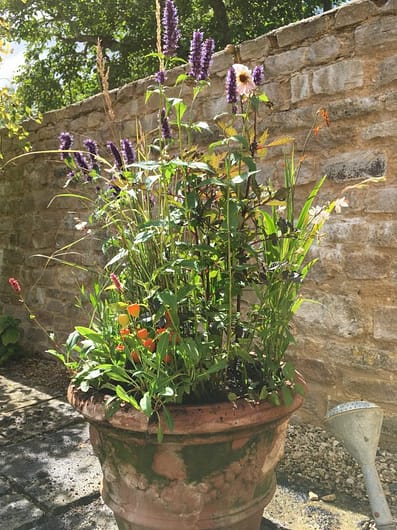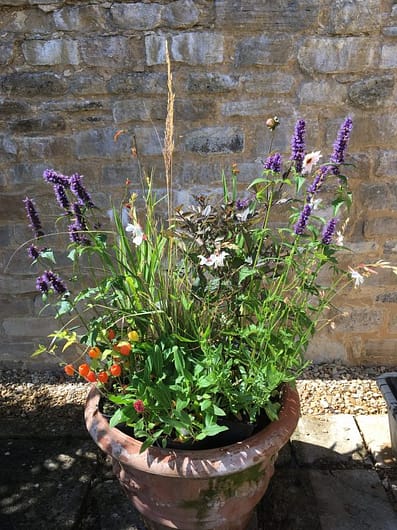 Update: Going strong one month on. Here's how our planter looks in the autumn sun this morning (19th September 2017):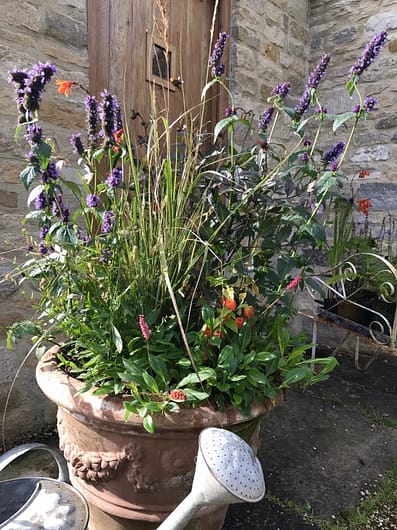 For more late summer colour, click to see our plant of month for August 2017.