Is there a gap in your garden that's crying out for something a little exotic? Perhaps you just can't find a hardy plant to suit that empty space? Or maybe you want to grow-your-own?
Tender plants and seedlings need protection from the harshest weather and greenhouses are the perfect way to create a sheltered growing environment, but there are so many different sizes and types, it's a wonder to know where to start let alone decide on options for ventilation and irrigation. Perhaps the best place to start is to consider what plants you want to grow, but even then there is a myriad of varieties to choose from.
Let The Oxfordshire Gardener's guide to greenhouses help you find the right home for your most delicate dahlias.
First off, have a think about what is it that you'll most likely be using a protected growing environment for? Are you keen on raising seedlings? Do you need to overwinter tender plants? Do you want to grow vegetables such as tomatoes? Your answers to these questions will, in most cases, inform your decision on which greenhouse to install.
1) Size:
There are protected growing environments to fit every garden, from palatial orangeries to compact cold frames, so how big an area do you have for a glasshouse? The answer to the question of size isn't purely dependent on how much room you have or want to give over but also on what you want to grow. For example, if you only need to harden off small trays of seedlings then a cold-frame might be all you need.
But if you want to grow tomatoes then you'll need a little more vertical space. A mini walk-in greenhouse or green-frame might suit.
If you have lots of tender or exotic plants that you need to overwinter as well as seeds to grow and vegetables to nurture then something altogether more substantial is in order. This will no doubt require a full-sized greenhouse with plenty of shelves and floor space.
It's also worth noting that the taller your greenhouse, the more light will be transmitted. Look for a greenhouse with the tallest eaves possible.

2) Location:
For maximum benefit, greenhouses should be located where they will receive full sunshine all day and sheltered from biting northerly and easterly winds. Cold winds will suppress temperatures inside the structure, regardless of plentiful sunlight and this will, therefore, slow the growth of young plants.
Orientation matters too; studies show that vegetables, especially summer crops, gain the most benefit from a north-south orientation, as this allows both sides of a greenhouse to receive near equal hours of sunlight from the east in the morning and west in the afternoon. Overwintering plants may fare better with an east-west orientation as this has the effect of lengthening winter sunshine to the maximum.
If you have room and want to both sow, grow and protect then it might be worth having two smaller greenhouses, each orientated in different directions rather than one large glasshouse.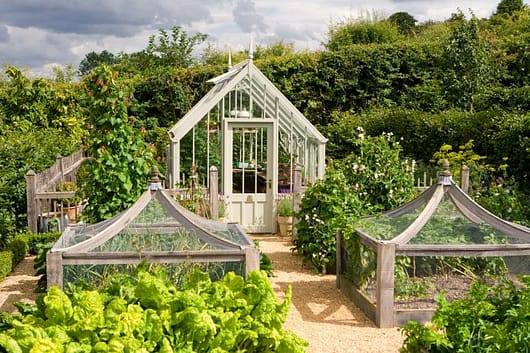 3) Material:
Whether it's a cold-frame or greenhouse you're plumping for there are generally two materials that are used to make up the frame, aluminium and wood.
Wood tends to look warmer and more handcrafted, and wood framed glasshouses particularly suit a traditional cottage or country gardens. However, whilst they lend an air of quietly rustic elegance or Victorian grandeur they will require occasional upkeep. Much like wooden window-frames, you'll need to treat or re-paint the wooden every few years, though you can minimise maintenance if you opt for a somewhat pricier cedar-wood frame. It's also worth noting that those Victorian domed glasshouses might look gorgeous but wooden struts and posts tend to be wider than metal ones, which, of course, will let less light into the greenhouse. You might be surprised at the impact of this, so when choosing a wooden frame, look for one that will do the job of holding the whole greenhouse up but without blocking out too much light.
If you'd prefer something low maintenance then aluminium is the key. Not only does it require little attention but the strength of the metal means that struts can be thinner, allowing more light to flood in. Bare metal frames lend themselves well to a modern, industrial look, but aluminium can also be painted to soften the effect and fit better in any garden. Some greenhouse manufacturers specialise in producing traditional-style greenhouses from aluminium that look so good that you'd be forgiven for thinking they're wooden. Griffin Glasshouses make beautiful aluminium and galvanised steel glasshouses in gorgeous traditional styles.
When it comes to glazing the best material is glass. 90 percent of the light is transmitted through glass without degrading the sunlight, though double glazing is not recommended as this reduces light quality. Be sure to use toughened glass to reduce the chance of breakages.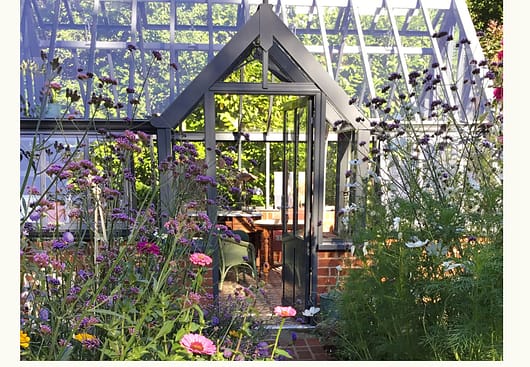 4) Ventilation:
Greenhouses need to be well ventilated. All plants need carbon dioxide in order to photosynthesize and left in an unventilated greenhouse, the plants within would use up all the carbon dioxide inside until the supply was exhausted. Adding vents allows fresh air to circulate and replenishes carbon dioxide levels. The effect is even more efficient if you add in some kind of circulation fan. Alitex Greenhouses & Conservatories use a combination of roof and side vents as standard in all their greenhouses to create a 'chimney effect' inside the greenhouse which not only encourages air circulation but also prevents unhelpful through drafts. 
Do note that roof vents are crucial and side vents are no substitute for roof ventilation. Louvred vents allow regulation of air flow, however, they're hard to draught-proof in winter and you could find that your plants catch a chill!

Automatic vents that open or close in response to greenhouse temperatures and these can be very useful (if you're away on holiday for example), though they can be a little slow and you may find you need to open the door on very hot mornings.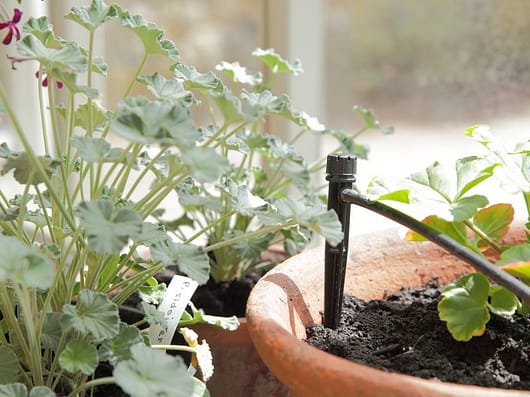 5) Irrigation:
There are a wide range of systems that can be used in a greenhouse. Large structures are best suited to sprinklers or overhead spray systems, but check that any plants you're growing inside can tolerate wet foliage. If you're planning to use a greenhouse for propagating great quantities of seeds then a misting system might be the order of the day. Misting systems spray super-fine droplets of water onto the soil, gradually hydrating tiny seedlings without disturbing them. Whereas drip irrigation systems release larger droplets of water at set intervals on the surface or buried within the soil, this is a particularly useful system for plants that do not like to dry out.
If you prefer to use rainwater collected in a butt to keep your plants watered then you will need to combine any automated irrigation system requirements with a solar powered pump in order to obtain the water pressure required.
Seed capillary mats (or self-watering trays) are deceptively effective and ultra-low maintenance methods keeping plants from getting thirsty. Mats are made from highly absorbent material and placed in a tray of water which acts as a reservoir. Any plants placed on this 'suck up' as much moisture as they need by the capillary action of their roots. It also encourages plants to grow deeper roots as they reach down towards the water. The matting also keeps the atmosphere inside the greenhouse slightly humid, which is beneficial to many tropical plants. You will need to top up the reservoir in most self-watering trays approx. once a week.

In summary, if you're considering buying a greenhouse then firstly think about what exactly you want to use it for, then go for the right size structure for your needs. Try to site a greenhouse in the sunniest possible area of your garden and for maximum efficiency with the least maintenance required choose aluminium and glass over plastic and wood. Remember to pick a greenhouse with adequate ventilation whether it's automatic or man-powered, and finally ensure you have a functional irrigation system, even if that's just you with a watering can.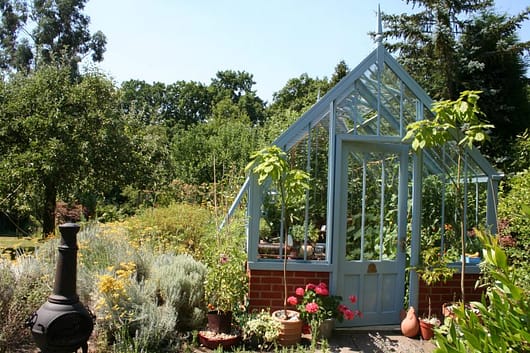 If you'd like to incorporate a greenhouse, glasshouse, orangery or other outdoor structure into your garden, The Oxfordshire Gardener can help design and plan the perfect placement. Our expert team can also help with outdoor living solutions for lighting, eating and entertaining, please contact us and tell us about your plans.