Spending more time at home, again? 
Working from home has resulted in many of us using our outdoor space more often and perhaps, wondering how to make the most of the space available and give it a good fresh, new start. Want to know what's trending when it comes to style inspiration for outdoor living?
We've checked our radars for hotspots and pooled our collective insights to share with you some inspirational garden trends for 2022.  
Sustainability & connection to the natural world
Something that's foremost in everyone's minds at the moment is sustainability. The battle for climate change has become even more prominent over recent years and everyone's eager to find sustainable alternatives to make their contribution to a more ecologically friendly future. 
One of the most eco-friendly things a garden can do is decrease rainwater runoff. Consider a permeable surface if you're doing a hardscape project, and incorporate features that use captured rainwater or grey water in the garden. Something we can offer at The Oxfordshire Gardener is installing irrigation systems. Irrigation benefits plants and crops by delivering water straight to their roots on a slow drip, thereby saving water and fertiliser. 
Creating somewhere to enjoy moments of stillness in the garden is also important to boost mindfulness and mental wellbeing. Our gardens are our place of peace and quiet, where we are able to escape our busy lives. It's the ultimate form of stress relief and we all want one right now. Water features will be a big trend in 2022 and offer that calm and stress relief feature people will be looking for in their garden. They say that the sound of water is one of the most relaxing sounds and is loved by most people. These features can have positive health benefits primarily reducing blood pressure and stress levels as well as improving physical and mental health.
How can I make my garden more sustainable in 2022?
Connecting with the natural world is one of the key garden trends this year and the path to gardening in a much more sustainable way. Here are a few things you can try in your own plot. 
Planting is key. The current trend in sustainable gardens is very much for natural unstructured swathes, otherwise known as prairie-style planting and rewilded lawns. The idea is to just let things relax a little and seed around the place, giving it a more natural look. This will encourage a sanctuary for wildlife. If you plant the right flowers then bees, butterflies and birds will make your garden their home.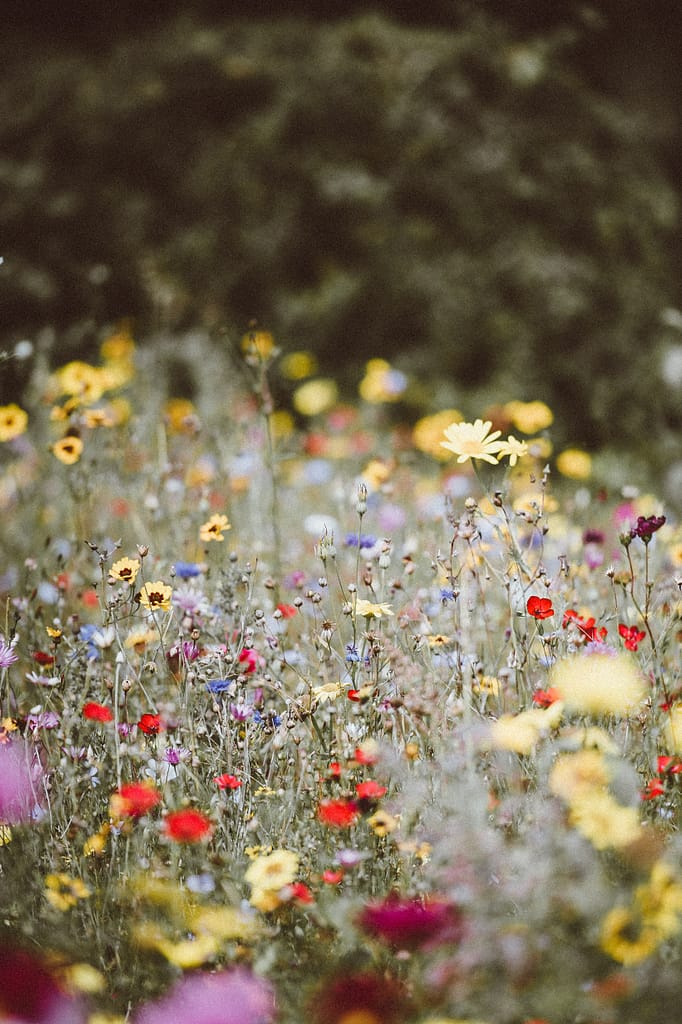 Ditch the chemicals and use natural products and methods wherever you can. Improve your soil naturally with homemade leaf mould and compost. Green up as much as you can too, so plant trees, living roofs and green walls.
Make sustainable choices when it comes to your hard landscaping ideas. Those that are permeable such as gravel allow water to drain through to the soil rather than away from it, and source your materials locally. Try Cotswold Chippings or Pea gravel–a small, fluid stone found near bodies of water–has an appealingly smooth texture, the result of natural weathering. Pea gravel comes in sizes from 1/8 inch to 3/8 inch, about the size of a pea, and in a range of natural colours such as buff, rust-brown, grey, white, and translucent.
Indoors meets Outdoors
The indoor-outdoor feel is easy to achieve with the right mix of accessories. Tasteful touches help to establish a seamless indoor-outdoor feel. When it comes to materials, we're seeing a surge in popularity for ceramics, coloured glass, textiles, raffia and granite. It's all about materials that can be natural, artisan and practical at the same time.
View your garden as a space for socialising. Your patio or courtyard is an extension of your home, even if it's somewhat bijou. One quick trick to creating a sociable garden is to choose the best garden furniture to suit your space and layout needs. But resist overdoing it if you don't have much room to play with. Make sure to keep your features and accessories to the scale of the garden. A comfortable L-shaped seating area around a table is a brilliant way to create a sociable focal point on your patio or deck and they can be found in sizes to suit most gardens.
Stylish planters and statement pots add lush planting details, while outdoor rugs and cushions really help seal the deal. If you're looking for ways to make the most of your outdoor space all year round, investing in a stylish patio cover idea such as a pergola, awning or even a completely enclosed design, will maximise the potential of your plot.
Celebrating small gardens
Balcony gardens are booming when it comes to strong garden design trends. Finding ways to get the most out of small garden spaces is a hot topic and small garden ideas were big news this year. The focus is very much on how to max up your growing space for balconies, terraces and roof gardens.
It's key to making small outdoor spaces practical. We're seeing experiments using planters on casters, bringing portability that makes a space truly flexible to use. Just push them out of the way when it's party time.
Go large with pots and planters on roof gardens, terraces and balconies. Using statement pots gives you a real focal point and that sense of lush greenery en masse. Make sure you keep to a simple design and use materials and colours that complement each other so your plants stand out.
There is a growing trend for sedum roofs on balconies and small roof terraces too. With only 12-15cm of lightweight specialist growing mix, you can grow an amazing range of grasses, herbs, perennials and even small shrubs. And if you don't want to do the whole balcony or roof like this, why not drop in trays of planting in between the decking or paving to create a stunning effect.
Vertical pocket gardens
Don't just think of the floor space available to you. Look up and try a living wall to green up a small space. Living walls or green walls have been around for a while and are simply vertical gardens, where plants are rooted into a structure that is attached to a wall, creating lush panels of green. But if you think you need a huge space and a chunk of investment to install one, think again.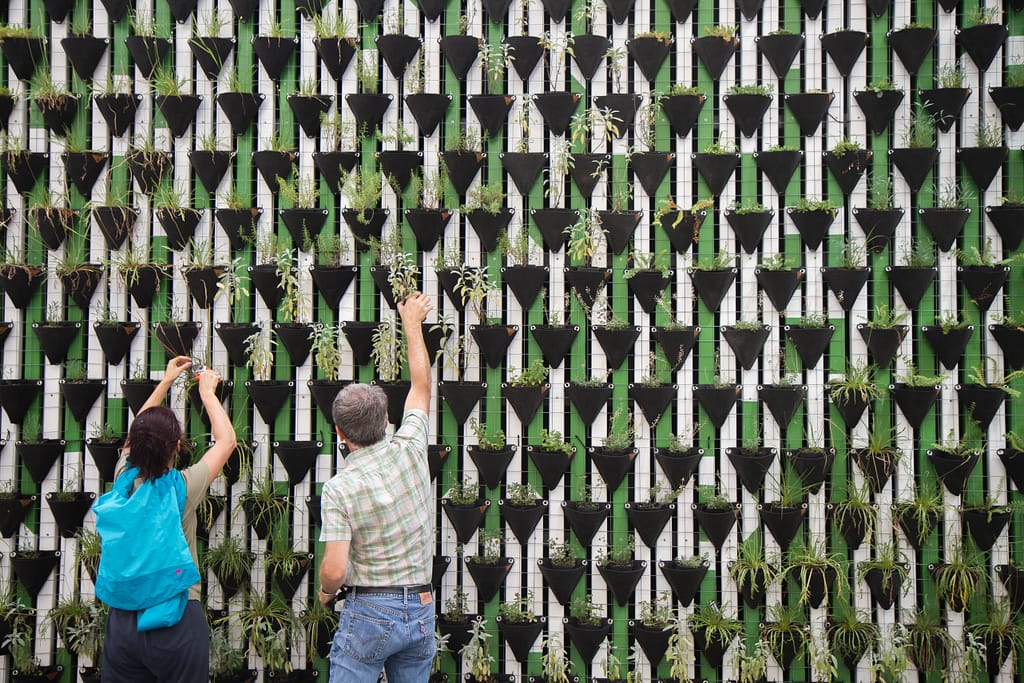 We can source living wall systems as kits, that can be scaled up or down to suit your space and budget. They're incredibly easy to construct and can be running in a day or two. They are an excellent screen idea for more privacy if you live in an apartment block and make a great focal point on a balcony or terrace. For bonus points, green walls also help to naturally purify the air in your space as well as attract wildlife, so it's ideal for city living.
Finally, it's always best to remember that planning is key and nothing will happen overnight. If you take time to plan your plot it will reward you with an amazing scene, come spring, to enjoy at its fullest.
I hope this has given you some ideas to take into 2022 with you, but if you're unsure about your garden's care or you'd simply like it taken care of by our friendly team, then please get in touch and tell us about your green space.
So, go on, dip your toes in the waters of a bold new adventure. Make 2022 the year you transform your outside space into a green haven. 
Let us know if you'll be trying anything new this year? Show us your garden spaces by tagging us on Instagram @TheOxfordshireGardener. 
Want to freshen up your outdoor space? From complete garden designs to courtyard container schemes, we'd love to hear about your hopes for your garden. Tell us about your green dream.