Having a good combination of bold and soft plants in your garden is essential in order to create an impressive flower bed for gardens big and small.
Plant texture does not only have a big role in how your garden will be planned but it also impacts the way in which your space is perceived by visitors. In this article, we will show you how to get the most out of your garden space with different textures in the hope of giving you some inspiration.
With a little knowledge of the three main plant textures (and a dash of imagination), it's incredible how a garden can be lifted and revitalised. Here's how we use texture to create a stunning and visually pleasing garden.
It's easy to forget how important plant characteristics that work together in the garden help to achieve a sense of unity in your planting.
Plants are usually divided into three main textures: fine, medium, and coarse and there are some stunning choices for all types of gardens, whether you have a traditional English garden or a more modernist landscape. 
With so many amazing textured plants and flowers, we've compiled an easy-breezy list of plant texture pairings that we regularly use to transform borders: 
Unfurl with the finest: 
Finely textured plants add a casual element to the garden. When mostly fine-textured plants are used in a design, a natural, free-flowing garden is created. When we talk of fine textures, we usually mean plants with thin or tall stems, small foliage, small flowers etc. These are often used to break up or soften a border. 
Athyrium filix-femina is commonly known as Lady-fern is a large and majestically feathery fern.  A deciduous fern grows to 80cm or more, forming a clump of fresh-green, lacy foliage. Ferns can be a brilliant, boasting boost for your border with their vibrant greens and outstretched fine-leaved stems. They are also low maintenance and easy to care for.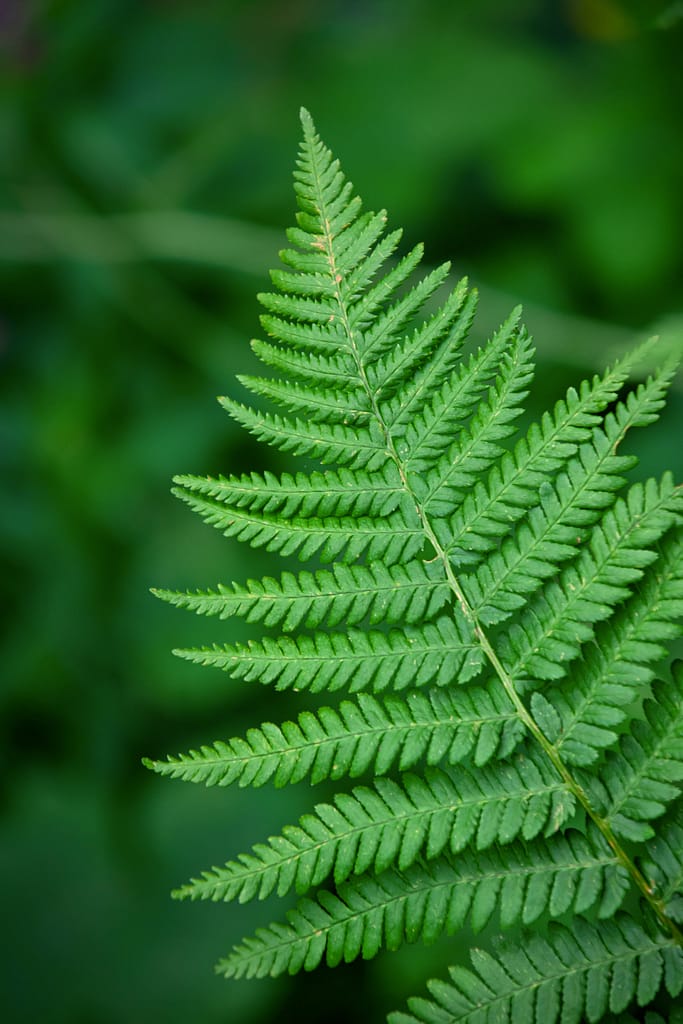 Some other gorgeous fine-textured plants and flowers you should check out are Verbena bonariensis: A tall, simple yet beautiful structure with a cluster of small violet flowers per dense spike, Salvia nemerosa: A compact mass of violet-blue flowers reaching roughly 50cm in height and Achillea millefolium: An attractive and hardy perennial, aromatic, fine and feathery leaves that can get to a height of around 3 feet. All of these wild, soft textures are bright and colourful and are ideal for attracting bees and butterflies, as the flowers are full of pollen.
How about some grasses like Pennisetum alopecuroides 'Hameln 'and Stipa tenuissima both of which bring an airy, wispy, almost fluffiness to the otherwise hard edges of bolder.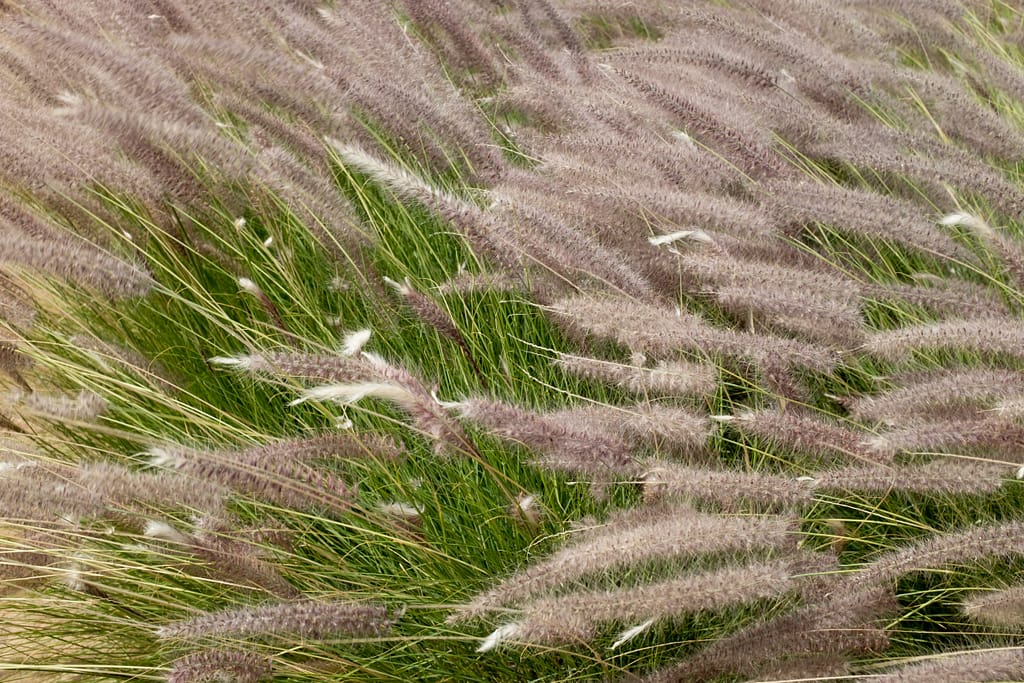 Finely textured plants aren't always employed to provide a foil to other bolder specimens though. Larger plants in this category can be the centre of attention. Think of the much-loved Japanese Acer. Available in an enchanting array of colours, many of which change with the seasons, a well-structured specimen can make the most elegant of features, Acer palmatum is a firm favourite. With many compact varieties to choose from you can find one for even the smallest garden, whilst also adding autumnal drama to larger landscapes, as their foliage turns shades of vibrant red, orange and yellow.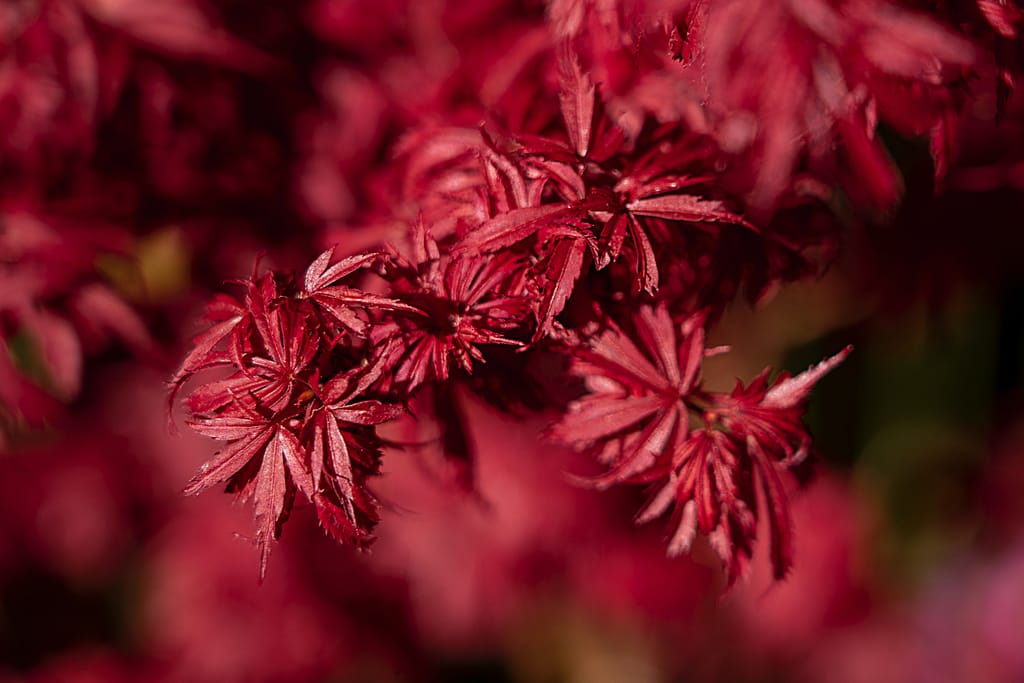 These incredible beauties are truly versatile though, acting equally beautifully as a centrepiece, an entrance opener or simply merging and uniting a border. Their delicate leaves look almost hand-cut and lend a feeling of peace and tranquillity to a garden.
Mostly medium
Most plants fall into the category of medium textures and they serve as good go-to's to fill a border or work as ground cover adding colours along the way. Here are some happy medium plants that are great to introduce to your borders are. Japanese Anemone: Passionate pink flower blooms that sway in the wind, and further down the stem are bold green leaves, making a good ground cover. Penstemon 'Blackbird': Elegant and vibrant.
Attention grabbers: 
Now that we have explored a few fine and medium textures and we can now jump into some coarse textures. There is a huge variety and it is so easy to overlook what some borders really need. Coarse textures compete for visual attention. Think of them as the show-offs of the plant world! 
Whilst every garden needs its attention seekers, too many coarse-textured plants can look awkward and unwieldy, so finding a healthy balance between textures is very important. It's also key to bear in mind that as winter approaches the bark and branches of woody plants often become the dominant texture-providers and should be factored into a successful planting scheme. 
Large-leaved hostas are durable, easy to maintain (though famously loved by slugs!) and shade tolerant, making them perfect for contrasting with your finer-textured plants. Mixing these plants can offer a fantastic kerb appeal. 
Depending on the species of hosta, the flowers produced come in all shapes, sizes and colours, so you can choose to fit your personal taste.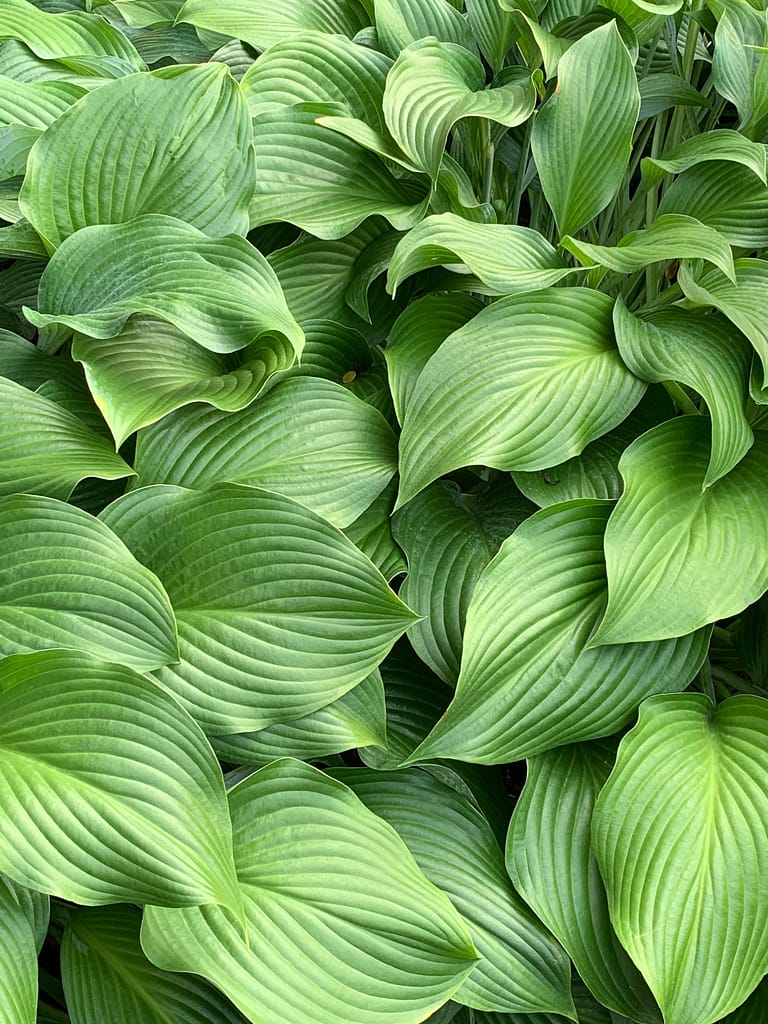 To increase the aesthetic appeal of your plantings, ensure you have that balance between height, colour, symmetry, and proportion. 
Some of the best coarse category plants are eye-catching ones like Hemerocallis 'Strutter's Ball', which produce rich, delicious, purple flowers. This deciduous perennial grows up to 28 inches. 
Another highly popular 'coarse' plant is a Hydrangea, there are loads of types and there will definitely be a perfect one out there for you! These can also be either evergreen or deciduous. 
Looking for something a little more unusual? Take a look at Ricinus communis (castor bean) or add some native wildflowers into the mix with Echium vulgare (Viper's bugloss), its lances of bright blue flowers certainly make a striking display, but the rosette of its foliage puts on its own show. Bugloss is derived from the Greek for ox and the Latin for tongue and refers to its leaves, which are likened in shape to an ox-tongue. 
Looking around your garden and finding it lacking a little je ne sais quoi? Chances are you've thought about what colours you like in the garden, but it might well be texture that needs weaving through your green arena? 
We are here for all the journeys and transformations your garden makes; from grand re-designs to refreshing planting schemes, we're your garden partner. Let's talk.