The Landscape:
A mathematician's mind of circular geometry, vertical dimensions and precision joinery influenced the shape-shifting of the landscaping of this townhouse garden in Summertown, Oxford. Installing a natural stone pathway to sweep with exactitude towards a circular seating area provided the key form of the garden, which we then graced with a majestic arc of Taxus baccata. 
Made-to-measure diamond trellis panels add depth and dimension, offering not only support but also providing a focal point of their own. Rising up, they give a splendid backdrop to the sweetly scented climbing Trachelospermum jasminoides underplanted with leafy Polystichum, Brunnera and Geranium 'Rozanne'.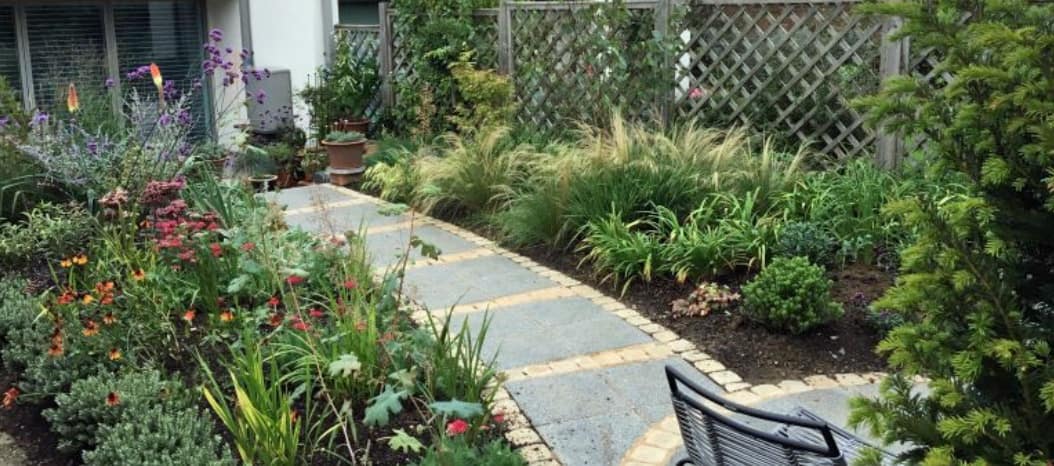 Alice in Wonderland was all about a child's craving for access to a secret garden. Walking through the swaths of Helenium, Hemerocallis and Phlox in the densely planted beds, you can imagine you are in a secret garden of your own. When writing the book, the mathematician Charles Dodgson (Lewis Carroll) observed the Oxford landscape and college gardens. The Cheshire Cat is thought to have been modelled on Alice's cat Dinah who sat on a low-hanging bough of the horse chestnut tree in the Deanery garden at Christ Church.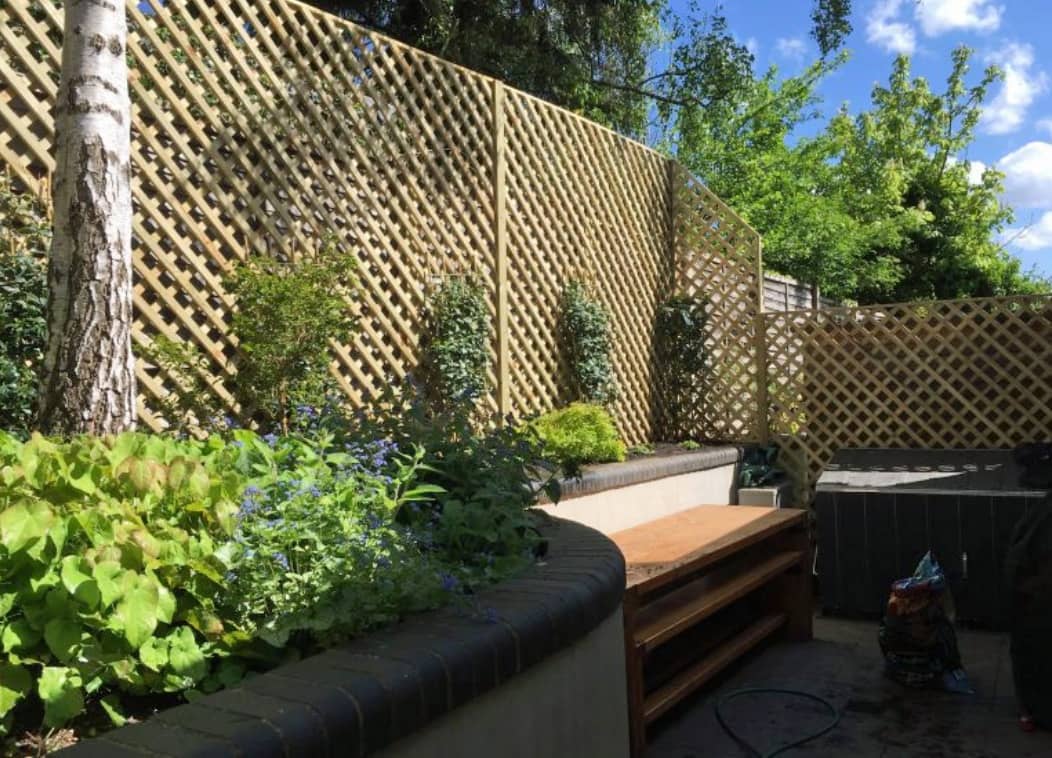 Early narcissus bulbs start the year mingled with prostrate evergreens. Aquilegia vulgaris follow, with their hanging hoods rising above the burgeoning greenery. The green and gorgeous Heucherella happily combine with the dreaming spires of Agastache, Perovskia and Kniphofia. Flourishing blooms and waving grasses are in abundance to provide interest throughout the year.
At the heart of this Oxford landscaped garden are two radial beds with bespoke 'green-heart hardwood' soft-angled seats set within the outer curve to provide an unobtrusive spot amongst the Acer palmatum from which to observe the naturalistic view – a new enchanted garden within which to dream up a new fantasy adventure.