Yearning to grow your own by implementing a glorious working kitchen garden but not quite sure where to start? We understand that the thought of creating a kitchen garden may sound rather daunting at first, but you'll be pleased to know that it doesn't have to be! With our specialist beginner's guide, we'll show you how a touch of simple planning and smart design can guarantee a prosperous kitchen garden space. 
As springtime approaches it's time to clear our heads with lungfuls of fresh air and it's no better time to begin turning your kitchen garden vision into a reality. With help on hand, dive right into The Oxfordshire Gardener's handy guide and let's uncover how you can commence growing your own garden fresh produce. 
Location
Most vegetables are annuals and need as much energy as they can possibly get in a short space of time in order to develop their crops, so pick a sunny, sheltered spot to site your kitchen garden or vegetable patch. Avoid overhanging trees and buildings or structures that may cast shade at certain times of the day.
Many plants don't like their roots getting wobbled by the wind buffeting their aerial parts so you may want to provide extra shelter using windbreaks like hurdles, evergreen hedges or trained fruit trees. Make sure any windbreaks are well secured in the ground and are high enough to protect your tallest plants. A 1-metre high break will provide shelter for plants up to 5 metres, 2-metre tall panels will work for plants up to 10 metres tall and so on.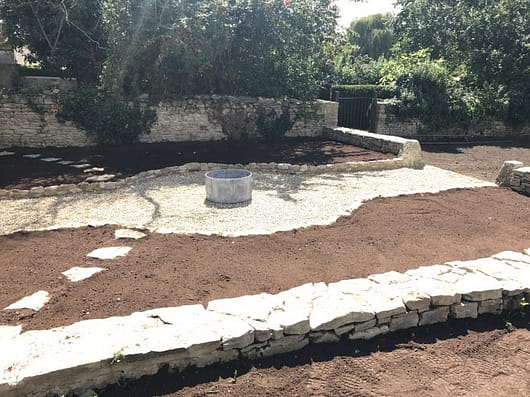 Preparation
First up you'll need to completely remove any grass or weeds on your chosen site. If you're removing grass then it's worth stacking turf grass-side down and leaving it to become compost. It will make fantastic organic topsoil which you can use to feed your beds with later.
Next, you'll want to keep the area free of weeds until it's time to plant, so cover the area with plastic sheeting or fleece. This not only prevents weeds from germinating but also has the added benefit of warming the earth underneath, allowing you to plant up beds earlier than those that are exposed to the elements.
Design
The classic design for a kitchen garden is four-quartered and it's a favourite for several reasons. Dividing your plot, no matter how large or small, into 4 rectangular beds with space for paths crossing through the centre allows for ease of access to each bed, it looks orderly and well-structured, plus it makes a cinch of rotating the 4 main types of vegetable crops.
Each of the 4 beds should be allocated to one crop type with one for root vegetables (potatoes, carrots), one for legumes (peas, beans), one for salad crops, herbs and brassicas (radishes, rocket, lettuce) and one for a mixed bag of leafy greens and 'fruiting' plants (courgettes, spinach).
Each year you rotate the crop type allocated to each bed so that you don't grow the same type of plants in the same bed year after year. This avoids disease taking hold and the soil won't become depleted of nutrients for years on end as different crops tend to take up different variations of nutrients. It keeps your plot healthy and productive.
Creating raised beds for your quadrangle is useful too as raising up the beds means less bending down to tend your garden. They also look rather attractive and make it harder for ground-dwelling pests like slugs and snails to make it into the plot to munch on your veggies.
Whilst the quad design is a classic and a great look for a rustic cottage garden, we've created kitchen gardens in a number of non-traditional designs, so long as you can reach all parts of the beds for tasks like weeding then pretty much anything goes. If yours is a more contemporary garden then get creative with modern sleek materials like metal or concrete planters.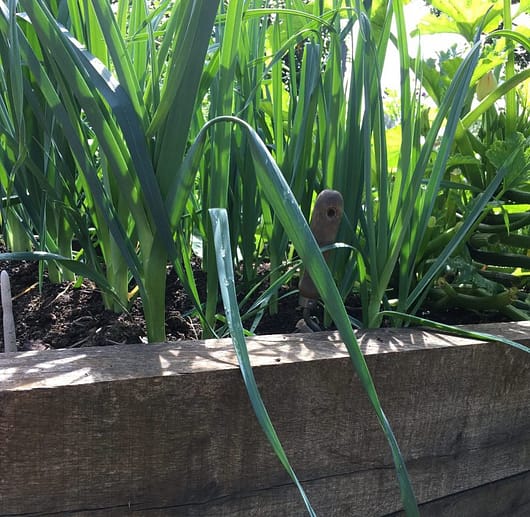 Soil
Before you can plant up your beds you need to put in a little groundwork. A bit of time spent improving the soil now will see you reap the rewards of better, healthier crops later.
Ideally, you're looking to create lovely, free-draining soil with plenty of organic material, like manure and compost, mixed throughout, plus a good layer of topsoil to the depth of about 30cms.
If your soil is poor then consider using the raised bed design and filling your beds with entirely with compost and topsoil.
It's worth finding out your soil type and you can take out the guesswork by buying a soil testing kit from your local garden centre or sending off a soil sample to RHS for analysis.
Vegetables need soil that is full of goodness, but they also like it nice an airy, so if your soil doesn't drain very well then dig in some grit along with the compost. Cover the whole area with a layer of both and dig in or rotavate. 
If you have free-draining soil then skip the grit and simply dig in plenty of compost.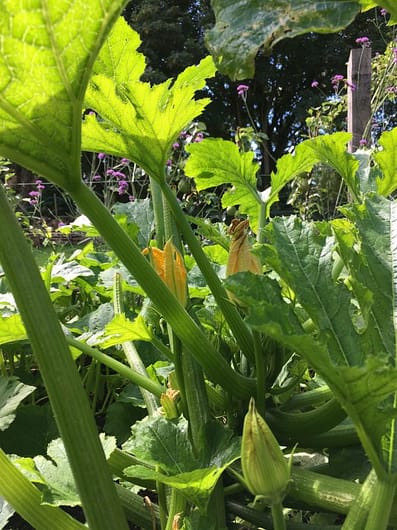 Plant
In early spring it's time to plant up your newly crafted beds, depending on what you choose to grow. Read labels on any seed packets or seedlings carefully to make sure you're planting at the best time.
Avoid putting perennial plants in your veg beds as this can make them trickier to rotate, instead, put plants like rhubarb on the edge of more permanently planted beds or borders. Tomatoes and cucumbers need a lot of warmth and sunshine so will do best in pots or beds in sunny, sheltered spots or even better in a greenhouse.
If you're new to growing-your-own then your efforts will be best rewarded by sticking to tried and tested favourites rather than exotic varieties. Cut-and-come-again salad leaves are a must, try lettuces, mizuna, rocket and mustards. Add some herbs like basil and oregano.
Leafy greens like chard and kale can be planted quite early in spring, as can courgettes and cucumbers. If you have some wigwam supports or create some frames for climbers then peas and broad beans are generally reliable. Beetroot is easy and a good cropper, as are new potatoes and nothing tastes better than a homegrown potato!
Try heirloom or heritage varieties for a rainbow of colour and superb flavour. The Real Seed Company offer excellent heirloom and heritage vegetable seeds for the kitchen garden, specially chosen for home gardeners.
Not only do vegetables grown in your own garden taste better than the mass-produced supermarket kind, but they are also invariably less chocked full of additives and chemicals. Growing your own saves money and is so much healthier, especially if you grow organically. Dug or picked from the soil to plate means your vegetables retain far more vitamins and minerals than those that have been stored and transported to shops, so give it go and kickstart your spring with a garden reboot that's good for you.
And if you'd like a hand designing and installing a kitchen garden our expert team are here to help. Say hello to us here.