I ended last week on an optimistic note; the weather report promising that high pressure would move in, pushing away stormy skies and leaving us with a long-awaited weekend of winter sun. It did not disappoint.
The low winter sun bathed pretty much the entire country in pale, pearly brightness, while freezing temperatures bejewelled the garden with frost, perfect conditions for getting started on some of the early garden maintenance jobs that I'd been enthusiastically delving into with our horticultural team over for the past few weeks. 
What were they doing now to get gardens ready for the growing season? How could I get a head start to make my own garden even healthier and bloom this year? What tasks were they planning to tackle over the coming weeks that would enhance the enjoyment of the garden by their owners, as we head into spring and summer? 
Needless to say, following Part 1 of 'Getting the Garden Summer-Ready' beds & borders have received a welcome boost from barrow-loads of well-rotted manure and roses are now pruned and primed ready to burst forth with invigorated growth. 
Sharing the sum of garden care tasks that can be undertaken as we move toward warmer times offers up rich pickings. Here's some more of what could be happening in your garden to get it summer-ready now: 
Planting & Sowing:
January, just after the Christmas break, is one of my favourite times of year. When all else seems a bit gloomy my mood is instantly lifted by the thwack of large, heavy envelopes on my desk. No, it's not the sound of enormous winter bills arriving, but the far more enlivening arrival of the latest nursery catalogues. 
When conditions simply don't allow us to dig, divide or offer nutritional treatments, this the time we work on our garden plans. Studying newly released varieties of bulbs to create a stunning autumn show, scanning for tried & trusted plants to fill any gaps, devising planting schemes to rejuvenate a bland border or totally transform a tired garden's look or new landscape. There's nothing like finding the perfect plant for the perfect place and watching the team take gardens from nice to nonpareil. 
Not all of our plants come from specialist growers, of course, and even when it's freezing outside, there's plenty we can start growing at this time of year. Sowing early crops like broad beans, carrots, early beetroot, salad onions, lettuces, radish, peas, spinach and summer cabbages in greenhouses and under cloches, as well as sweet peas, where these haven't already been sown in autumn.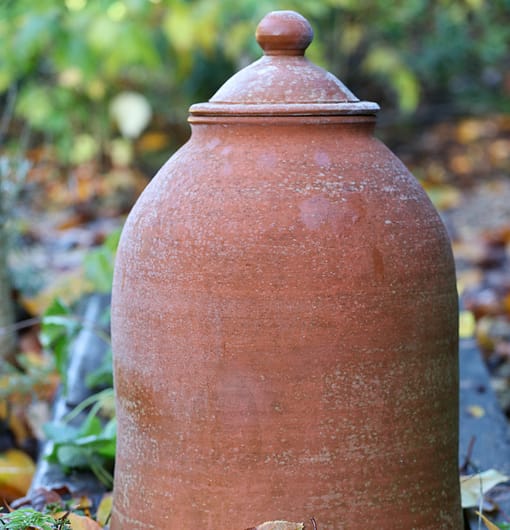 We're also forcing rhubarb, and and later in March, strawberries (they need a period of cold to flower) for delicious sweet treats as soon as possible. 
If you read our piece on bare-root planting then you'll also know that during this dormant time, right up until mid to late-March, dependent on the weather, is the time for planting bare-root shrubs, hedges, roses and trees including fruit trees. 
There's also summer-flowering bulbs to order, ready for planting as gardens come alive in the spring. We're looking for lilies, agapanthus and Galtonia candicans, soon followed by new dahlia tubers.  
Bespoke, handpicked selections, designed to complement and uplift existing schemes, are made now and planting planned at carefully calculated, staggered times to give a succession of flowers throughout summer and into autumn. 
Lifting & Dividing:
Early spring is a busy time of year for relieving congestions of overgrown herbaceous perennials like astrantias, phlox, salvias and hardy geraniums, and we do this by lifting the plant from the garden then dividing it into several smaller, 'new' plants.
As herbaceous perennials mature, these long-lived plants form large clumps and the centre of these clumps tend to lose their vigour, producing less and less flowers the more congested they become. The crown of the plant can even appear dead. 
This is the reason that division is marvellously rewarding for plants, gardeners and gardens as a whole. Breaking up an overcrowded clump, then replanting the new divisions elsewhere revitalises the smaller sections, allowing them to breath. It also creates a whole raft of new stock for the gardener to play with, which in turn, means they can treat the garden to lots of new blooms in summer.   
And it's not just herbaceous perennials that can be propagated in the way. Outside, snowdrops are courageously peeping their dainty petals above the frosted ground, heralding the imminence of spring, but once their blooms are spent any large groups can be lifted, bulbs from the outside of the cluster split off and the separated bulbs replanted in new drifts of individual bulbs, ready for naturalisation to re-form them into clumps again over successive years. Bluebells will benefit from the same treatment in late-spring. In February we'll also be sourcing and planting new snowdrop drifts 'planted in  the green' with the benefit of laying out drifts above ground. 
So, there you have it, a taste of the types of work our garden maintenance horticulturalists are attending to right now and will continue to carefully carry out over the next few weeks to get gardens summer-ready. 
Passionate about your garden, but struggling to find the time to tend to it? Let our experienced horticulturalists take care of it for you, leaving you to enjoy your green sanctuary at leisure. Talk to us about your garden.