Within any successful garden, a synthesis of symmetry, colours, lines and shapes unify for visual balance. How do these elements of art and design inform a garden design?
Here at The Oxfordshire Gardener, we already believe that horticultural design is synonymous with art. However, I'm delving into the more formal aspects of art and design, to discover how they underpin every part of the landscaping that we provide.
There are 7 principles of art and design: balance, contrast, emphasis, movement, pattern, rhythm and unity. Alongside these, a further 7 elements of art and design consist of colour, form, line, shape, space, texture and value.
These principles and elements constitute the basis of all visual creations. Therefore, they are the building blocks of any garden design.
Colour
Colour theory is based on the colour wheel, and sits at the core of all art and design concepts. There are a number of approaches to achieving colour harmony, including analogous colours, complementary colours and triadic colours. 
Another important consideration is the psychology of how varying hues affect our moods.
Incorporating cooler toned blues and purples will evoke a calm serenity. To add relaxation to a plot, we love Delphinium 'Blue Lace', Agapanthus 'Blue Magic', or Salvia 'Mystic Spires'.
On the other hand, warmer colours like reds and pinks will invigorate the garden. Some of our favourites are Penstemon 'Firebird', Astrantia 'Roma' or Heuchera 'Plum Pudding' for a dab of energy.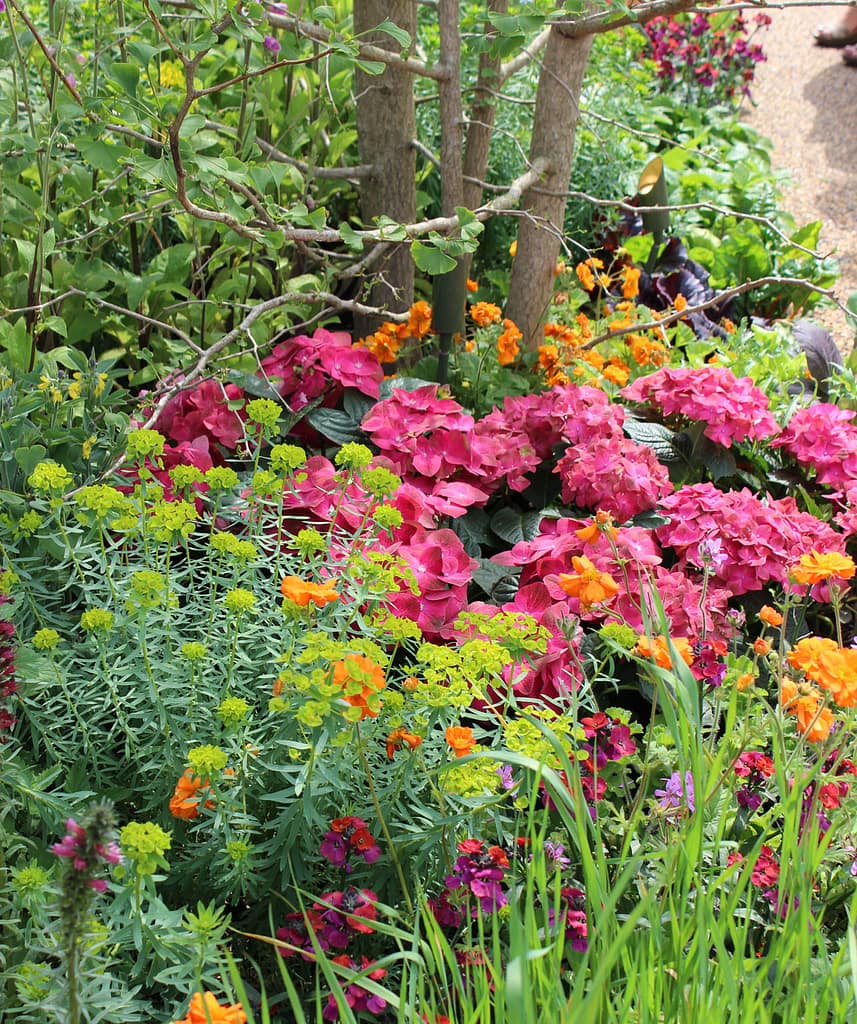 Line, shape, form and space
Any magnificent garden design will use structure to create lines, shapes and forms. Examples include hedging, topiary and fencing, as well as architectural elements like archways and pergolas. Interspersing straight lines with softer shapes creates interest for the eye and adds dynamism to the space.
Geometry is another important aspect considered by garden designers. This relates to Fibonacci's golden ratio which appears constantly in nature – think of spiralling sunflowers and succulents! 
Fibonacci's intriguing rule is often applied to art and design, referring to a ratio of approximately 1:1.6. Also known as the golden rectangle, in garden design this is often applied to the basis of the space to help with the proportions. It plays a major role in considering how the garden can be split up into various segments and where planting and landscaping elements can be placed to create a satisfying layout. 
Composition, unity, and movement
The art and design elements of line, shape, form and space discussed above are integral to the composition, unity and movement of the garden. A unified garden consists of components that work in synchronisation when viewed as a whole, even if some details disappear from a distance. To achieve this, colour and structure are especially important. The garden should comprise of a palette that works overall, without being too overwhelming. However, this doesn't mean avoiding bright colours!
Choosing hues that work alongside the house's bricks or stone will achieve further consolidation within the garden design. Structural aspects that feature horizontal, vertical and diagonal lines will capture the eye and evoke a sense of motion, rather than leaving the space to feel static and flat.
Balance, rhythm and pattern
An effective garden design will feature the art of repetition to create rhythm throughout the space. This could be the mimicry of an oval pond in the organic shape of a planting bed, or rectangular segments echoed throughout the landscape. Recurring shapes, such as spherical topiary balls, or the round heads of alliums, construct a resounding cadence within the garden. Patterns are created through repetition and are as important as rhythm to increase a garden's appeal.
Implement them organically in the mindful laying out of a planting scheme where specific flowers repeat. Patterns can also be shaped with hard landscaping, such as paving slabs forming a path or patio. Lastly, incorporate patterns through choosing decorative yet functional items for the garden – like these Bloomsbury Home containers, rugs, and cushions.
Contrast and emphasis
In the same way that a painter considers the tones, values and textures of their canvas, in garden design these same artistic elements are closely observed. Flowers, foliage and materials add contrast, and complementary colours are ideal for creating prominent variety within planting schemes, making the resulting border noticeably intriguing. Combining this with a thoughtful array of light and heavy textures creates multiple layers of interest.
Planting in pots nearer to the house adds another contrasting element and also creates various height levels. Additionally, grouping smaller containers in threes reinforces the rhythmic repetition within the space, as well as being a number in Fibonacci's sequence. Carefully selecting planters that fit in with the colours and textures of the house elicits an ideal contrast without creating too much discordance to the overall visual.
Are you looking to turn your garden into a work of art? Get in touch with us today to find out how we can design an outdoor haven bursting with creativity.